Welcome to The Man in the High Castle season two watch-along, episode five "Duck and Cover". The second season has made its premiere on Amazon Prime. Over the next few weeks, we are running recap and reactions to the 10-episode season. If you haven't started watching yet, read at your own risk as SPOILERS follow.
Juliana and Ed ultimately find themselves with similar tasks. The man from the previous episode who tried to kill her was none other than a resistance member. Fortunately for Juliana, George Dixon is also a resistance member who bargained for her life to be spared. Of course, the cost was to gain whatever intel she could on John Smith. Ed, on the other hand, was coerced to report to the Kempeitai on his dealings with the Yakuza. Both ultimately are coerced into spying on an enemy. It will be a little harder on Ed's hand as Frank is forgetting a task on hand.
Joe's father once again makes efforts to keep his son in Berlin. He ultimately reveals that Joe was nothing but breeding stock to raise the next generation of the SS Elite. His father assured that he realized the program was wrong. By then, it was too late as Joe was taken to New York and raised by his mother. While what followed was a typical denial breakdown, Luke Kleintank sold the scene better than most ever have. Joe reluctantly follows his father back home. Not like he had anywhere to stay back in New York.
After getting confirmation Juliana's asylum was sponsored by John Smith, Kido makes his way to New York. Kido clearly knew that the Obergruppenführer wasn't going to give up so easily. What happens next? They cut off their discussion and proceed as Kido leaves. Smith orders his assistance to remove all records of his meeting with Kido. Clearly, there is something up and we're delivered yet another mystery.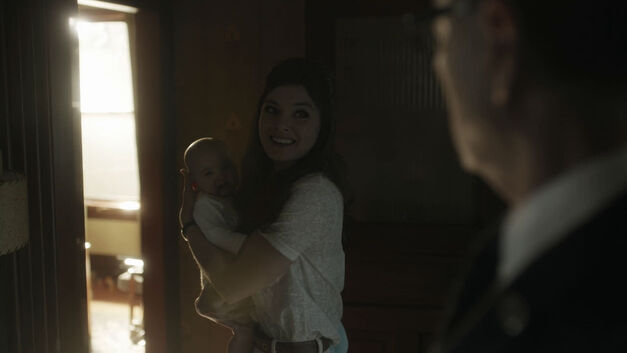 For the first time in the series, we go deeper into the alternate reality (which is actually ours). Tagomi journeys through San Francisco where he runs into a bookstore. He stumbles upon a history book on the second world war. To his horror, he learns that Japan lost the war and Hiroshima and Nagasaki were devastated by nuclear bombs. This reality is taking a big toll on Tagomi, as his wife filed for a divorce. As this episode marked the midway part of the season, the episode surely wasn't going to end quietly or another meditation. Much to Tagomi and the majority of the audience's surprise, his daughter-in-law in this reality is none other than Juliana Crain.
Observations
Of course one of the most racist questions had to be asked: Do Asians eat cats and dogs?
The Grasshopper Lies Heavy began as the most prominent film. Although the man himself had it memorized, clearly there are more important films now.
The resistance is very well connected. Several traveled from around America to mourn Karen's death.
It's easy to forget Obergruppenführer John Smith is not of German descent. We're reminded that he fought for the United States during the war.
Rufus Sewell continues to deliver his brilliance. A simple stare from him is enough for a Golden Globe nomination.
What happens to Tagomi's doppelganger when he meditates his way to this "alternate" reality?