Tim Burton is one of those directors whose touch is instantly obvious in his films. Whether it's his penchant for black-and-white stripes, high-contrast cinematography, or a kind of cartoonishness, anyone watching can immediately recognize his handiwork. Over the years, the man has made comic book movies, dark fairy tales, and remakes of beloved franchises. His latest, Miss Peregrine's Home for Peculiar Children, looks like it may be a return to form after a long run of poorly-received films. To prepare for the film's U.S. release on September 30, we took a look at some of Burton's work as a director – the good, the bad, and the Pee Wee. And for anyone wondering why The Nightmare Before Christmas is missing? Burton didn't direct that film, Henry Selick did.

Batman
After the one-two knockout of Pee-wee's Big Adventure and Beetlejuice, Burton would be given the reins to one of the biggest blockbuster productions of the time. With a mandate to bring the Dark Knight back to his more serious roots, Burton created a dystopian art-deco Gotham City that helped define Batman for an entire generation.
To be honest, Batman gets by on two things: its incredible production design and Jack Nicholson. Otherwise, there's a bit of a slog when it comes to the movie. Michael Keaton and Kim Basinger do an admirable job but they never quite break out. Keaton would find his groove in the film's sequel, but Batman is all about Nicholson. His deranged and playfully grim Joker would become the benchmark for the character for nearly two decades.
Burton established with Batman that he was ready for the big leagues. Its enormous success cemented him as one of Hollywood's dependable big screen directors. If nothing else, Batman showed that Burton's quirky sensibilities and darker approach weren't the hindrances people thought they would be. [Drew Diestch]
Big Fish
In 2003, nobody really expected Burton, still best known for Beetlejuice and Batman, to pull off a serious family drama. Yet, that is exactly what he did with this adaptation of a 1998 Daniel Wallace novel. This was a movie about a father and son reconciling their differences on the father's death bed. It was very weighty stuff for a director that just years earlier was trying to fit Nicolas Cage into a Superman costume.
The fantasy elements of Big Fish are actually stories told by the main character, Edward Bloom. Bloom is played by Albert Finney in the present day and by Ewan McGregor in his flashbacks. His life story is an incredible series of fables set in a Southern Gothic universe. His adventures find him meeting a witch, a giant, a werewolf, Korean conjoined twins, and the love his life, Sandra (Alison Lohman and Jessica Lange). Bloom's son, Will (Billy Crudup) is exasperated by the nonsensical tales of his father's life, unable to understand why his father "lies."
For Burton, Big Fish was a very personal project. His parents had both passed away in the years before he signed on to direct the project. Tim Burton handles the sentimental elements of the film with as much ease as he handles the magical. You can see many of the same themes in Big Fish as in Burton's earlier Ed Wood. He is once again celebrating a storyteller who is happy in his own reality. Big Fish is a personal statement about the power of storytelling to define one's life. [Eric Fuchs]
Edward Scissorhands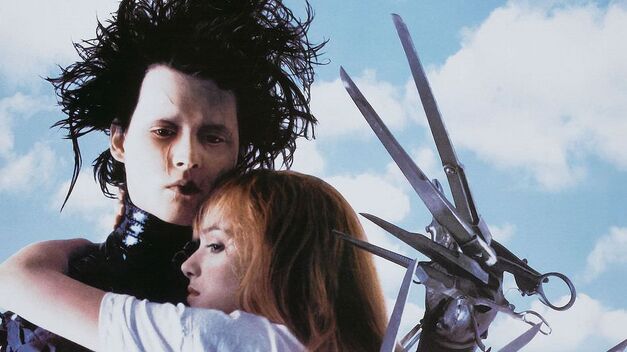 Edward Scissorhands is easily Burton's most personal film at this point in his career. Using the immense clout he gained from Batman, Burton was able to make this lyrical fairy tale about a Frankenstein's creature with one of cinema's strangest handicaps. It would also mark Burton's first collaboration with actor Johnny Depp, a performer that would become a regular leading man in Burton's pictures. It would also mark the final theatrical appearance of legendary horror actor Vincent Price.
The film is a classic tragedy about wanting to be normal and feeling like you belong, and how that conformity is at odds with the idea of being truly unique. The cast is uniformly excellent, knowing exactly when to play up the more ludicrous nature of the tale and when to treat the material with the utmost sincerity. The scene in which Edward and Kim finally embrace is one of the most touching and melancholy pieces of Burton's filmography.
If you can get past the absurdity of the premise, Edward Scissorhands is easily one of Burton's finest films. There's pathos, humor, fantastic art design, and some of the best music Danny Elfman has ever composed. This is undeniably a winner for Burton that has only gotten better with age. [Drew Diestch]
Beetlejuice
Beetlejuice is one heck of a weird film. Burton's second feature as director tells the tale of a couple who haunt the family that moves into their house. Alec Baldwin and Geena Davis, both huge stars circa 1988, star as the couple. A young Winona Ryder features as Lydia Deetz, the only one who can see the couple. (Her reasoning? "live people ignore the strange and unusual. I, myself, am strange and unusual.") The couple must use The Handbook for the Recently Deceased and Lydia's help to get the Deetz family out of their home.
Michael Keaton stars in his first Burton film as Betelgeuse, the (sort-of) titular character who "helps" the newly-dead with hauntings. He's an absolute madman and Keaton is clearly having a ball in the role. The whole cast is great, and the makeup and special effects are incredible. Beetlejuice is in turns scary and hilarious. Despite being wacky as can be, the movie works with Burton's guiding hand.
Beetlejuice would go on to spawn an animated kid's show, but the PG-rated film isn't all that family friendly. The humor is crude, the makeup is gross, and an f-bomb gets dropped. For adults, however, it's a movie worth revisiting. [Danielle Ryan]
Batman Returns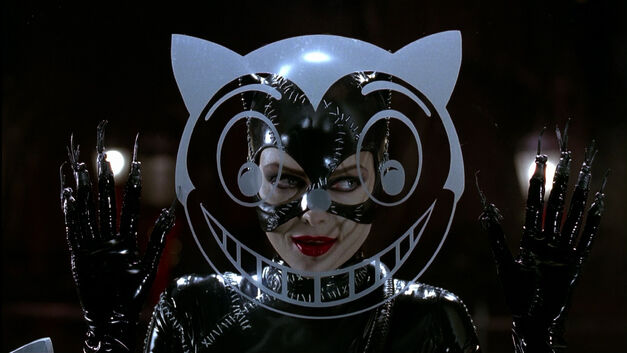 While 1989's Batman was a Batman movie directed by Tim Burton, 1992's Batman Returns was a Tim Burton movie that just happened to feature Batman. That is to say that Returns was wild, dark, bizarre, extravagant – all the things a Burton film is known to be. Now, was it a good movie? That's up for debate. Some feel the film has aged wonderfully while others think it's aged poorly. Regardless of what you think of the film, it is certainly Burton when he was most in his element and most comfortable in his skin. Burton twisted every element of the movie – from the Penguin to the legion of scary circus performers to Gotham City itself – so they would feel at home in his head. Love it, hate it, wish it had more Batman – you can't deny Batman Returns is prime Burton. [Brandon Marcus]
Pee Wee's Big Adventure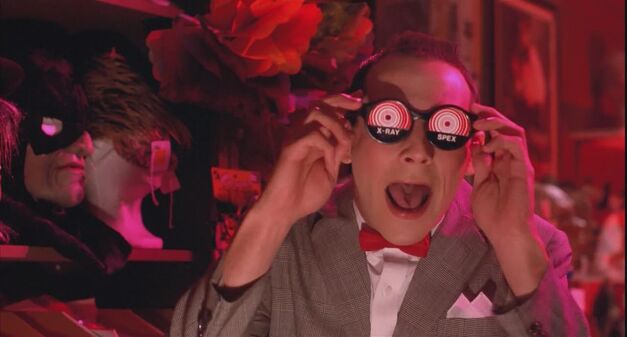 A unique young man travels the country in an effort to find his prized bicycle. If we were playing Balderdash, that would be the synopsis for Pee Wee's Big Adventure. However, that fails to accurately describe this 1985 classic. This film is especially relevant as it marked Burton's full-length debut as a director.
Pee Wee Herman (Paul Reubens) is a child in a boy's body. His most prized possession is his red-and-white bicycle. His neighbor and frenemy, Francis (Mark Holton) covets the bike and steals it from Pee Wee. Consequently, pandemonium ensues as Pee Wee organizes a community search for his brightly colored treasure. Pee Wee offers a $10,000 reward, but the search becomes a fool's errand.
When all appears lost, a phony fortune teller informs him that his bike is in the basement of the Alamo. Hitch-hiking with Large Marge, dancing his way out of a biker bar, and riding a bull are all part of the big adventure to Texas to retrieve his property. After sustaining an injury, he wakes up in a hospital and sees his bike being used in a television show. Pee Wee finally gets his bike back, and studio executives make a film about his adventure with James Brolin playing the lead.
Pee Wee's Big Adventure in based on the 1948 Italian film The Bicycle Thief. Paul Reubens wrote the film with Phil Hartman and Michael Varhol. It features music by the great Danny Elfman. The film received an 88% critic score on Rotten Tomatoes. [Ryan Aday]
Sleepy Hollow
Only Tim Burton could have gotten Sleepy Hollow made. The film is an extremely loose adaptation of Washington Irving's famous story, and Burton uses that looseness to craft one of the craziest horror comedies of all time.
Sleepy Hollow deserves special praise as it's possibly the last (or one of the only) horror movies to have a budget of $100 million. And boy does Burton spend that money. The production is lavishly gothic, with one of cinema's greatest spooky trees adorning the haunted forest where the Headless Horseman dwells. The cast are all delightfully arch as well, with Johnny Depp turning in one of the silliest performances of his career. There's also a genuinely engaging mystery at the center of Sleepy Hollow that keeps you guessing. And, if you love decapitations, this movie is a goldmine.
Often forgotten for some bizarre reason, Sleepy Hollow is a gleefully dark entry in Burton's filmography that deserves serious reappraisal. The movie is littered with gory laughs and thrilling action. This film should be a Halloween staple. It's that good. [Drew Dietsch]
Mars Attacks!
Mars Attacks! is Burton's homage to B-films. Critically, it received mixed reviews. Fans weren't sure what to think, as the film is a pretty stark departure from other Burton features. Including a number of A-list stars including Jack Nicholson, Glenn Close, Annette Bening, Pierce Brosnan, Danny DeVito and more didn't help with the confusion.
Part of what confused people the most was the film's willingness to be as ridiculous as the movies that inspired it. The Martians are attacking Earth just for (annoying-sounding) giggles. There's a science experiment where a woman's head is switched with that of her pet chihuahua. Jack Nicholson plays both the President of the United States and a sleazy Vegas land developer. Actress and then-Burton girlfriend Lisa Marie plays an alien prostitute with a massive bouffant hairdo. There are way too many characters, but most of them die anyway.
Very little about Mars Attacks! makes sense. It's garish and insane, in a way only B-flicks can be. The film barely recovered its budget, and most people have forgotten it ever existed. It's a shame, really. Mars Attacks! isn't a good movie, but it is entertaining. [Danielle Ryan]
Sweeney Todd: The Demon Barber of Fleet Street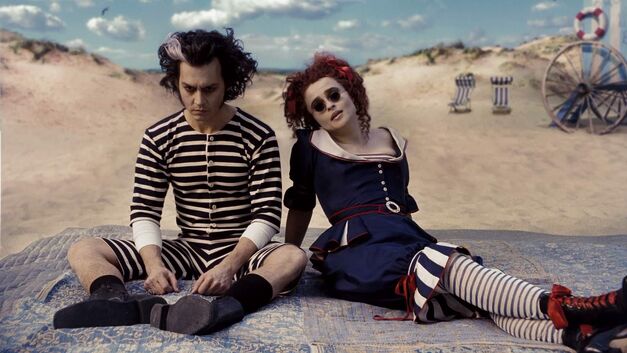 Tim Burton actually seemed like a perfect choice to bring Stephen Sondheim's masterfully macabre musical to the big screen. The story of a vengeful barber who conspires with his fellow tenant to murder people and cook them into meat pies sounds right up Burton's twisted alley. The songs are great, and the approach was noble, but Sweeney Todd has a few weak spots that end up sinking the whole ship.
The biggest misfire is lead actor Johnny Depp. His accent flutters in and out and sometimes sounds muddled. He also looks a little too flamboyant for the role. Thankfully, his co-star, Helena Bonham Carter, is on fire as the lovesick Mrs. Lovett. Her nonchalant attitude towards killing and her infatuation with Sweeney Todd make the movie worth seeing. Burton's decision to use orange-colored blood and then desaturate the palette down to red also makes for some striking violence.
Sweeney Todd isn't terrible, but it's a little rough around the edges. As always, Burton hires great production people, and all the dressings look fabulous. If only he hadn't stuck to his favorite leading man, maybe Sweeney Todd could be better. [Drew Dietsch]
Charlie and the Chocolate Factory
2005's Charlie and the Chocolate Factory was Burton's second remake (after 2001's Planet of the Apes) only this time with a much more beloved property. Any new adaptation of Roald Dahl's book was going to get heat. Unfavorable comparisons to 1971's Willy Wonka & the Chocolate Factory, starring the late Gene Wilder, were inevitable. Charlie and the Chocolate Factory was claimed to be a more faithful adaptation. Whether faithful means better is another story.
Replacing Wilder is Johnny Depp, who is playing Ed Wood playing Willy Wonka. This was in the early days of Depp's "wacky hat" period, and he was already as obnoxious here as he ever. In fact, all of Charlie and the Chocolate Factory is obnoxious. This was Burton's first real foray with CG, and he lost all control with it. His creepy, twisted aesthetic was lost in the sterility that CG creates. Compare the clean imagery of this movie to the imperfections of Beetlejuice's special effects. The old crud and odd angles helped add a physical reality to Burton's imagination that is lost here. This new chocolate factory is a neon nightmare of over-production. Every element of the art design is over-saturated to the point of tastelessness.
Charlie and the Chocolate Factory was a movie that was very well-received in 2005. Critics loved it; audiences gave it hundreds of millions of dollars. It was also completely awful in every way. It is an already bad and ugly movie made all the worse when compared to the original. I actually walked out of this movie in 2005. If only the rest of the audience had followed me. [Eric Fuchs]
Frankenweenie

Burton gets to adapt his 1984 short film into a big budget, stop-motion animated feature. The result? It's a fantastic love letter to both the Universal horror films and the giant monster craze of the 1950s. And only someone with the influence of Tim Burton could get a black-and-white children's film made. However, Frankenweenie is a little too twee for its own good.
The main gist of the story – a boy revives his dead dog – is fairly straightforward, but the movie dovetails into weirdness as other boys revive their pets. The stop-motion is also a little too clumsy and stiff for such a big production, especially in comparison to the work Laika had done with Coraline and ParaNorman. Plus, the voice work in Frankenweenie feels a little par for the course. There isn't a particular role that stands out from the rest.
The movie is an admirable effort though, and it's great to see Burton using his influence to do something so unexpected and rare for the genre. Still, the simplicity of the original short film works better. Trying to stretch it into a feature ended up showcasing how tiny and limited the premise really was. It's worth checking out but only for Burton completists. [Drew Dietsch]
Will Tim Burton's new film be a return to form or a let-down? Judge for yourself and take a look at the trailer for Miss Peregrine's Home for Peculiar Children.