Skull Island: Reign of Kong
is a multi-sensory and multi-dimensional dark ride coming this summer to Universal's Islands of Adventure in Orlando, Florida. The experience is over six minutes long and the attraction is surrounded by 150,000 square feet of rock work. In the distance, the giant temple doors are set up in a rugged landscape full of craggy peaks and dense jungle. The ride has a giant animatronic
King Kong
like its predecessors at Universal Studios Hollywood and Florida but unlike 
King Kong Encounter
, 
Kongfrontation
and
King Kong: 360 3-D
, the animatronic incarnation of the colossal giant ape is reportedly over three stories tall.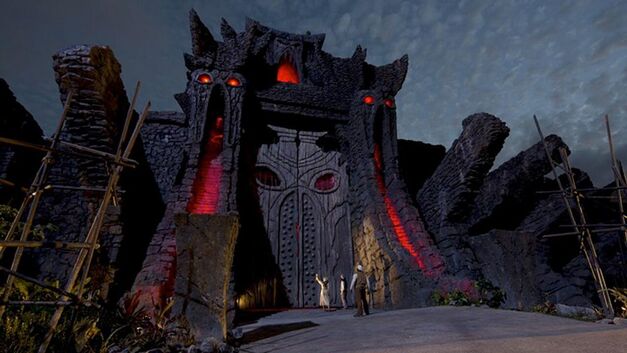 The ride uses very large jeeps to carry its patrons and can seat up to 72 people at a time, The vehicles themselves are trackless and are able to move entirely on their own.
"Once inside the ruins, guests interact with the physical environment as the space gets tighter, the danger gets more authentic and they start to get the feeling the locals aren't necessarily friendly" – Mike West, executive producer at Universal Creative.
The ride takes place in the 1930's before Carl Denham's expedition to Skull Island. As guests journey deep through the mysterious island, the expedition crew is surrounded by enormous prehistoric predators and savage natives. The only hope for the guests is the largest ape ever to ever walk the planet. As the gargantuan beasts of
Skull Island
fight for dominance, everyone else on the ride will just have to fight for survival on this epic and dangerous new adventure.