The Justice League poster is here and it's hot. And if you get, like, really excited about logos and stuff, then this Justice League poster is tailor-made for you.
Yup, that's the Justice League logo, alright. For those unfamiliar, you can clearly infer as much from the giant metallic letters "J" and "L," placed inside a shield with a flaming star at the center. Check it out: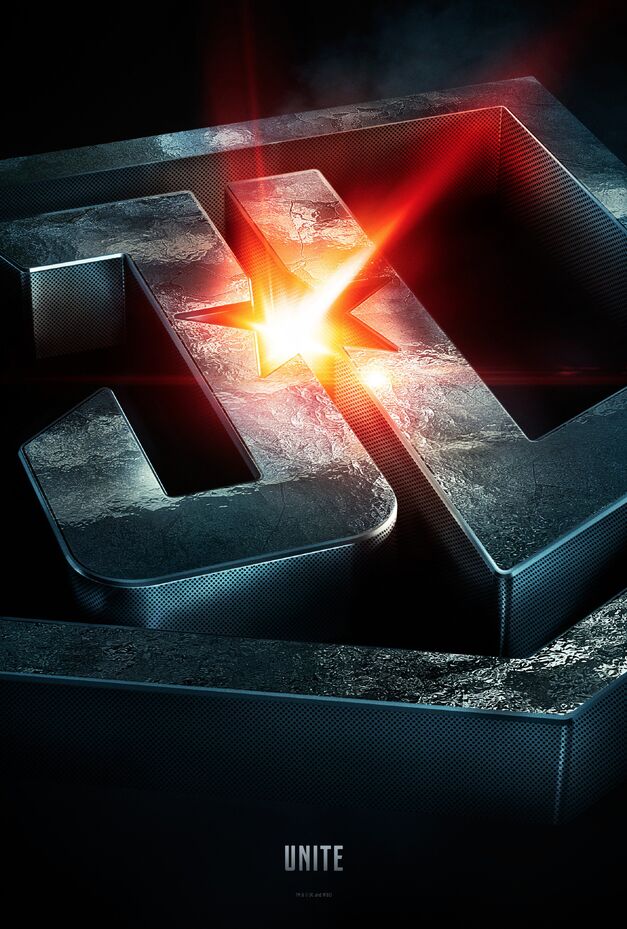 "Unite," the only copy on the poster, is a call to action for Bruce Wayne. Fueled by his restored faith in humanity and inspired by Superman's selfless act, Bruce enlists the help of his newfound ally, Diana Prince, to face an even greater enemy.
Together, Batman and Wonder Woman work quickly to find and recruit a team of metahumans to stand against this newly awakened threat. But despite the formation of this unprecedented league of heroes — Batman, Wonder Woman, Aquaman, Cyborg and The Flash — it may already be too late to save the planet from an assault of catastrophic proportions.
That's the official line. Of course, Superman is probably going to return just in time to save the day.
Steppenwolf, the DC Comics character, NOT the Canadian-American rock band (somewhat disappointingly), is thought to be the big villain in Justice League.
So, when can we expect the Justice League teaser trailer?
When a movie poster arrives, that's a sure sign that a trailer is on the way, and this is no exception. Director Zak Snyder is promising the Justice League teaser trailer on Saturday. Warner Bros. is currently rolling out teasers for the teaser featuring the movie's characters.
Here are the Justice League teasers with Aquaman and Batman:
Justice League, opening November 17, stars Henry Cavill as Clark Kent/Superman, Ben Affleck as Bruce Wayne/Batman, Gal Gadot as Diana Prince/Wonder Woman, Ezra Miller as Barry Allen/The Flash, Jason Momoa as Arthur Curry/Aquaman, Ray Fisher as Victor Stone/Cyborg, Amy Adams as Lois Lane, Jesse Eisenberg as Lex Luthor, Jeremy Irons as Alfred Pennyworth, J.K. Simmons as Commissioner James Gordon, Amber Heard as Mera, and Willem Dafoe as Vulko.

Brian Linder is Sr. Entertainment Editor at FANDOM. He's been on the fan-media scene since dial-up. Arriving at FANDOM from IGN, Brian was a founding editor at early Star Wars fansite TheForce.net and co-creator of the movie site, FilmForce, acquired in 2006. He's into space operas and superheroes.