John Krasinski took to the stage at New York Comic Con today to discuss his forthcoming TV show Jack Ryan.
The eight-part series hits Amazon sometime next year, and will chart the Tom Clancy character's transformation from desk-bound analyst to globe-trotting field agent.
Krasinski appeared alongside co-star Abbie Cornish and producers Carlton Cuse and Graham Roland. As well as debuting the trailer and screening the first seven minutes of the first episode, they also spilled the beans regarding what to expect from the show. So the following is all you need to know about Tom Clancy's Jack Ryan.
It's a Brand-New Story
Where the majority of Jack Ryan movies — including The Hunt For Red October, Patriot Games and The Sum of All Fears — adapted Tom Clancy books, this new version is an entirely original story. One that Krasinski called "Darker, grittier, and a little more intense."
Cuse revealed that he and Roland tried to adapt Clancy, but said it felt dated. So they came up with an original story that tackles the geopolitical issues of this moment in time. "It involves terrorism," explains Cuse, "but it goes deep."
We're Meeting Jack Early in His Career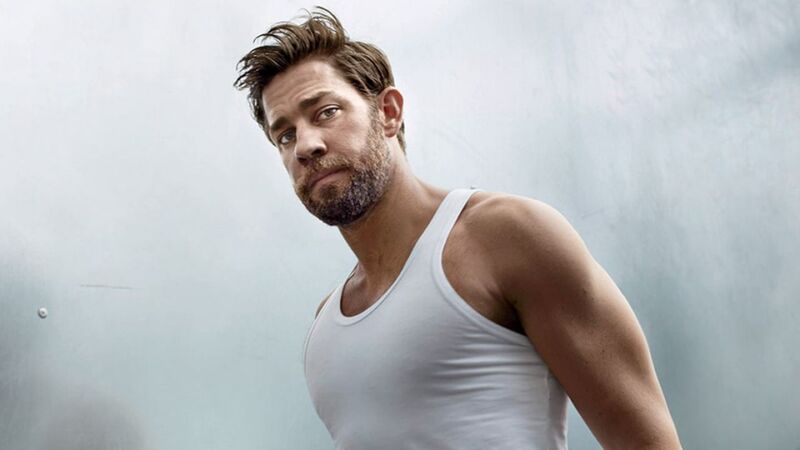 At the start of the show, Jack Ryan has only been working at the CIA for four years. We see him cycling and rowing in the early scenes of the first episode, while Krasinski says that he's kind of nerdy. Indeed, at one point in the trailer, he states "I don't interrogate people. I write reports!"
The series will chart his evolution from analyst into super-spy, a journey that will involve some complex dilemmas. Krasinksi says that we'll find out "What Jack's willing to morally negotiate to protect the country," adding that he loved the idea of playing with the character's moral code.
You'll Feel the Scope
This is TV on an epic scale; less a series, and more a movie divided up into eight parts. The action and effects will reflect that. As will the locations.
Jack Ryan shot in Morocco, Montreal, Washington, and Paris, and Cuse promised that audiences will "feel the scope across the whole show."
An Infectious Disease Plays Into the Plot
The panel was keeping their cards close to their chest when describing the show's plot, but Cornish did let slip that an infectious disease plays into the story during proceedings. This enables her character to become involved with Jack's work.
Jack Ryan Will Focus on Multiple Characters
Where the many Jack Ryan films were very much about Jack, thanks to the length of this Amazon series, other characters will be allowed to develop and breathe.
Abbie Cornish plays Cathy Mueller, a doctor and Jack's love interest, while Wendell Pierce is his boss James Greer. Both characters will play major roles in the series, the former helping us to see Jack's more humorous and charming side while also becoming embroiled in the central crisis, the latter dealing with some complicated issues of his own.
And the villain won't be a caricature of a terrorist. Roland explains: "It was very important that we didn't tread on similar ground that other shows in this space have where the bad guy is a moustache-twirling villain. We spend time with him and with his family, in different situations that have nothing to do with terrorism."
Roland added: "It's important to have a villain that we understand even if we don't agree with him"
Tom Clancy's Jack Ryan hits Amazon Video sometime in 2018.