IT is so close we can almost taste it. The Stephen King story is finally making its way to the big screen and Warner Bros. has done an amazing job treating fans to some cool events. I got to walk through the house at 29 Neibolt Street and it was a blast. Now, Gallery1988 is having an entire exhibit themed around the new film. We got the awesome opportunity to reveal one of the pieces that will be at the show! Check it out!
Pennywise the Cuddly Clown?!?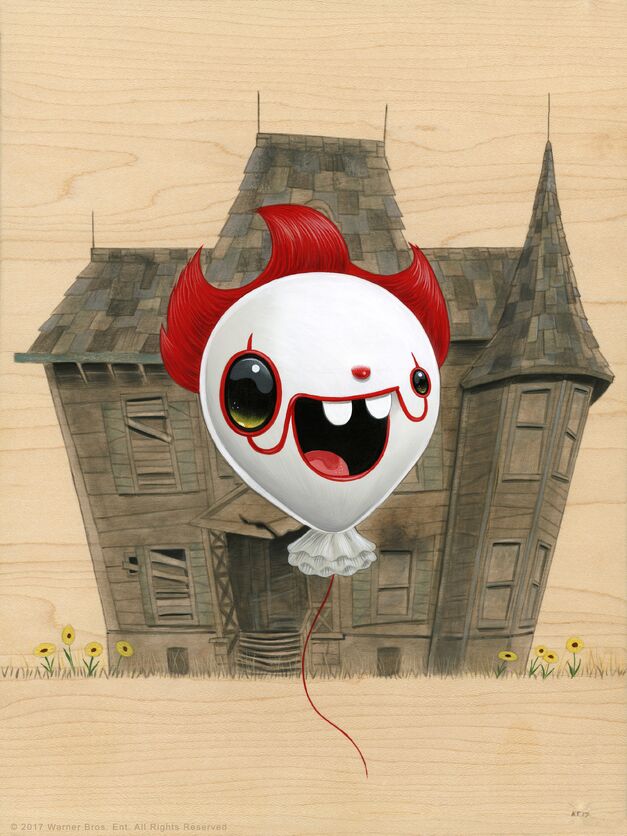 Artist Cuddly Rigor Mortis has somehow taken one of the scariest figures in all of horror fiction and made him totally adorable. It's a great blending of the balloon iconography and Pennywise's recognizable visage. But just look at those doofy buck teeth! And he looks so happy! Aww, let him eat all the children he wants. He's a treasure.
I'm also a huge fan of seeing the house at 29 Neibolt Street become such a big part of this movie's imagery. It's one of the best "haunted" houses in any scary story. And once people get a chance to see the movie, I think it's going to become a memorable entry in the pantheon of iconic horror houses.
If you're in Los Angeles, Gallery1988 will be running the IT exhibit from August 31 to September 3. You should definitely swing by and get a look at all the creativity on display. And in case you need a reminder, IT opens in theaters on September 8. Go see it opening weekend and help make the movie a success. Trust me. This is one for the books.