Brian Koppelman and David Levien are responsible for some of the great stories of their generation. As writers, their seminal Rounders is not only a film that went from being a cult classic to helping turn poker into mainstream entertainment. As writer/directors, their Solitary Man showcases one of the best roles in the career of Michael Douglas. Their body of work is a laundry list of works of diversity, quotability, and overall quality. Films like The Illusionist, Interview with the Assassin, The Runaway Jury, and the criminally underappreciated Knockaround Guys.  Their work in other avenues of media have been equally successful. Brian Koppelman's podcast The Moment is must-listen programming and David Levien's literary career, especially his "Frank Behr" series, are in their own right massively enriching parts of pop culture.
Billions is their latest project, a new Showtime series that begins this weekend. Paul Giamatti and Damien Lewis star in the supercharged drama about wealth, corruption, and power and if the first episode is any indication it's going to be a series worth paying attention to. Fans of their work and people who find Wall Street and Glengarry Glen Ross as exciting as a superhero movie will find it to be appointment television and people with or without a Showtime subscription can watch the first episode for free right now online.
I've known the pair for quite a long time and knew that when they decided to place their flag in this golden era for television that it would be special. They are the kind of creators who consume all of the great movies and shows and would have an interesting perspective. I reached out and the resulting interview follows:
Wikia: Where did the seed for Billions originate?
Koppelman/Levien: We began to gather material for a project about hedge-fund billionaires back around 2007 when the market was really rolling. Then the housing bubble and the financial crisis hit and that changed the narrative. But we were — and remain — fascinated by these titans of industry. We wanted to explore their power, pride, goals, many of which are contradictory. What drives them? What keeps pushing you forward when you having seemingly everything? What does it mean to have billions of dollars? And as a parallel, we were fascinated by the amount of power and autonomy that US Attorneys wielded. We found the two archetypes to be worthy adversaries, almost like rival kings. In 2013 our agent knew about these interests and called to tell us about another client who had ideas in the same vein. That was Andrew Ross Sorkin. Upon meeting, we realized we saw the terrain in a similar way and decided to partner up.

Wikia: Giamatti and Lewis are an inspired pair. What went into putting those two together and luring Giamatti into the world of TV?
Koppelman/Levien: Paul became a friend during The Illusionist. The moment we heard he was available when we were shooting the pilot, we called and emailed him, and then flew to LA to have dinner with him. He read the script and then over giant veal chops he agreed to do the show, which seemed fitting, somehow.  David Nevins at Showtime made the first call to Damian, whom we did not know, but greatly admired. Then we had many Skype calls with him, talking about the script, the character, the world of hedge funds (he knew a lot about the London financial scene) and we filled him in on the US landscape, and finally had a meeting at David Chang's Ma Peche in NYC, where, over many drinks, he committed. Also fitting somehow.
Wikia: As is always the case, you have wrangled some phenomenal character actors. No great show is complete without them. What's the experience been like having your dialogue feasted on by the likes of Jeffrey Demunn, David Costabile, Glenn Fleshler, and Arthur Nascarella?
Koppelman/Levien: A dream. These are actors we have long worked with or admired or both. Each day has been like a feast of incredible acting.
Wikia: Your big moments and "action sequences" are all dialogue rather than chases and fights. What were influences in finding that sweet spot in maximizing impact through the narrative?
Koppelman/Levien: We have always loved writers and filmmakers who can do what you describe above. Coen Brothers, Barry Levinson, Mamet, Spike Lee, Quentin, PTA, Nicole Holofcener. David Milch too. And Aaron Sorkin. And older movies, like Sweet Smell Of Success, Advise and Consent and on and on and on.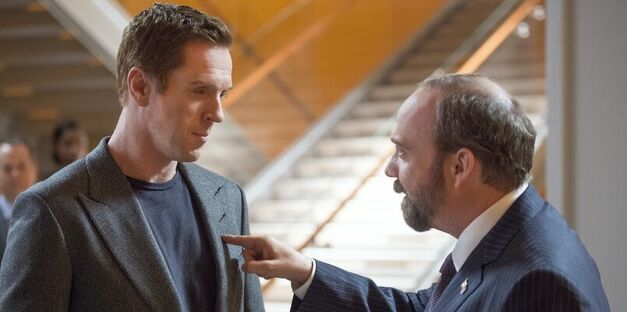 Wikia: Television and how we ingest it has changed colossally since the last time you worked in the medium. How did that affect your approach and what new challenges are you facing in this world of streaming and binge watching?
Koppelman/Levien: We binge when we can and when we're so moved, or watch weekly, as in the case of Mad Men. But when writing and creating, we are just trying to tell the story the best way we know how, in as compelling a manner as possible. We try not to think about how the business has changed. We try not to think about the business ramifications at all. We just want to imagine the world, characters and stories and tell them true and engagingly.
Wikia: It's a quintessentially "New York" show. How much attention do you pay to the "city as a character" idea and find ways to give Billions its own foothold in the city's celluloid lore?
Koppelman/Levien: Billions is as much about life in a certain part of Connecticut as it is about New York. But both those places, and the idea of each of those places, is central to the world of the show.
Wikia: Neil Burger's one of your main guys and you've been instrumental in helping bring him to audiences. Why was he the right guy to establish the look and feel of the show and how has his craft changed in the decade since The Illusionist?
Koppelman/Levien: Neil's toolkit is endlessly deep. He's super bright, super curious and fully engaged at all times. Just a brilliant and perfect collaborator. The fact that he grew up in hedge fund territory (Greenwich) and still lives in it now in Manhattan gave him a rich understanding of the show.
Wikia: You've delivered some really choice watercooler quotes in this first episode. Can we expect that to become a regular occurrence because you've set a standard for quintessential Koppelman/Levien dialogue here.
Koppelman/Levien: Thanks! The tone and voice of the show stays constant throughout. We have a stunningly good writing staff. And they come across with some absolutely beautiful and hilarious lines throughout the season. Our goal is for the thing to feel like one, long story told by one unified voice. We hope that's how it hits you.
Catch Billions this Sunday when it premieres on Showtime at 10pm or right now online.