An annual pop culture pilgrimage that draws 125,000+ attendees, Comic-Con International will once again play host to all things movies, television, games, and comics fans love. This year's show takes place July 20-23, once again at the San Diego Convention Center and surrounding Gaslamp Quarter. And whether you're a noob or a seasoned Comic-Con veteran, we want you to make the most of SDCC 2017. Here's a look at all the things attendees just can't miss at Comic-Con this year.
The Must-See Panels of Comic-Con 2017.
Hall H is ground zero for Comic-Con hype! That's where you'll find the biggest stars taking the SDCC stage to promote your favorite upcoming movies and TV shows. You might even want to camp out for a coveted Hall H seat if there's something you absolutely have to see. But if you're not up for that, it's okay, there are plenty of other panels that shouldn't require a sleeping bag.
Battlestar Galactica Reunion – Thursday, 2:30 PM (Ballroom 20) – The cast of the original binge-watch show, Battlestar Galactica, are reuniting for a panel that's sure to be unforgettable.
The Walking Dead – Friday, 12:15 PM (Hall H) – Here's your chance to see fan-favorite cast members and get the scoop on The Walking Dead Season 8.
Game of Thrones – Friday, 1:30 PM  (Hall H) – Winter is coming to SDCC in the form of a Game of Thrones panel and off-site activation. The panel won't be the most star-studded one they've done at Comic-Con, but we're still expecting plenty of reveals about the new season.
Marvel's The Defenders – Friday 5:15 PM (Hall H) – If you love Marvel's Netflix's shows — Daredevil, Jessica Jones, Luke Cage and Iron Fist — then you won't want to miss this panel previewing the upcoming epic superhero team-up.
Warner Bros. Pictures – Saturday 11:30 AM (Hall H) – The anticipated DC Extended Universe films Justice League and Aquaman will be showcased in Warner Bros. Pictures' massive Saturday panel. But that's not all — Steven Spielberg will be there to (probably) drop the first trailer for Ready Player One.  And Harrison Ford and Ryan Gosling will be on a hand to talk Blade Runner 2049 along with the filmmakers.
Stranger Things – Saturday 3:00 PM (Hall H) – ICYMI, Stranger Things Season 2 is coming to Netflix this October. We're expecting a fun panel with the show's delightful young cast, along with footage or a trailer.
The CW's Arrowverse – Saturday 3:30 PM (Ballroom 20) – Fans of The CW's superhero lineup are in for a real treat on Saturday as Supergirl, The Flash, DC's Legends of Tomorrow, Arrow, and the new (Arrowverse adjacent) Black Lightning series takeover SDCC's Ballroom 20 for a massive 3-hour block.
Marvel Studios – Saturday 5:30 PM (Hall H) – Marvel's epic 90-minute Hall H panel will feature the cast and footage from Thor: Ragnarok and Black Panther. And we're sure to get some sort of tease for Avengers: Infinity War.  Perhaps more importantly, the panel will be primarily focused on celebrating the upcoming 10th anniversary of the Marvel Cinematic Universe. Could they bring out all the major MCU actors? This is gonna be big.
Want to know more? The full list of Comic-Con panels can be viewed here.
Things you've got to see on the Comic-Con show floor.
The SDCC exhibit hall show floor is the beating heart of the convention. Bask in a sea of booths with the latest in movies, TV, comics, anime, manga, toys, games, and more! Exhibitors from all corners of fandom will be there showing off their hotness. And this is where you'll find all that sought after exclusive merch. You can also meet your favorite comic book artists. The show floor is the place to be for all these reasons and more.
Toy Exclusives – There's always exclusive merch available only to fans attending Comic-Con and 2017 is no exception. Funko, for example, has an SDCC exclusive glow-in-the-dark Snoke POP! Vinyl figure and dozens more! Meanwhile, Hasbro has created a playset based on IDW's Revolution comic — a crossover featuring Transformers, G.I. Joe, M.A.S.K., and more. And that's just scratching the surface. You can browse the official list of Comic-Con exclusives for even more.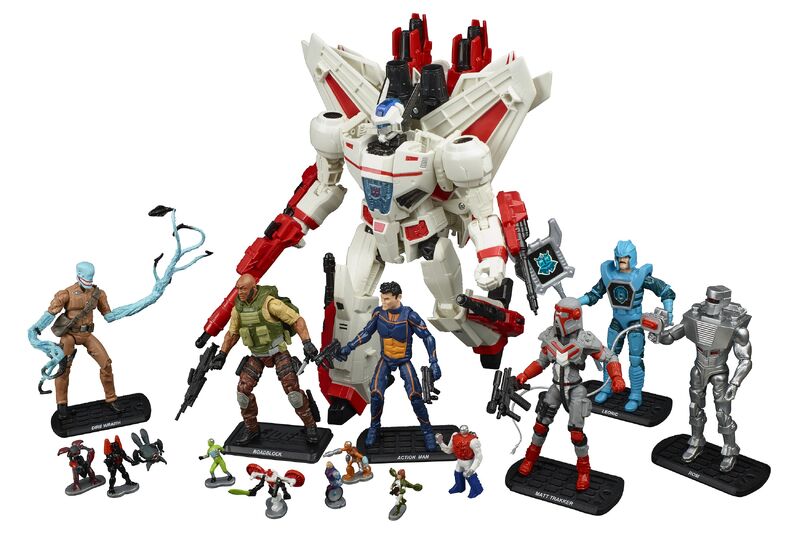 Must-See Booths – Some of your favorite movies and TV shows will, no doubt, have a booth on the Comic-Con show floor that you won't want to miss. Lucasfilm will have an expansive pavilion featuring all things Star Wars. Marvel typically hosts a massive programming stage on the floor. And DC's booth will once again be the place to see costumes from the upcoming DCEU movies. Those are the heavy-hitters but don't overlook the show floor presences of other studios and networks like Lionsgate, Nickelodeon, AMC, ABC, 20th Century Fox, BBC American, Starz and more. You never know what they'll have on display!
Artists' Alley – Comic-Con's Artists' Alley is the place to find your favorite artist. Each artist has a booth where they display their work, draw commissioned sketches, and typically sell merchandise. Here's a complete list of artists appear along with booth/table number.
Need more help? Check out this map of the SDCC 2017 show floor.
Comic-Con off-site events are just as important as the show itself.
There's more fun than ever outside of Comic-Con. When planning your schedule be sure to set aside plenty of time to immerse yourself in the epic off-site events around San Diego's Gaslamp Quarter.
Petco Interactive Zone – Make the Petco Interactive Zone top of your list. It's home to the first-ever FANDOM Fest, where FANDOM and Pepsi have teamed up to bring you news reactions, exclusive panels, celebrity guests, quiz shows, and more every day of SDCC. Also at FANDOM Fest is the FANDOM Fantasy Food Truck, serving up free food inspired by your favorite movies and TV shows — and paired with an ice-cold Pepsi.
Game of Thrones "Winter Is Here" Experience – Last year, HBO treated GoT fans to a "Hall of Faces" off-site activation. This year, they're returning to the same address (628 L Street — across from the Omni Hotel) for the "Winter Is Here" experience that takes fans on a journey through Winterfell, Dragonstone, King's Landing, and North of the Wall.
Conan O'Brien at Comic-Con – CONAN's Team Coco and Pepsi will partner to put limited edition Funko! Pop figures in the hands of CONAN's fans during the show's broadcast from San Diego during Comic-Con. After every show taping fans across the Gaslamp Quarter who tweet @teamcoco with #CONANCON + [Sunglasses Face Emoji] will have a chance to win a coveted CONAN reward & Pepsi product in less than an hour.
Adult Swim on the Green – Adult Swim's customary off-site is back. Spend a leisurely afternoon on the back of a ferocious beast gallivanting through It's A Fish Hole, or get a six-minute mind massage from the upgraded Meatwad Dome 4D Experience. It's daily, located at Convention Way & 5th Ave Pier.
Want to have even more off-site fun? Get the scoop on events like AMC's Deadquarters, The Netflix Experience, The Tick Takeover, and more right here.
---
The first-ever FANDOM Fest, a partnership between FANDOM and Pepsi, is running every day of SDCC to bring you live news reactions, exclusive panels, quiz shows, and more. Watch online or visit in-person at the Petco Interactive Zone, where you can also enjoy free food inspired by your favorite movies and TV shows — and paired with an ice-cold Pepsi — at the FANDOM Fantasy Food Truck. Check out the full schedule of events here.