Ethan Hawke sure knows how to class up a joint. Whether he's fighting vampire overlords or earning those Oscar nominations, Hawke always brings value to the screen. As you might expect, that also rings true to his role in Ti West's In a Valley of Violence. In this low-budget western, Hawke plays Paul, a man on his way to Mexico with his trusty dog in tow. When Paul stops for a rest in a town called Denton, he runs afoul of a U.S. Marshal (John Travolta) and the town's corrupt deputies. Paul soon learns that if he's going to get out of Denton alive, he'll have to get violent.
Writer and director Ti West has made a name for himself in low-budget horror. He's keen on slow-burn stories, shot modestly. His supernatural efforts The House of the Devil and The Innkeepers have the potential to be indie classics. But In a Valley of Violence, while it earns its title, is no horror film. It's a bloody revenge Western on a small scale. And while it lacks the polish of Antoine Fuqua's recent The Magnificent Seven or the size of HBO's Westworld, In a Valley of Violence is an underdog Western to root for.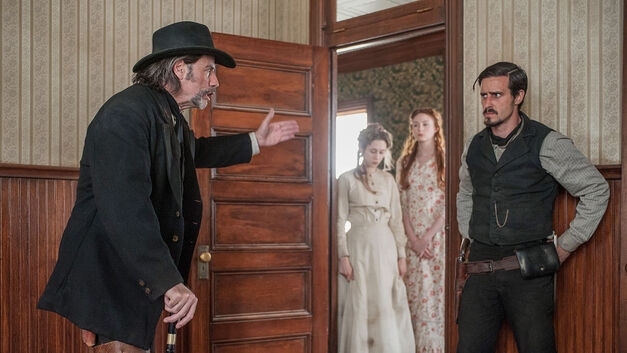 In addition to Hawke and Travolta, you'll find James Ransone, Karen Gillan, Taissa Farmiga, Toby Huss (always a welcome sight), and Burn Gorman filling out the supporting cast. Indie horror mainstay Larry Fessenden shows up, too, looking ever-so-appropriate as a scraggly-haired dirtbag. West has always had a good sense for casting, even when he's working with nobody you've ever heard of. But make no mistake — this movie belongs to Hawke and his dog. The bond between Paul and his well-trained pooch, Abby, carries a lot of the film's charm. You'll even excuse any brief bits of expository monologue, just because Paul is talking to his cute dog.
Travolta's one-legged marshal may be short on screen time, but he establishes the character as a worthy and smart adversary. It's one of his funniest performances in years. Taissa Farmiga and Karen Gillan play two bickering sisters who own Denton's only inn. Both feel a little out of place here, but Gillan has a sharp sense of camp. Farmiga's role has a few solid dramatic beats but falls a bit flat when West plays her up as a potential romantic interest for Paul.
But even when West undercuts his drama, the movie gets by on its unconventional charms. One of the best things about little movies like In A Valley of Violence is that they don't have to adhere to blockbuster cinema standards. West's films often lack the quick hook-and-pull of bigger films, where they establish the premise almost immediately. Instead, West takes his time to let the plot unfold as it should, making sure to properly establish all the players before the game begins.
And when it kicks off, prepare for a tense third act shootout. If Django Unchained, The Hateful Eight, or even Red Dead Redemption have you dipping your toes into the Western genre, In a Valley of Violence is absolutely worth your time. And while it's certainly aware of nostalgia, the movie stays away from Spaghetti Western pastiche (Tarantino territory), opting for a straightforward approach. And it doesn't get more straightforward than putting a great performer like Ethan Hawke in a great costume with his trusty dog by his side, and letting them take center stage.