Funko POP! toys are a little weird and completely adorable, much like Guardians of the Galaxy Volume 2 director James Gunn. Gunn took to Facebook this morning to announce the lineup for the GotG Vol. 2 toys. In addition to revealing pictures of the upcoming toys, he also promised that more will be released after the film debuts.
Funko isn't stopping their GotG Vol. 2 gear with just POP! toys. The company will also produce a series of their smaller, somehow-even-cuter DORBZ based on franchise characters. There will also be blind-box style minifigures, plush toys, and taller RockCandy figures of Gamora and Mantis. All 24 of the upcoming releases are available to browse in the Facebook post above, but here are a few toys that stand out. (By that, of course, I mean toys that are probably going to end up on my shelves.)
Rocket Blasting Off POP!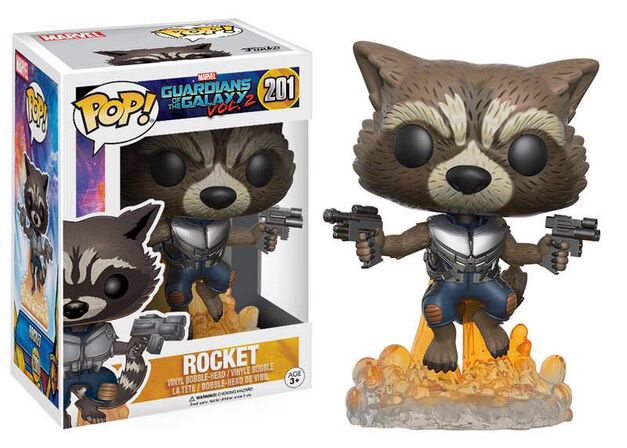 Funko has been trying some different things with their POP! line, including toys that include an action-based pose instead of just standing there. The Smuggler's Bounty limited-edition Boba Fett was one of the first to do this, and Funko looks like they're mirroring the jetpack style here. The translucent plastic base is fun and different. It makes Rocket look like he's about to shoot the bad guys, say something quippy, and fly away. This is a new direction for Funko, and I hope they'll continue to do more unique POP bases in the future.
Rock Candy Gamora Figurine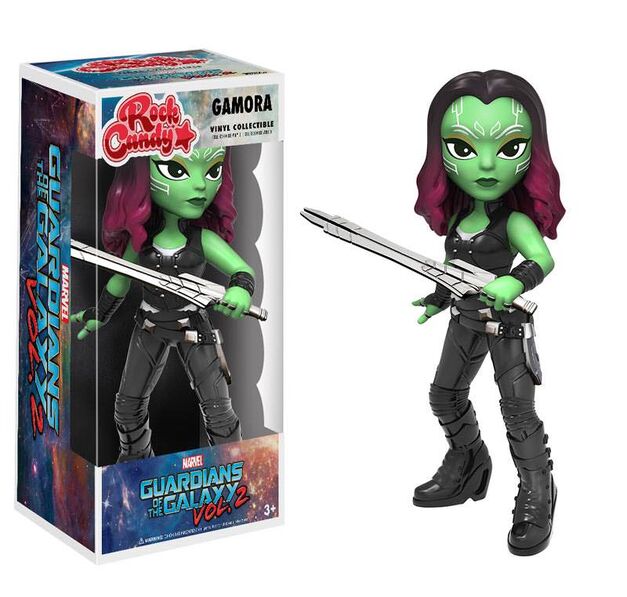 Gamora is a seriously fierce action hero in her own right, and it's great to see Funko recognize that with a slightly more action-figure-esque figurine. (They have one for new character Mantis as well.) Gamora is the first green woman in sci-fi history to turn down the "pelvic sorcery" of a charming swashbuckler. She's the opposite of the green aliens from Star Trek, all fight and no fuss. The details on her outfit, sword, and face markings look crisp – this is one well-designed figurine.
Maskless Star-Lord POP!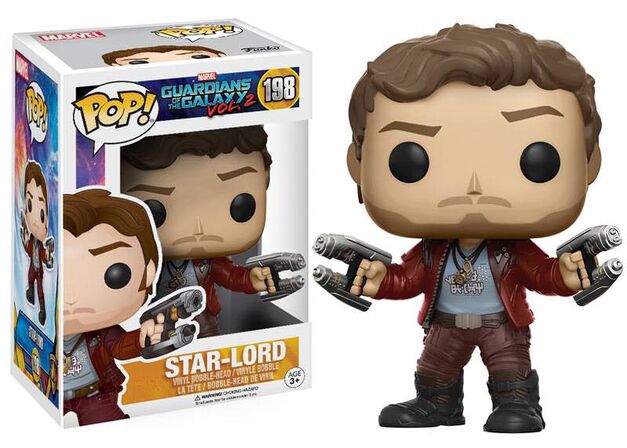 There have been some fun Star-Lord POP! figurines, but this one is great because he's helmet-free and actually somehow looks like Chris Pratt. The raised eyebrow is a great touch, and the details on this little guy are great. Star-Lord is one suave swashbuckling dude, and this figurine shows that off better than the ones where he's wearing the helmet.
Taserface POP!
Taserface is one of the new villains in GotG Vol. 2. While he looks an awful lot like Michael Rooker's Yondu, Taserface has been a part of the Guardians lore since his comic debut in 1990. Maybe Funko can do a promotion with Taserface and some other "face" characters. Two-Face? Arseface? Really, any character with the name structure "noun + face" gets my vote.
All of the Baby Groots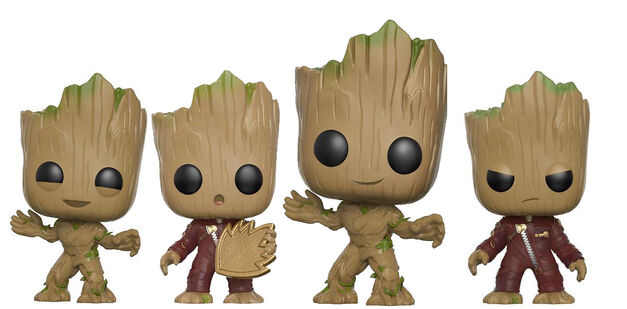 Baby Groot is adorable. The little guy stole the show in his end-credits sequence in Guardians of the Galaxy, and he's already making fans go crazy in his GotG Vol. 2 trailer and poster appearances. This little shoot is about as marketable as it gets.
Funko does a number of variants, often with limited or special releases, in order to add to the collectibility of their figurines. Some POP! figurines can sell online for upwards of several hundred dollars. So it's really no surprise that there are 4 Baby Groot variants to celebrate GotG Vol. 2. On top of the three regular-sized variants, there is also a 10-inch giant POP! variant exclusive to Target.