Fans shouldn't be surprised that another Despicable Me film is on its way. After all, the franchise has been the jewel of Illumination Entertainment, with even their spinoff, Minions, raking in over $1.16 billion at the box office. Illumination Entertainment would have been foolish to not make another film in the series. Thus, the third film, Despicable Me 3, should be an absolute win for the studio. Check out our first tease of the film below.
Breakdown of the Despicable Me 3 Trailer
The first film introduced us to Gru and his army of adorable little yellow Minions. The second film showed us a Gru that has forsaken crime and is on the straight and narrow. So what's the third one going to be about?
Gru facing a supervillain named Balthazar Bratt whose fashion sense is quite that dated, it seems. The trailer was rather light with its usage of Minions and focused more on our new villain making a daring new heist. And Bratt brings his villainy with some flair too, using only some bubble gum, a sonic blaster, and a Rubik's Cube with a twist to pull it off. Gru and wife Lucy were on the scene though, leading to a rather messy confrontation.
Fans shouldn't be surprised that Lucy is returning. After all, Gru and Lucy did get married at the conclusion of the second film. Hopefully, we will get more of a window into their relationship in the film.
Despicable Me 3 will also introduce the audience to another member of Gru's family. While we don't have any concrete info on Dru (quite a creative name), we do know Steve Carell is voicing the character, giving him double duty in the film as the voice of Gru as well. If Gru's twin brother turns out to be anything like his more famous sibling, we will undoubtedly fall in love him.
Who is Despicable Me 3's Villain?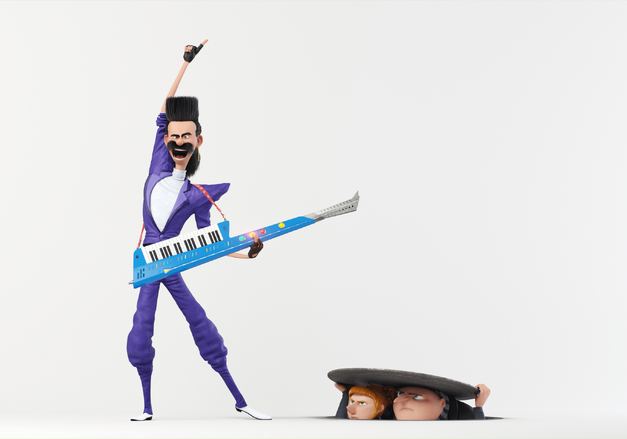 There isn't too much we know about this '80s throwback character, Balthazar Bratt. With his purple suit (complete with outrageously big shoulder pads), mullet hairdo, and throwback gadgets, expect a plethora of '80s jokes. And yes, more '80s pop tunes. However, we do know that he was a child star, or rather, a former child star, who has turned to Gru's former career as his source of income. He will be voiced by none other than South Park co-creator Trey Parker. As for the name, it's hard not to wonder whether "Balthazar Bratt" is a reference to '80s teen heartthrob Balthazar Getty combined with the group of teen actors from the '80s known as the "brat pack".
New Poster Reveal
(Keep scrolling, there's a whole lotta white space happening here)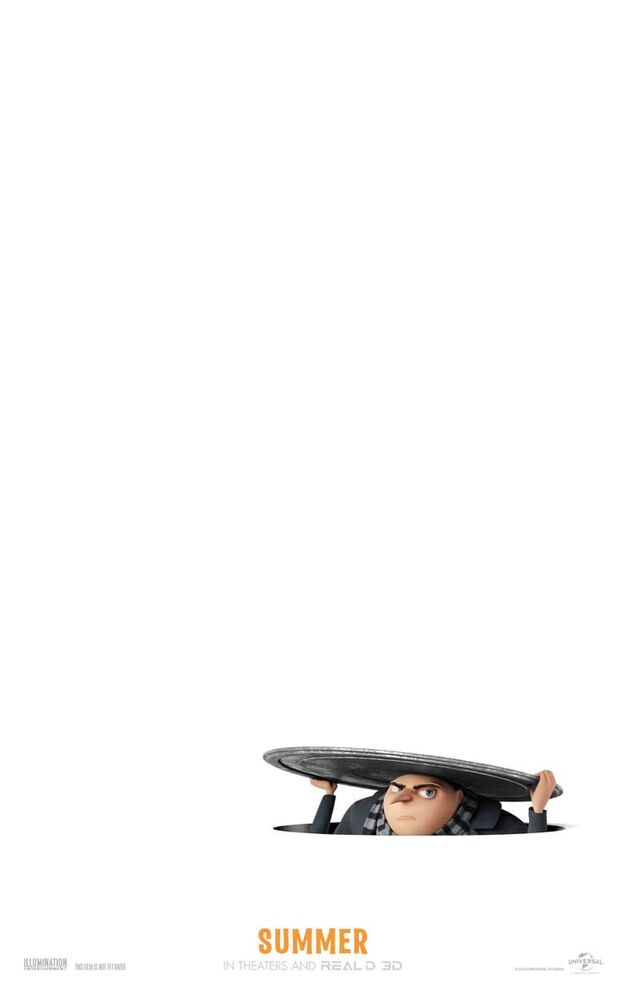 Oh, and they also attached this fun poster. It doesn't reveal much, but we'll probably see some sewer action. And don't worry, Gru hasn't changed his appearance.
Clear your summer schedule: Despicable Me 3 is set to hit theaters on June 30, 2017.