It's very easy to get lost in the sheer volume of licensed products on the market. Especially during the holiday season. One of the great trends that has only picked up steam is that of licensed horror products that aren't gross or scary. They're adorable. There's something that actually makes sense about taking the grotesque and making it appealing. Here are a few "can't miss" products to be on the look out for if you're shopping for your favorite horror fan.
Diamond Select Big Chap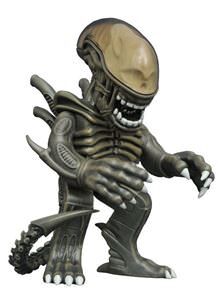 Diamond Select Toys knows how to make horror figures fun. The company specializes in crafting stylish vinyl figures for almost any fandom, but some of their best work hands down comes from the Aliens and Predator series. Their minimates figurines mix character traits from each property with a lego-like style that makes the finished product unique and nostalgic at the same time.
Alien minimates are probably some of the best toys to come from this brand. The figures from the original Alien are all excellent, but soon early next year Diamond Select will be upping their game. The Vinimates Big Chap alien is a cool 4-inch tall rendering of the titular baddie from the film that started it all. The toy is just about the cutest thing ever influenced by the work of H.R. Giger. Even the alien's see-through skull cap is adorable. This is a must own for fans. [Andrew Hawkins]
Horror Mopeez
Funko is the king when it comes to cutefying fandoms. The company is practically the biggest company in the toy collecting industry since the era of Beanie Babies. Just about everyone who is a diehard fan of a major property has a POP! Vinyl figure sitting around their den somewhere. They have made a simple template into a phenomenon that is just as iconic at the characters they portray.
Earlier this year right before Halloween, Funko released a series of classic horror monsters in plushy form. Freddy, Jason, Chucky, Ghostface and Michael Myers are the first wave of what the company has branded as Mopeez. These little huggables all feature the traits and characteristics of each horror icon perfectly. This is a set of toys that any little one will be happy to carry around and hold. [Andrew Hawkins]
Gremlins Sweater and Scarf
This item collaborated by Mondo and Middle of Beyond (MOB) is both adorable and horrific. It would make the perfect gift for any lover of the 1984 comedy horror movie Gremlins. It's like the Christmas tree attack scene on a sweater! This officially licensed Gremlins sweater is fantastically designed with a repeat of snowflakes and winter trees and has Gizmo happily centered sporting his adorable grin. The top of the sweater has a line of gremlins hanging from a string of Christmas tree lights. On the cuff of the sleeves is an image of the beloved gremlin Stripe rocking his famous mohawk. At the bottom is a row of familiar gremlins of the theater scene.
If the sweater is too much fun, check out the just-as-festive Gremlins scarf. There are even more horror themed sweaters to choose from. Like, Aliens and Friday the 13th. Mondo is most known for their very popular limited edition screen printed posters of classic and contemporary films, television shows, and comics. They also offer vinyl movie soundtracks, VHS re-issues, and toys. They even have their own con that is hosted in Texas. From the looks of their merchandise, it is no wonder they combined their design skills with the production company of MOB. Visit Middle of Beyond to discover a favorite and more! [Karma Savage]
Alien Next Door
I'm not sure who thought the horrifying xenomorph should be the subject of a cartoon book, but the result is downright heartwarming. This 80-page book of one-panel cartoons shows everyone's favorite Alien in repose. It's full of cute references that will please Alien superfans, and Joey Spiotto's artwork is perfect for the book. It's the perfect intersection of H. R. Giger and Gary Larson's The Far Side. If that sounds silly to you, then someone did their job right. They're cartoons. And they're precious. [Travis Newton]
Cavity Colors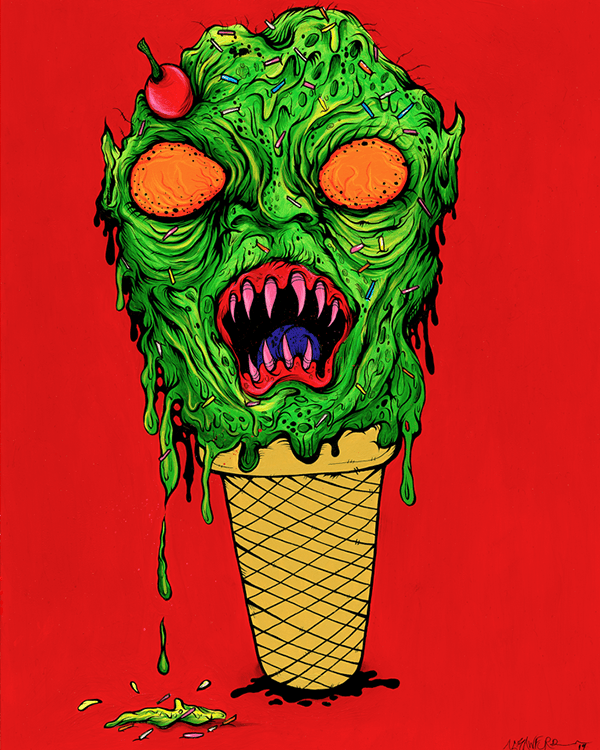 What's not to like about these? That Ghostface ice cream bar looks delectable. Horror and dessert are two great tastes that taste great together. While the cuteness of these prints varies with the design, that one with Sam from Trick 'r Treat is especially adorable. And seeing that ghoulish C.H.U.D head grinning from atop a sugar cone is especially… sweet. (I had to.) [Travis Newton]
Horror Dorbz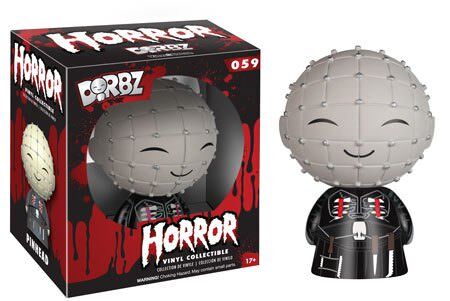 While it's rather unsettling to think of Pinhead from Hellraiser in any way other than terrifying, there's no denying the cuteness of his Dorbz figure. Funko has become a cottage industry by offering super-deformed versions of pop culture favorites and it's hard not to drink the Kool-Aid. They're fun, collectible, and look great even in their boxes stacked on a shelf or autopsy table. It's likely H.P. Lovecraft never expected just an adorable version of Cthulhu to exist but someone these oddities help keep the real world's horrors at bay if but for a moment. [Nick Nunziata]
---
Would you like to be part of the Fandom team? Join our Fan Contributor Program and share your voice on Fandom.com!