We've all heard the story by now. Jeremy Clarkson was involved in a 'fracas', and the BBC decided not to renew his contract. The fault was on all sides, and there was no real way to come back from it. All anybody could do was move on and do the best they could. Unfortunately, Top Gear drove itself straight into a wall. But Clarkson, Hammond, and May received much larger funds and freedom from Amazon for their new show, The Grand Tour.
New Beginnings
There's a very morose beginning to the new show. In a grey world, Jeremy Clarkson exits the BBC building and hands over his keycard to a nearby guard. Driving to the airport in a taxi, scrambled radio traffic includes fragments of Clarkson's removal from the network. After flying from the country, Clarkson drives himself back to joy in a Mustang Rocket. Along the journey, a pair of familiar faces join him. And, by the time our three stooges are nearing their destination in the middle of a desert, dozens of amazing and unique vehicles trail behind them on their way to a 'Burning Van' festival.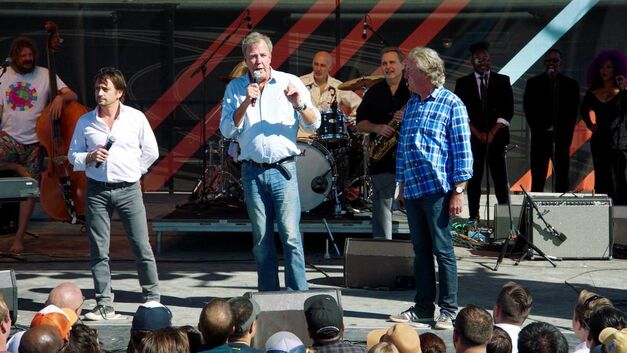 Introducing one another using their various firings, they give a brief preview of what the new show will be all about. What follows is several minutes of indescribable mania including:
Dune buggies in the desert
Hammond driving what appears to be a home-made tank
May firing an assault rifle in a drive-by
May (again) sinking in what looks like a car made out of bricks
Battleships with cars and cranes
An attempt to jump a car onto a helicopter pad on a moving boat
The Cars
For the first of their ultra-high-budget shows, the Top Gear Grand Tour team has decided to focus on the Prius. Well, not so much the car but the technology behind it. Instead of economy, they want speed. Clarkson was quick to get himself a McLaren P1, and Hammond dashed for the Porsche 918, and they headed for the International Algarve race track in Portugal.
In a childish display of "my one's better," the pair tried to determine which car is better. The McLaren has gone for the $1.8 million with the Porsche at a tiny €838,000. In miles to the gallon, the P1 does 34 to the 918's 94. Out of spite, Clarkson reminds Hammond exactly who owns Porsche (Volkswagon), so we probably cannot trust the statistics.
To get some perspective on their vehicle of choice, the pair switches cars for a few laps. Somehow, they each end up loving the cars, even if Hammond thinks the McLaren is trying to kill him. Before things get weirder, James May arrives with his own entry: the Ferrari LaFerrari.
The Challenge
Each car is capable of reaching over 200MPH with fewer emissions than most family saloons. After some time mucking about — during which there are dangerous levels of sparks and tire smoke — the team tests their cars. Clarkson rigs the first one against May with just electric power. LaFerrari has integrated systems and can't use just electric. After a silent start — and race — Hammond wins the milkfloat contest and the right to choose the next challenge. He decides on a race to the hotel.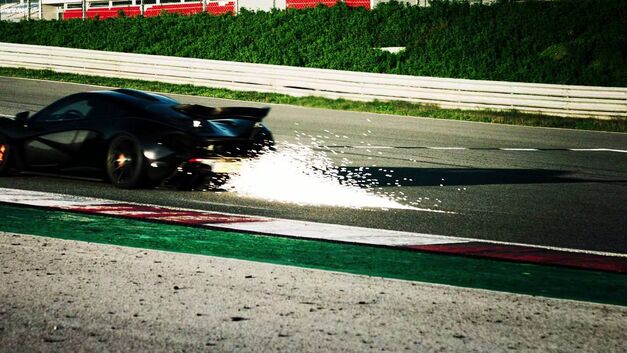 But there's another problem for James. Due to technical reasons, the Ferrari he is driving is road worthy but not road legal. What an unfortunate coincidence. As the lumbering oaf and tiny idiot enjoy their favourite commute of all time, James is stuck in the passenger seat of a transport lorry. As the first segment comes to an end, he is stuck on a tight corner with traffic backing him in.
Conversation Street
What was previously known as "the news" on another motoring show, the trio have now dubbed "Conversation Street". They have some truly phenomenal news for their first show. Brace yourself now: James May was caught speeding! Admittedly at 37MPH. With nothing else even able to come close, they move on to their next topic.
In addition to their new budget, sponsors, and freedom, Team Top Gear Grand Tour has been given a new track. It's both fast dangerous and called the Eboladrome due to its shape. There's no shoulders on either side of the track, just grass and woodland. One corner has a substation just beyond the tight curve and the next has a field of sheep. Being England, the course is also usually quite damp.
When the segment on the Eboladrome is over, James is slightly confused. When he did some laps before Clarkson's ones, the track was slightly different. It appears that an unexploded WWII bomb was discovered beneath the old layout so it was adjusted.
With a new track comes the need for racing. To keep things fair, the same driver will drive every car. Now, it appears that one of the few things Amazon insisted on was using an American driver. So the three men went to Nascar and absconded with Mike "the American" Skinner. For the first official car around the track, Clarkson selects the BMW M2. To get some perspective, the driver raced several other cars, but disappointingly, the M2 came quite low on the list.
Celebrity Guests
There was some discussion as to whether or not to have celebrities drive around their track a few times. Obviously, it would be a waste of time to have a famous icon fly all the way to England, drive around a track before meeting them wherever they are in the world for a few words. Instead, they decide just to sit and chat for a while. Then they have Jeremy Renner(!) skydive in from above!
Unfortunately, it appears that his parachute doesn't open in time and he crashes straight into the ground. But it's all good, they have a backup star, Armie Hammer, who is promptly bitten by a snake and dies of convulsions on the ground. I'm not making this up, it all really happened. By pure chance, Carol Vorderman has come out to watch the show and is in the audience. But, against all odds, she appears to have also died.
The Race
Between three eco-friendly supercars comes the world's best drag race ever. But there's a slight problem: they can't quite use them properly. With that in mind, the lads call in Belgian F1 driver Jérôme d'Ambrosio. Jerome gave each car a test lap to understand exactly how each one handles. Once he'd come to grips with the cars, the F1 expert gave some tips to the other drivers. In a completely unbiased review, it appears that the Ferrari is rubbish and the McLaren is a dream. In a classic fourth wall break, Clarkson has been editing the subtitles and d'Ambrosio is asked to simply do some timed laps.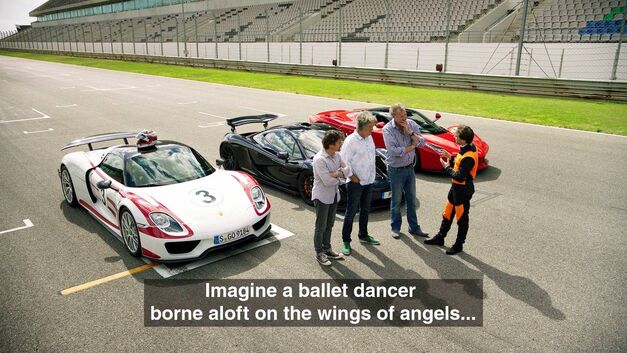 Three speed traps are activated around the circuit with an overall time recorded at the end. They quickly joke about the Ferrari being slow after registering as low as 110KPH. Taking the second turn is Hammond's 918, complete with "go faster stripes". The speeds are sometimes lower than James's although the 918 does corners faster so it has a hope of getting a better overall time. In possibly his stupidest moment ever — yes, including the aforementioned fracas — Clarkson bets that his car will be the fastest. He's so certain of this that he bets the destruction of his house on the outcome. Back in the studio, the times are revealed.
With the bet lost, Hammond and May promise to film themselves destroying Clarkson's house. Between losing a house, getting into a fight with the audience, losing a drone (it was shot down near the start), and killing three quite prominent celebrities, The Grand Tour is off to a brilliant start. Next week's episode will be coming from Johannesburg.
Favourite Moments
At one point, there is an argument between the (British) presenters and the (American) audience about the Royal Air Force being the best air force around and things get hairy
The various celebrity entrances/deaths were so funny I fell out of my seat with laughter
Clarkson bet the literal integrity of his household on winning a bet and then lost. The various homeless and survival suggestions he receives are pure gold.

Graham Host is a member of the Fan Contributor program. In his spare time, he enjoys the works of Terry Pratchett, DC Comics and a wide assortment of video games. Under no circumstances should he be fed after midnight. Contactable only via Twitter or trained carrier pigeon.