SPOILER ALERT: Warning, this article contains spoilers from the Season 7, Episode 7 of Game of Thrones, entitled "The Dragon and The Wolf." Proceed at your own risk.
It's a reveal that fans have been waiting for since Season 6, and certainly teased heavily throughout Season 7.
Rhaegar Targaryen, the eldest brother of Daenerys Targaryen and father of Jon Snow, finally made his debut via flashback in the Season 7 finale.
Viewers found out that last season Rhaegar, not Eddard Stark, was the father of Jon Snow. Lyanna Stark, Ned's sister, was his mother. This season, Gilly (of all people) discovered that Rhaegar had his marriage to Elia Martell annulled. Rhaegar wed Lyanna and she gave birth to Jon — whose real name was revealed to be Aegon Targareyn.
"Jon isn't really my father's son," the omniscient Bran Stark told Samwell Tarly. "He's the son of Rhaegar Targaryen and my aunt, Lyanna Stark. He was born in a tower in Dorne. His last name isn't really Snow, it's Sand. Dornish bastards are named Sand."
"It's not," Sawmell corrected him, revealing Gilly's research. "[The High Septon] wed Rhaegar and Lyanna in a secret ceremony," an event that Bran then witnessed using his powers as the Three-Eyed Raven.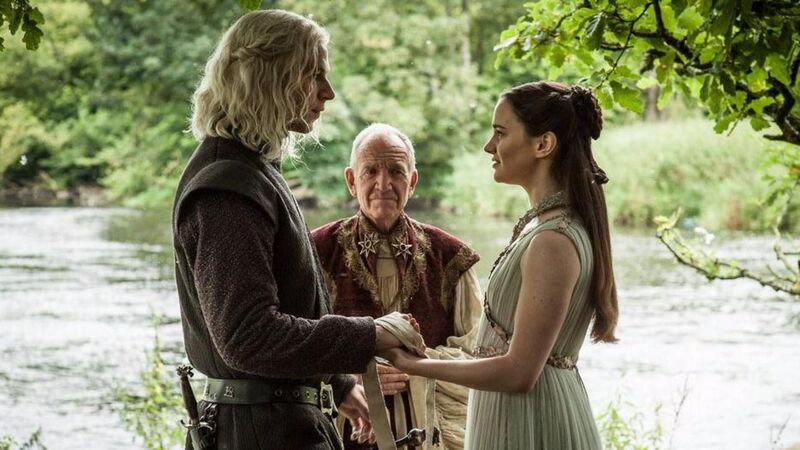 In the vision, Rhaegar (who looks a lot like Dany's other brother Viserys) and Lyanna exchanged vows.
"Robert's Rebellion was built on a lie. Rhaegar didn't kidnap my aunt or rape her," he said, recounting Robert Baratheon's motivation for overthrowing the Targaryen rulers. "He loved her … and she loved him," he explained of the secret lovers.
In another vision, Bran sees Lyanna telling Ned Jon's true identity, asking him to "protect him" as she lays dying.
So this means Jon aka Aegon is not a bastard — he is the true heir to the Iron Throne.
It also just means he slept with his aunt, but the Targaryens are known for incest.