SPOILER ALERT: Warning, this article contains spoilers from the Season 7, Episode 6 of Game of Thrones, entitled "Beyond The Wall." Proceed at your own risk.
The sixth episode of Game Of Thrones Season 7 gave us a glimpse of the Night King we never wanted and ripped our hearts to shreds. While Daenerys Targaryen lost Viserion beyond the wall, the magnificent seven captured a Wight, and Sansa staked her claim on Winterfell in the North. "Beyond The Wall" pushed the boundaries of storytelling beyond emotional limits and the world needs time to recover. Even with the reemergence of Benjen Stark, this episode is full of pain. While we accept that we cannot change Viserion's fate, we can take a breather and focus once again on the Great War of Westeros. Here are the best lines from "Beyond The Wall" to help us all deal with loss, and prepare our hearts for the Season 7 finale. 
Tyrion Lannister Is the Lisa Simpson of Westeros
Tyrion Lannister isn't just the Queen's hand, he's the conscience of the realm. Dany's Targaryen blood puts the entire kingdom at risk, with or without the Great War. Tyrion believes in Dany — and we all believe in Tyrion.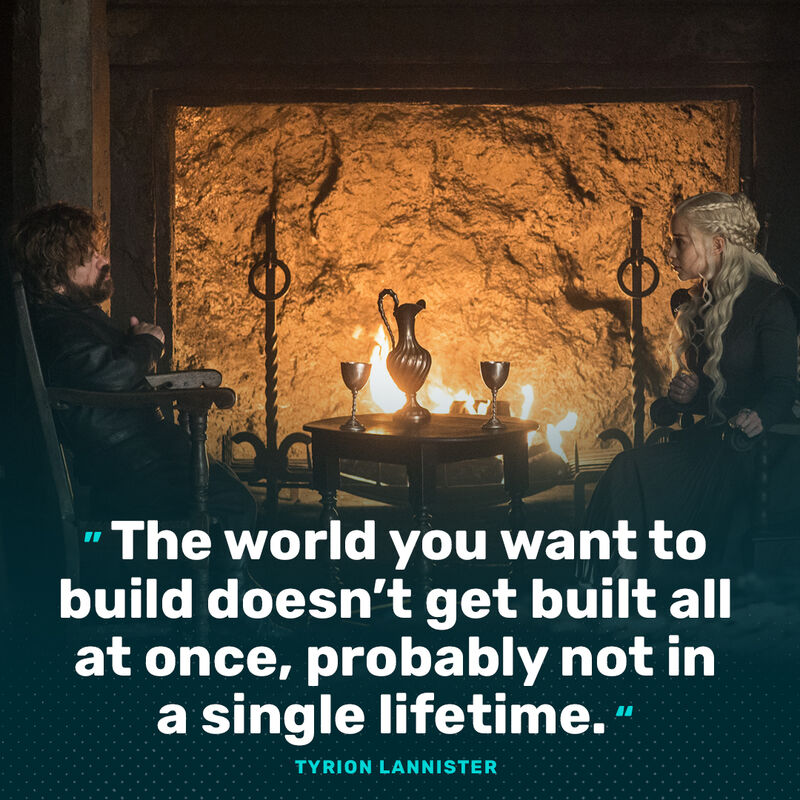 The rush toward leadership is a tenant of madness. Drunk with power, evil leaders create unhappy countries. As the Mother Of Dragons, Dany believes dragons are the only children she will ever have. But dragons can't sit on the Iron Throne after she is gone. Tyrion tempers Dany's rush to build a kingdom rather than a legacy.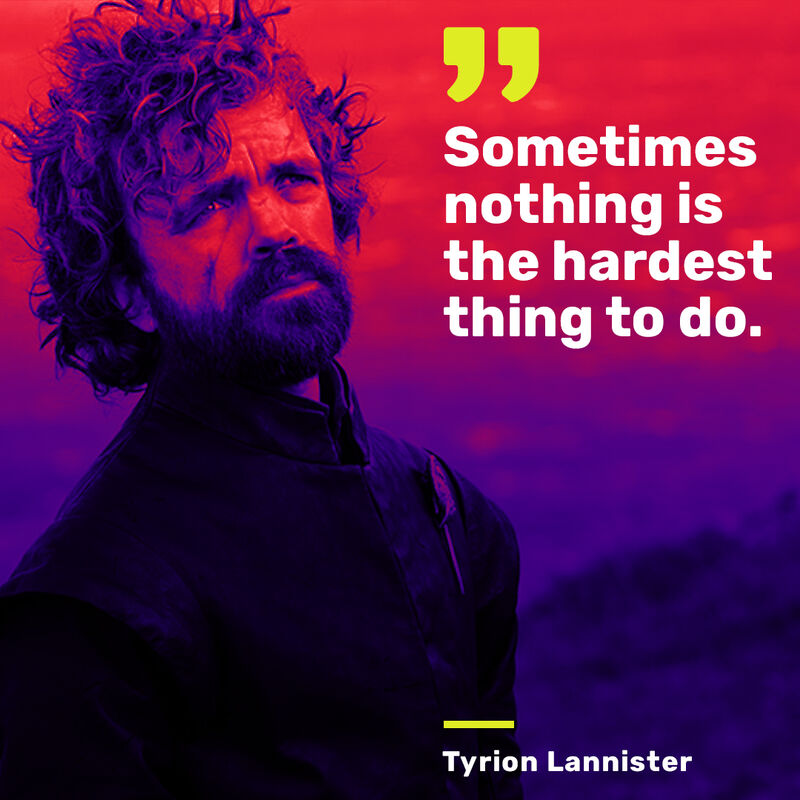 WTF, LOL?
Jon Snow doesn't understand why he was resurrected by the Lord Of Light and neither do we. Without a sense of purpose, the King In The North is all of us RN. He has every reason to stay spiritual and faithful to a certain ideology, ut asks a question which plagues so many of us in IRL.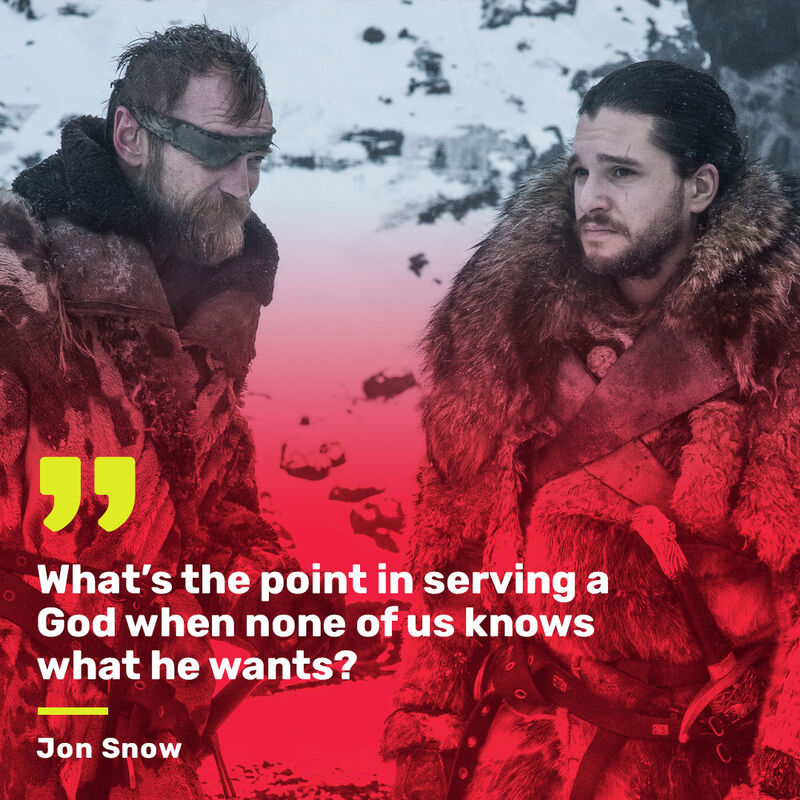 Ideology is so frustrating. Will the Lord Of Light reveal itself in time to give Jon Snow a sense of purpose?
Castle Black and Chill: Tormund of Tarth

The Internet has been 'shipping these two since the first time Tormund gazed lovingly at Brienne of Tarth.
We are thinking of it, Tormund, and on behalf of tall people everywhere: good luck.
The Hound Is Hilarious and We Love Him
We hope Sandor Clegane never dies.
. . .Even if he isn't into gingers.
Sansa Stark Is the Lady We Need
Sansa may admire Cersei Lannister and her reign over the south just a bit, but Sansa is a Lady of the North and she isn't going anywhere anytime soon. Though tense, her relationship with Arya could foreshadow the rebirth of Winterfell under the rule of a woman.
Arya Stark and her sister Sansa have a contentious history, but they were both raised by the late great Ned Stark. Sansa has had horrid experiences with men, and Littlefinger is on Arya's sh– list. Sansa's opinion of Littlefinger appears ambiguous, but her experiences have taught her the value of breaking free from the chains of patriarchy. The Stark sisters have a few issues to hash out, but at least they are both in Winterfell. Will Arya and Sansa's relationship remain tense, or will Arya use her training to defend Sansa from the grips of Littlefinger?
Jon Snow Called Dany "Dany" and It Melted the Internet and Our Hearts
Who says an Aunt and her nephew can't fall in love and save the world? The final scene between Jon and Dany is loaded with emotion. Beyond his bent knee, Jon and Dany shared a tender moment between two leaders who've been through hell. They need each other, and Westeros needs them. 
Will Jon and Dany make sweet love and birth an heir? If they find out they're related, and Jon is the rightful heir to the Iron Throne, will either of them care?
While it seemed as though Dany's penchant for madness was winning over her natural dragonborn tendencies toward leadership, the craft of great storytelling paints a new set of possibilities. Tyrion's wisdom is the conscience of Westeros, but Jon Snow (Targaryen) has the same tendencies for madness running through his veins, albeit less so. Does Westeros care if the Targaryens continue their long tradition of incestuous rule? Does any of this matter, now that the Night King has an ice dragon?
Either way, we miss Viserion. May he rest in peace. Perhaps his dragon blood is no match for the Night King's resurrection skills, and he'll remember his mother one day. Maybe the ice wall will come down and Viserion will build it once again. Or better yet, maybe Bran will warg into Viserion in time to save the world. One thing is for sure: as long as the Hound never dies, we'll have laughter to get us through the heartbreaking fog of war.
What were the most important lines from "Beyond The Wall", and what do you think will happen in the finale? Let us know on Twitter and Facebook.