Former WWE manager and wrestler Harry Fujiwara AKA Mr. Fuji passed away Sunday. He was 82. Bestowed with the moniker "the devious one", he was one of the top "heel" (aka evil) managers in WWE history. In 2007, because of his legendary career, Fuji secured a place in the WWE Hall of Fame.
On a personal note, I remember Mr. Fuji as being the only manager of the 1980s WWF who I felt was a physical threat to another wrestler. Many managers would lie, cheat, and steal to save their clients then cower when confronted by opponents. Fuji's experience as a wrestler and perceived martial arts skills produced a feeling that he could hold his own. If there were ever a match between managers, Mr. Fuji was almost always the clear favorite. Therefore, his character could be used in many more treacherous ways.
One of the Greats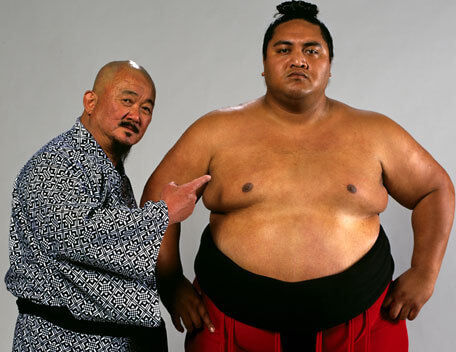 Fuji's greatest run as a manager was probably with Yokozuna. Yokozuna portrayed a sumo character with Fuji as his Japanese flag waving boss. Their greatest highlight came at Wrestlemania IX whenYokozuna took on Bret "Hitman" Hart for the WWE Championship. Hart was seemingly in control when Fuji threw salt into his eyes, rendering him temporarily blind. Since Hart couldn't finish, Yokozuna took advantage, pinned Hart, and became the WWF Heavyweight Champion. Though Fuji had been a tag team champion and had managed folks like Demolition and Powers of Pain, this was his highest achievement in his long tenure with WWF/WWE.
Fuji retired in 1996, finally ending a career that spanned four decades. In 1997, he brought a lawsuit against the creators of "WCW vs. NWO World Tour". He claimed that a character in the game, "Master Fuji," was based on his character in the squared circle. They ultimately settled out of court.
He spent the next couple of years operating a karate dojo in Tennessee and allegedly worked part time as an usher in a movie theater. Furthermore, wrestling had taken its toll on his body. Nine knee surgeries later, Fuji returned to the big stage at the 2007 WWE Hall of Fame ceremony. Fuji was in a wheelchair when inducted by his former client, Don Muraco, yet stood up for his stirring acceptance speech.
Upon news of his death, dozens of current and former WWE superstars voiced their condolences on Twitter. WWE Executive VP of Talent, Triple H's words were especially relevant:
An unforgettable character in front of the camera and an even better one behind it. Rest in Peace, Mr. Fuji. pic.twitter.com/NkpQE8pyAU

— Triple H (@TripleH) August 28, 2016