SPOILER ALERT: This post contains spoilers from The Flash episode "The Trial of The Flash." Proceed with caution.
Last night on The Flash, Barry Allen was sentenced to life in prison. He was placed in his father's old cell and left in Iron Heights for the foreseeable future. In the trailer for next week's episode, the son of the Trickster returns and Team Flash needs a new hero to rise. That new hero is Elongated Man.
Stretch Arm Strong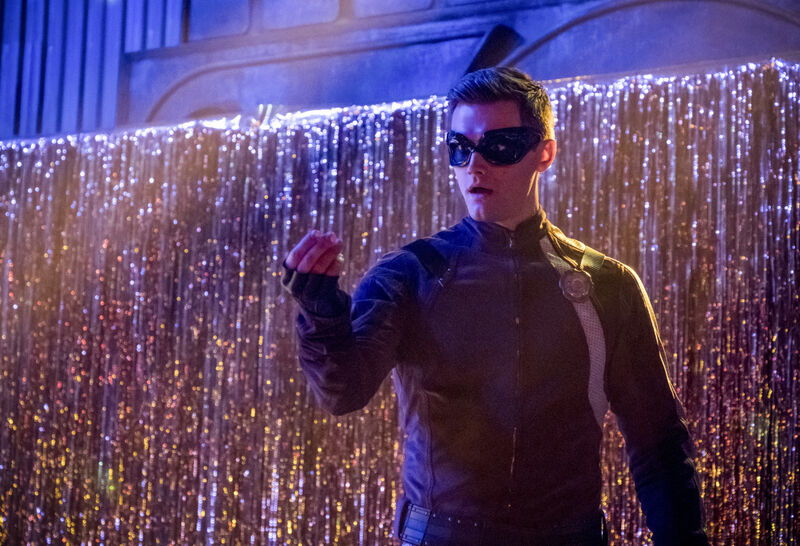 Ralph Dibny made his debut on The Flash during Season 4, episode four "Elongated Journey Into Night." Dibny was on the police force with Barry Allen until he was fired for planting evidence at a crime scene. Dibny then became a private detective until he was struck by metahuman energy on the city bus when Barry came back through the speed force.
Now Dibny is a full member of Team Flash. Possessing incredible skills of stretching and flexibility, he is known as Elongated Man. While Cisco's first uniform for him was a strange, plain, gray suit, these new images show that Dibny will have a new suit when he rises up to take Barry's place. Note the mask which looks like both the Trickster and Black Canary's mask and the strap on his left arm: that is a signature Firestorm piece. Possibly even a tribute to the many fallen Firestorm heroes.
Flash Forward
Dibny will face off against the new Tricker in next week's episode, "The Elongated Knight Rises." Check out the trailer below:
THE RISE OF THE HERO — When a familiar villain returns to terrorize Central City, Ralph (guest star Hartley Sawyer) must rise up to defend the innocent while Barry (Grant Gustin) is detained by his trial. Meanwhile, Barry searches for the strength to keep his optimism alive in the face of his new circumstances. Alexandra La Roche directed the episode written by Sterling Gates & Thomas Pound.
The Flash airs Tuesdays at 8PM on The CW.