Brace yourselves, monster movie-goers. Kong: Skull Island is coming your way, and we have our first look at two new posters for the film. Co-stars Brie Larson and Tom Hiddleston each shared a new poster on their Twitter accounts.
Here's the one from Larson:
Pretty straightforward, but this poster offers one of the first clear glimpses at the new version of Kong. Some of you might not know that Legendary Pictures and Warner Bros are doing a Godzilla/Kong remake series. Kong: Skull Island serves as the new origin story for Kong, à la 2014's Godzilla. Future installments include Godzilla 2 (2019) and the Godzilla vs. Kong crossover (2020).
Skull Island has been Kong's traditional home ever since his 1933 debut film. It also served as the main setting of Paramount Pictures' 1976 remake and Universal Pictures' 2005 remake. However, recent marketing has suggested that Kong isn't the only monster on the new Skull Island. Since Kong is headed for an eventual face-off with Godzilla, it makes sense to have Kong share the screen with other creatures.
Here's the one from Hiddleston: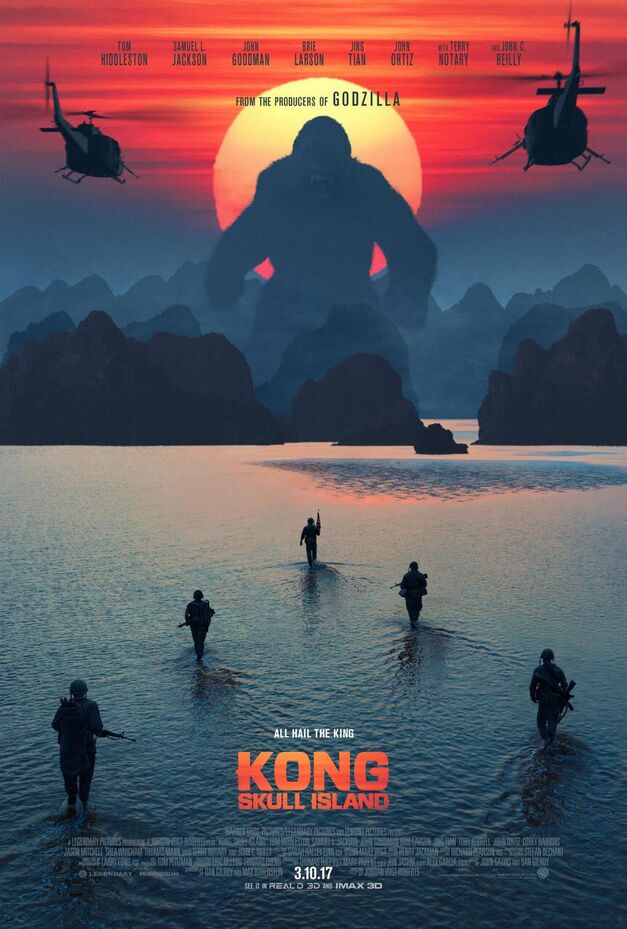 This poster merges live-action photography with painting-style visuals. In the foreground, Captain James Conrad (Hiddleston), Weaver (Larson), and their fellow characters wade into the waters of Skull Island. In the background, Kong is silhouetted against the rising sun. It's an intriguing contrast that perhaps offers some hints to the film's tone.
Kong: Skull Island went through some casting changes, but the film's other stars include Samuel L. Jackson, John Goodman, Jing Tian, and Jason Mitchell, among others.
The Godzilla and Kong movies have always had strong marketing campaigns. Kong: Skull Island is no exception since the film's second trailer is due out later today. Until then, the new posters will help you get acclimated to Legendary's take on Kong.
Kong: Skull Island smashes into theaters on March 10, 2017.