Source Code director Duncan Jones has been trying to get Mute, his Blade Runner-meets-Casablanca sci-fi film, made for more than 14 years. After teaming up with Netflix, principal photography on the film finally began in September 2016. Netflix recently released three images from Mute, which is set in the same universe as Jones' critically-beloved Moon.
What is Mute?
The film stars Alexander Skarsgård (True Blood) as Leo Beiler, a mute bartender in Berlin forty years from now. Leo lost his ability to speak in a childhood accident, and the only good thing in his life is his beautiful girlfriend Naadirah (Seyneb Saleh). When Naadirah vanishes without a trace, Leo must search for her in the dark corners of Berlin's seedy underbelly. The only recurring clue is a pair of wise-cracking American surgeons, played by Ant-Man's Paul Rudd and The Girl on the Train's Justin Theroux.
Jones has long planned on making three films in the Moon universe, and has confirmed that Sam Rockwell's Sam Bell character will make some kind of appearance. Mute takes place a decade or so after the events of Moon, so it's quite possible that fans will get to see some of the fallout from that film's incredible ending. (One astute fan on twitter noticed the "Free the 156" in the above image and linked it to the number of remaining Moon clones.)
"Mute is an encapsulation of everything I am fascinated by; noir, science fiction, and unique people in trouble because of who and what they are. I'm delighted to be able to return to Berlin for the shoot, a place I lived for a period of time growing up, and I'm excited to be working with Netflix on a film that is so close to my heart," Jones said in a press release.
The Look of Mute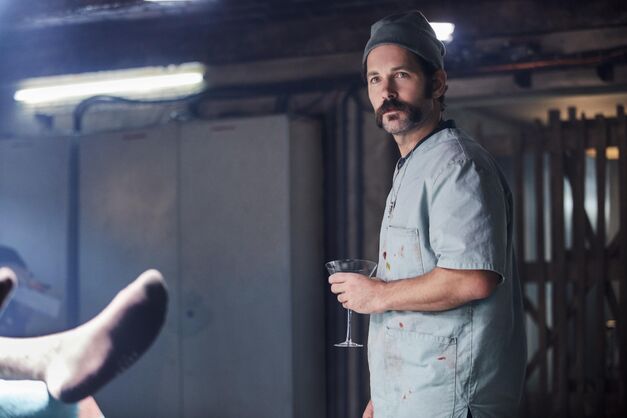 Theroux and Rudd's play surgeons described as "villains" in Netflix's press release. Antagonists or no, both have some amazing hair going on. Rudd sports a handlebar moustache, while Theroux is nearly unrecognizable in a 1960s-era blond wig. The two have proven themselves in both comedic and dramatic roles. It should be a blast to watch them cut loose in the neon-near-future.
Skarsgård maintains his ridiculous good looks (after all, he was in Zoolander). The actor has proven that he's capable of great work, both on the small screen (Generation Kill) and big (Melancholia). It will be interesting to see if he can emote through a silent role, or if Jones chose him purely for aesthetics.
Speaking of aesthetics, the stills released look absolutely gorgeous. They're reminiscent of the graphic novel Dark Horse was going to publish back in 2013. The colors are delightfully neon neo-noir, much like the upcoming Blade Runner sequel.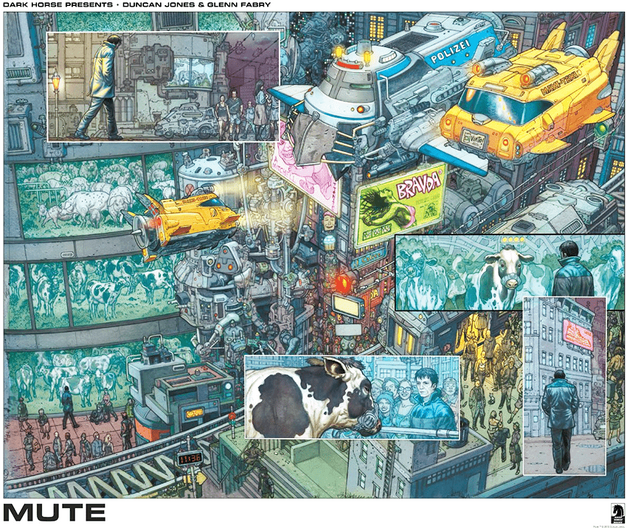 Mute will be available on Netflix sometime this year.