Warner Bros. Television screened six of their new pilots at San Diego Comic-Con Preview Night, and we watched four hours of television so you wouldn't have to. Here are our first impressions:
Riverdale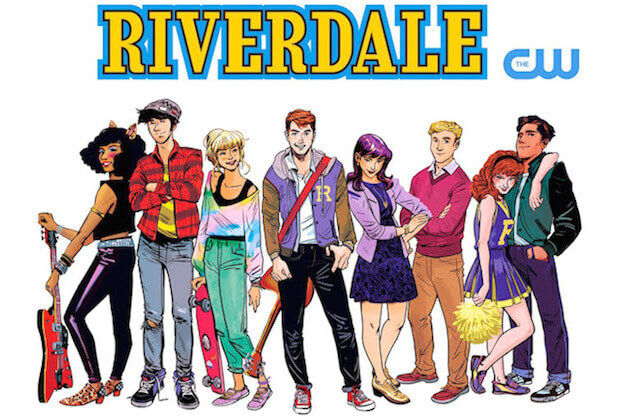 The new hour-long teen drama is a modern take on characters from 75-year-old Archie Comics. In small town Riverdale, life seems as neatly trimmed as everyone's lawn. After a July 4 tragedy involving popular student Jason Blossom, the school year starts on a slightly somber note, and secrets start to unravel.
Likable ginger hero, Archie (KJ Apa) is a good-hearted, popular, football playing sophomore who got hot over summer due a combination of working construction with his dad (Luke Perry) and puberty. His heart is in writing and making his own music.
Archie's childhood best friend Betty (Lili Reinhart) is a picture perfect girl-next-door who tries to work up the courage to tell Archie she has a crush on him. Her mother is an overbearing nightmare who pushes Adderall on her and constantly pressures her to maintain her good character.
Veronica (Camila Mendes) moved back to Riverdale with her mother to start anew after a fraud and embezzlement scandal involving her father sent them running from New York. Stylish, magnetic, and vocal, she quickly becomes friends with Betty, though there is an instant attraction between her and Archie. She's a reformed rich girl determined to make a better version of herself in Riverdale, albeit one with a set of pearls and unwavering fashion. She's also not afraid to go tête-à-tête with resident mean girl/Queen Bee/cheerleading squad captain, Cheryl Blossom (Madelaine Petsch).
Also introduced are Jughead, Archie's former best friend and aspiring writer; Josie (Ashleigh Murray), of Josie and the Pussycats, who is trying to establish her band's identity via music and pussycat ears (and who rejects Archie joining the band by dubbing him "Justin Gingerlake"); Kevin (Casey Cott), Betty's gay BFF; Moose (Cody Kearsley), Archie's closeted jock friend; and Ms. Grundy (Sarah Habel), the school music teacher who looks barely older than any of the students. Ms. Grundy also had a secret tryst with Archie the night of July 4, completing the Archie/Betty/Veronica/Ms. Grundy quadrangle.
This is an Archie story for a new generation: The characters are throwback familiar and hang out at Pop's Chock'lit Shop, but they also deal with 21st-century teen issues like bullying, school dances, heartbreaks, identity, and all the drama that is high school. Numerous pop culture references are dropped: Cheryl says Betty is too fat for the cheer squad and compares her to Season 5 Betty Draper, and Veronica calls herself the Blue Jasmine of Riverdale when she realized everyone knows about her father's scandal. And a murder mystery is there to tie it all together. High school never looked so fun. Premieres on The CW midseason.
Powerless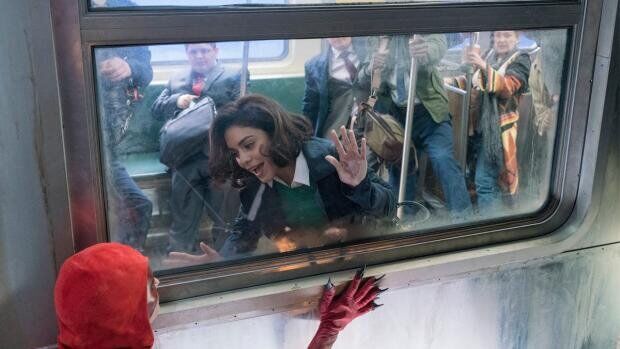 In Charm City, superheroes are no oddity. People talk about them as if they are celebrities, the news is constantly reporting about Crimson Fox, and it's widely known that the #1 superhero related cause of death is falling rubble. Vanessa Hudgens is Emily, a claims adjuster for insurance company RetCon that pays out to victims of superhero related damage. Inside their insurance company, world (universe?) clocks keep track of time in Atlantis and Themyscira. Emily becomes somewhat of a superhero herself when she stands up to both Crimson Fox (if she could put the train she just caught with one hand back on the tracks so everyone isn't late for their jobs, please) as well as her new bumbling son-of-the-CEO boss, Del (Alan Tudyk). Other RetCon employees include a set of weird twins, a friend-zoned coworker, and someone who may or may not be Green Lantern in disguise. It's an office comedy with a "super" spin, and the pilot had just enough charm. Premieres on NBC midseason.
People of the Earth
Ozzie (Wyatt Cenac), a journalist, goes to write a story about a support group of alien abductees (they prefer to refer to themselves as "experiencers") in a town called Beacon, that reportedly has an abnormally high number of alien encounters. He meets a random group of people that include a farmer, a cosmetics salesperson, a part-time temp accountant at a funeral home, and a tech VP. He thinks they're all delusional weirdos and dismisses their memories about encountering different types of aliens: reptilians, big grey-headed tiny-bodied beings, and albinos that kind of look like Ryan Gosling. Ozzie also has the sleepiest eyes you've ever seen. Once he starts digging more into their stories and realizing he may have more in common with them than he thinks, Ozzie wakes up, moves to Beacon, and tries to figure out what's really going on. It's wacky and a little hokey at times, but if anyone can pull off good comedy, it's creators Conan O'Brien and Greg Daniels. Premieres on TBS in the fall.
Time After Time
In 1893, H.G. Wells (Freddie Stroma) is a young, optimistic man who has yet to write his now famous The Time Machine but has created a real life version of said machine. His scholarly friends laugh at him when they see it; all but Dr. John Stevenson (aka Jack the Ripper, played by Josh Bowman), who uses it to escape to New York 2016 when Scotland Yard comes looking for him. Wells follows in the time machine and lands in the American Museums of Space and Science, inside an H.G. Wells exhibit. He is disappointed to find that the future is not the peaceful utopia he had imagined, but a crime-filled and dangerous world where Stevenson would flourish. Where Wells looks upon everything in 2016 with the amazement and wonder of a fish out of water, Stevenson adapts quickly and continues to hunt for victims. Wells meets an assistant curator at the museum, Jane Walker (Genesis Rodriguez), and convinces her that he truly is from the past, and the two of them try to stop Stevenson. But by both Wells and Stevenson traveling through time, they've altered the present, including events that will affect Walker. Wells and Walker then attempt to change the future by changing the past/now-present, which has already been changed in the first place. Yes, this is all very confusing, but when is time travel not? Plus, Stroma is charming as the gentleman Wells, and Josh Bowman is a surprisingly hot Jack the Ripper. Premieres on ABC midseason.
Frequency
The time travel in this show may be even more confusing than in the last, but if you don't think about the science, the pilot was quite compelling. Based on the film of the same name, the story follows Raimy Sullivan (Peyton List), whose father, Frank Sullivan (Riley Smith), was an undercover cop that died when Raimy was eight years old. She grows up thinking he was a dirty cop and eventually pursues her own career in law enforcement. One night during a thunderstorm, Raimy finds her dad's old ham radio and through a certain frequency connects with a voice, who turns out to be Frank in 1996, on the other end. Eventually, they each realize who they are speaking to, with their connection spanning across 20 years in parallel times (by the way, Raimy is now "older" than her father). Raimy investigates the events of the night of her father's death and is able to change the outcome but not without setting off other tragic events. Suddenly her memories are doubled — she remembers the past as it was as well as the past now that's she's changed it. Raimy and Frank must work together to solve a serial murder case while dealing with the unexpected effects of altering the past. Premieres on The CW on Oct. 5.
Lethal Weapon
This is the reboot we didn't think we wanted. It's hard to match the Mel Gibson/Danny Glover buddy cop relationship, but Clayne Crawford's Martin Riggs and Damon Wayans' Roger Murtaugh breathe new life into this franchise. Riggs is the brash, impulsive cop living in a trailer on the beach, and Murtaugh's the cautious straight man, returning to work at 50 with three kids (including a baby) at home. Their chemistry is great off the bat, and the contrast between their styles — Riggs always trying to get himself killed and Murtaugh just trying to stay alive — meshes well together. Crawford is dynamic as Riggs. For all the comedy, there are also genuinely touching moments, such as when Murtaugh discovers Riggs' reckless behavior is a result of him sorely missing his deceased wife. Their first case is to investigate an apparent suicide, and it is full of fun, big chases, and action (the director is McG, after all). Premieres on Fox on Sept. 21.