With the boom of smartphones, you're never far away from a new time-consuming game. With so many different options to download, it can often be hard choosing the next handheld game to get sucked into. We're here to help, showing the latest, the greatest, and the games that aren't worth the space on your phone. For this edition of Phone Fun, we take a look at Pokémon Go, Final Fantasy Brave Exvius, and NBA Live Mobile. 
What We're Playing 
Before we get into this week's column, let's talk a little about Pokemon Go. It's the game that everyone is playing, and I do mean everyone. I have never seen a mobile game catch on like this one, with countless strangers on the street glued to their smartphones and flinging digital Poké Balls hither, thither and yon.
That being said, it's hard to truly judge the game yet. For one thing, I haven't been able to play Go much because the servers have been so overloaded. As of this writing, I possess only two lowly Pokémon (Squirtle and the Staryu). What a letdown. As the servers become more stable, I'll be able to give this game more time and an honest opinion. I know one thing so far: Go has lots of room for improvement. That's a good thing because it's already off to a remarkable start. Expect more thoughts on Pokémon Go in the next edition of Phone Fun.
Final Fantasy Brave Exvius (iOS/Android)
Here's a true fact about me: I am a Final Fantasy newbie. I have played a few hours of Final Fantasy VII but never even made it out of the Shinra building. Embarrassing. It's not that I don't like Final Fantasy, it's just that they've never been on the consoles I owned, were too complicated to get into or just came out when other games were occupying my time.
Now comes Final Fantasy Brave Exvius, a mobile game that is custom-made for FF novices like myself. The game is Final Fantasy boiled down to its basics: turned-based combat, magic, and team building. While it's fun and very well-suited for a smartphone, it feels like the CliffsNotes version of something much bigger.
The game is light on story and heavy on gameplay. Unlike other Final Fantasy games, you won't be spending hundreds of hours on Final Fantasy Brave Exvius because it isn't as full and expansive. Instead, you'll be diving into battle after battle, upgrading your team, learning new abilities and becoming a better warrior. In between are conversations between characters that aim for witty and fall somewhere between cringe-inducing and chuckle-worthy.
The touch controls are fantastic. You tap on your character for an attack, swipe to the left or right to cast magic or heal yourself. It's all very straightforward and splendidly smooth. Square Enix and developer A-Lim perfected the gameplay and made it as intuitive as every mobile game should be. Playing this thing is a breeze and perfect for people unfamiliar with the franchise.
Though I haven't spent much time with the Final Fantasy world, I can tell Exvius is just a minor slice of a bigger pie. It feels like a tutorial for a real FF game, a way to entice players to join Square Enix on its next full-length game. Even though it feels small compared to the franchise it sprung from, Final Fantasy Brave Exvius shows that you can make capable and worthy spin-offs for smartphones, even if they don't have all the bells and whistles of their console and PC big brothers.
Now this one is a surprise. Finally a mobile basketball game that is addictive, challenging and – most importantly – fun to play.
I'm a massive basketball fan (go Blazers!) and have long lamented that there isn't a worthy basketball app on the iPhone. The quick nature of the sport lends itself so perfectly to the smartphone, why hasn't someone cracked it? NBA Jam came close but never updated its roster and was, quite frankly, a bit too silly for a stat-loving diehard like myself.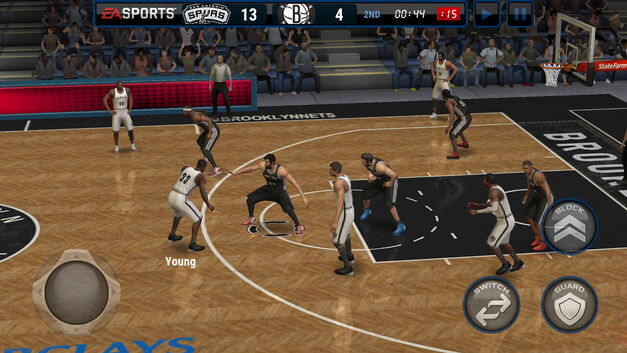 Now we have NBA Live Mobile which looks good, (usually) plays smoothly and also has an emphasis on team building. You mix and match real NBA players, buying and trading them (with in-game currency or real money if you're so inclined) to make your own perfect squad. You can then use these teams to play an entire season, partake in daily challenges and play against other people online. The best bang for you buck is the season mode, where you take on every other team in the NBA. The great thing about this is that you are required to change you line-up depending on the team you're playing. Going up against Steph Curry and the Golden State Warriors? You'll want to use your players who excel atetter at shooting three pointers. Taking on a team like the Bucks who tend to be bigger and dominant in the paint? Time to break out your big man squad. It's fun to improve each of your specialty line-ups over time, making each the best team they can be.
The graphics, the controls, the variety of play modes – it all adds up for a well-rounded and rewarding game. It has room for improvement (and hopefully roster updates now that the NBA offseason has been full of blockbuster trades) but NBA Live Mobile is head and shoulders above the competition.