[ooyala video=JyN3dxMjE6sroLi4MME1vkG0JdFoQ_hq][/ooyala]
Hold onto your robes, because Eddie Redmayne is back in another trailer for Fantastic Beasts and Where to Find Them. The teaser we got at the end of last year gave us a sneak peek at the new world J.K. Rowling is crafting with Warner Bros., but the new trailer has even more magic, that soaring music that brings us back to Harry Potter, a shoutout to Albus Dumbledore and much, much more. Keep reading to see what we know so far about Fantastic Beasts and Where to Find Them!
Newt is a Troublemaker…

It seems like Newt has a knack for getting into trouble, and it even got him booted out of Hogwarts! The reason for his expulsion? Endangering a human life with a beast. The only teacher that argued against his expulsion was Albus Dumbledore, the patron saint of magical troublemakers a la Harry Potter, which brings us to our next point.
Young Albus Dumbledore to Newt's Aid?

According to Harry Potter Wiki, Newt went to Hogwarts beginning in 1908, and Albus was a Transfigurations teacher there in the 1910s. Since the trailer reveals that Albus had a soft spot for the wizard, could there be a chance that we'll see him appear in one of the three movies to aid Newt? There hasn't been any casting announcement, but we're holding out hope that he'll appear, even if it's in the form of Fawkes delivering a letter of wise words!
So Many Beasts

Speaking of Fawkes, let's talk about the magic held within Newt's unassuming briefcase. From the beginning of the trailer, we can see that there are creatures inside looking to get out. Newt has a handy little "Muggle Worthy" option on the case, but, when it's in its natural magical state, we're not surprised that it's not the best cage for magical beasts, which is what set things off. The basis of the movie is that Newt is trying to recapture his escaped creatures before they create too much chaos in both magical and non-magical worlds. Thanks to Pottermore, two of the creatures spotted in the trailer have been identified.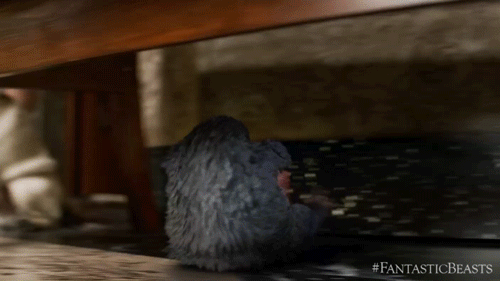 The platypus-like one is called a Niffler, a treasure-hunting creature with a penchant for shiny things. According to Harry Potter Wiki, "Nifflers are gentle creatures, and can be affectionate towards their owners, but will also destroy belongings and property looking for things that sparkle."

The bird-like creature we see flying around is called a Swooping Evil, which is a pretty ominous name, right? This creature actually doesn't appear in Rowling's bestiary so the only thing we know about it is from Pottermore, which says it is "a large, butterfly-like creature that emerges from a small object, possibly a cocoon."
One Beast to Rule Them All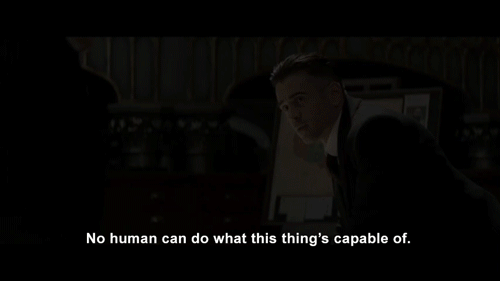 Newt has a lot of creatures in his case, but could there be one that could actually put everyone in danger? At the end of the trailer, Graves (played by Colin Farrell) hints that such a powerful creature could exist when he gives Magical Congress of the United States of America (MACUSA) leader Seraphina Picquery the bad news. Now the question is, what is this fantastic beast they're so scared of?
Muggles and the Scourers

From Rowling's History of Magic in North America, fans learned that the wizarding community is even more secretive and strict than Europe about keeping wizards and Muggles separate. As we can see in the latest trailer, Newt is breaking all the rules and causing havoc in both worlds, threatening to upend the wizarding community. He is bringing a Muggle, Jacob, around to magical areas and even blatantly using magic in front of him (flying plates, expandable case, etc.). The MACUSA are bound to be annoyed by Newt's antics.

Going back to History of Magic in North America, remember the wizard-hunting Scourers? Their descendants are still around, and the fancy dinner scene with the banner "Shaw: America's Future" makes us think that they'll come down on Newt and his friends pretty hard. It doesn't help that this scene dissolves into chaos, either from a magical creature or through actual wizards, which could result in even more rising tensions between Scourers and wizards. With two groups coming after Newt and a menagerie of beasts running amok, Fantastic Beasts definitely doesn't seem like it will be boring.
This seems like the recipe for a great movie: magic, fantastic beasts, wizarding duels, and ROMANCE (don't forget about our ship, Newtina)! We seriously can't wait for the first Fantastic Beasts and Where to Find Them film to come out this fall, and the trailer is only making us more excited! For more on the film and Harry Potter facts, check out the Harry Potter Wiki.