After two insane seasons, Ash vs. Evil Dead still has some crazy tricks up its sleeve, including the introduction of Ash's daughter, Brandy (Arielle Carver-O'Neill).
"This season is about family. The family that is bound by blood, and the family bound by bloodshed," Dana DeLorenzo, who plays Kelly, said at New York Comic Con Saturday.
New Faces in Elk Grove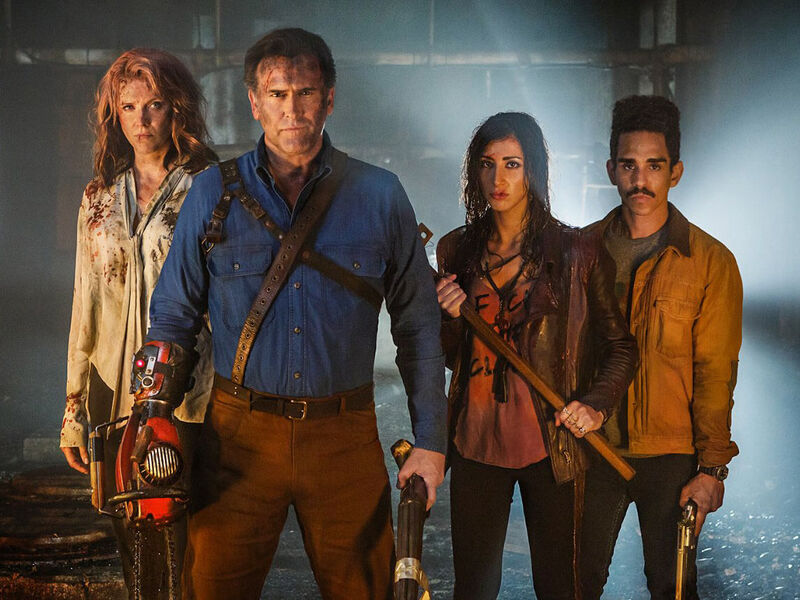 After (supposedly) defeating evil for good at the end of Season 2, Ash, Kelly, and Pablo have each moved on in their lives.
"Our happy ending lasts long enough for us to move on and think it's really not coming back. Long enough that Kelly is off doing her own thing, long enough for Ash to open up a store, long enough for me to have a food truck and get my fish n' chips business going," said Ray Santiago, who plays Pablo. "We really think that it's done, but of course, somebody's always gonna open up that stupid book and read from it."
Someone does find the Necronomicon and reads it aloud (never read Sumerian out loud, it's just that easy!) and the deadites immediately go after Ash's high-school-aged daughter, Brandy. Brandy's mom doesn't survive the encounter, and now the youngest Williams is part of the Deadite-fighting team.
Brandy's not the only newcomer to the team. Kelly brings along Dalton, a Knight of Sumeria who was trained in the fight against the Deadites. Dalton is a huge Ash fanboy, and it wasn't difficult for actor Lindsay Farris to get into that mindset.
"I come from this little country town in Austrailia. My grandmother when I was 13, she showed me two movies every couple of months on Betamax. One was Texas Chainsaw Massacre, and the other was Evil Dead," he said. "I'm kind of like Dalton in a way, I'm a fanboy who gets to be a fanboy."
The Hero's Journey
With so much changing around him, where does that leave Ash?
"He's becoming a real person. Not so selfish, not so self-centered. He's still an idiot, but I mean… deep down, he's ok," Bruce Campbell, who plays Ash, said. "Never come between a papa bear and his cub. From a story level, it can help Ash become more three-dimensional. He doesn't just have to save the world, he has to raise his unruly daughter as well."
Ash isn't the only one who grows and changes this season. With two newbies to watch over, Pablo and Kelly are finally able to seize their own destinies.
"I love where Kelly's journey goes. It's a culmination of everything we've been building up and everything she's gone through, now she gets to take somebody under her wing in a similar situation," DeLorenzo said.
"Ash is the muscle, Kelly is the brains, and Pablo is the heart of the groups," Santiago said. "But this season, we finally get to see Pablo kick some ass."
Buckets of (Fake) Blood
One thing that Ash vs. Evil Dead fans have come to expect is gallons of blood. DeLorenzo and Santiago were glad to finally not be the rookies because that involves being put through the blood cannon ringer.
"There was pretty gross stuff the whole way through. I counted eight blood cannons in total, for 10 episodes," Carver-O'Neill said. "There was even one stage where the art department set up a temporary shower on set because it was warmer than being in the air with cold wet blood on me. I'm standing there in full costume under a warm hose."
Farris probably could have used that shower, because one day when he got home he took off his shoe and there was blood clumped in it.
Then again, there are worse places to get fake blood, and DeLorenzo had an especially gross story to share.
"Ray and one of our directors, he's holding me down, and he had mouth blood and he baby birded the mouth blood into my mouth," she said with a laugh.
What's Next for Evil Dead?
Season 3 looks even crazier than its predecessors, and the cast is thrilled to share it with the world.
"Everything you don't think will happen this season, happens. Anything could happen," Santiago said. "I think this season we really connect the dots behind all of the things that we've sort of planted for Pablo from Season 1."
Campbell teased a fight with a demon baby, lots of great fun with a ghostly papa Williams (Lee Majors), and Ash totally breaking down at one point. He also hinted the series may do some time-traveling a-la Army of Darkness.
"I will allude to the ending of this upcoming season in that everything will be different. Really different. You're gonna pick your f**king jaw up off the floor."
Ash vs. Evil Dead returns on Starz on Sunday, February 25, 2018.