With the first Wonder Woman movie being loved by critics and audiences alike, it's no surprise that a sequel is being fast-tracked. So the following is 'Everything We Know About Wonder Woman 2' – a feature FANDOM will be regularly updating every time a fresh tidbit drops, with the most recent news first…
Wonder Woman 2 Release Date Moved Up Six Weeks
November 14, 2017 – Wonder Woman is returning sooner than expected. Warner Bros. has moved the film's U.S. release date up from December 13, 2019 to November 1, 2019, meaning American audiences will get to see the superhero sequel six weeks earlier than expected. The move comes after Star Wars Episode IX shifted from May to December of that year, with Warner doubtless wary of pitting Diana Prince against Rey, Finn, Kylo and co.
Patty Jenkins Closes Historic Wonder Woman Deal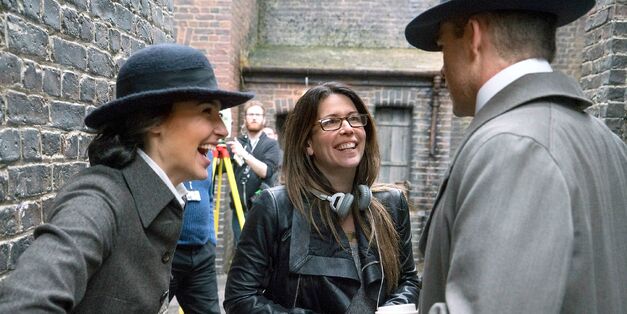 September 12, 2017 – Variety reports that Wonder Woman director Patty Jenkins has closed her deal to write, produce and direct the superhero sequel. The contract is apparently worth around $8m – making her the highest paid female director of all-time. And the dollars don't stop there, with Jenkins also receiving "a substantial backend of the box office grosses."
Wonder Woman 2 Release Date Revealed
July 25, 2017 – Three days ago we knew Wonder Woman 2 was coming. Now we know when. Variety reports that the superhero sequel will hit screens worldwide on December 13, 2019. The first film is also now the second biggest release of 2017, trailing Beauty and the Beast.
Wonder Woman 2 Officially Announced
July 22, 2017 – At DC's Comic-Con panel, Wonder Woman 2 was finally, officially announced. With the Justice League cast debuting the above footage – which features some SUBLIME Wonder Woman action – Warner Bros officially confirmed that Part 2 is a go. For everything else that was announced at the DC panel, head to our round-up feature here.
Wonder Woman Will Fight the Cold War
July 10, 2017 – Wonder Woman 2 will apparently be set in the 1980s, and find Diana Prince fighting the Cold War. According to Screen Rant, 'The story of Wonder Woman 2 will be another historical adventure prior to the modern day DCEU. Set during the 1980s, the film will send Diana against the forces of Soviet Union in the closing days of the Cold War."
The site also claims that Chris Pine will return as Steve Trevor, though that one we'll believe when we see.
Wonder Woman 2 Script Being Written
June 20, 2017 – DCEU head honcho Geoff Johns says that the Wonder Woman 2 script is already being worked on. Speaking to Variety, Johns revealed: "Patty [Jenkins] and I are writing the treatment right now. The goal is to make another great Wonder Woman film."
He added that the pair already have a "cool idea" for when and where the film would be set.
Director Patty Jenkins Wants Film to Take Place in America
June 4, 2017 – Wonder Woman director Patty Jenkins hasn't yet signed up for a potential sequel, but she already knows where the film should be set. "The story will take place in the U.S., which I think is right," Jenkins told Entertainment Weekly. "She's Wonder Woman. She's got to come to America. It's time."
As for her involvement, Jenkins told EW: "I'm not a big obligation person when it comes to art. You want to do a movie like this because you believe in it. Then I had this revelation in the middle of the night: this is your dream cast, you've created a character that you love and you can say anything you want in the world right now.
"Then I realized that Wonder Woman 2 is its own great movie. I made Wonder Woman. Now I want to make Wonder Woman 2. It's a beautiful story to tell, an important time to tell it and with people that I love."