E3 kicks off  this Sunday in Los Angeles. The major press conferences kick off first with Electronic Arts, beginning Sunday, June 12 at 1pm PT / 4pm ET.
Watch the events live, right here, as we detail the latest news and announcements.
12:59pm 
– The spectators are in their sits and ready to see what EA has in store for the future. Here's what the badge looks like:
1:04pm — The presentation seems to be running a little late! Stay tuned.
1:08pm – Some photos from inside the theater!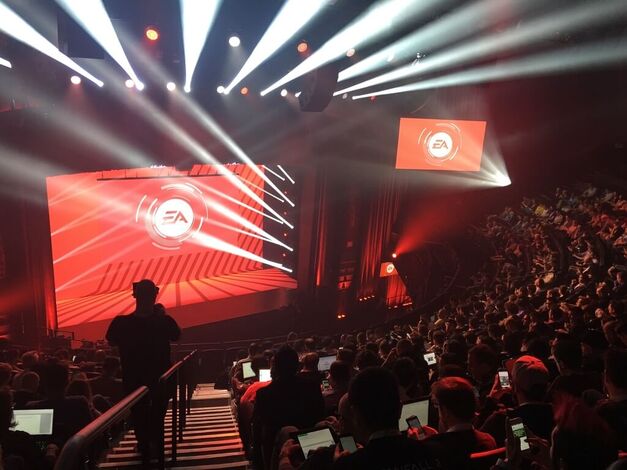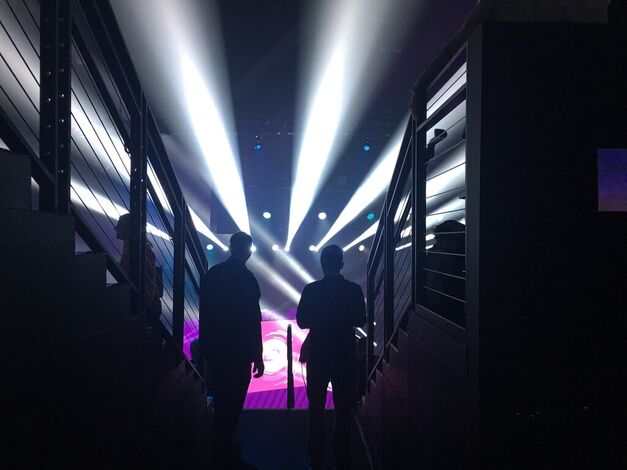 1:09pm – And we're off! Andrew Wilson, the CEO of Electronic Arts, talks about our "insatiable appetite to dive into the games we love." This hour is to be a "taste," a "glimpse" into the games they have in development. They seem to be teasing a large community component. They want feedback from content creators who have played their favorite games.
1:11pm – They're showing off the London press conference, happening simultaneously.
1:12pm – Star Wars, Mass Effect Andromeda, EA Sports, Battlefield 1, Titanfall 2 – so far, no big surprises.
They're livestreaming a 64 player Battlefield 1 match. Will be live at 2pm PST (immediately following the press conference).
1:14pm – Titanfall 2 is coming for PS4! Now we're getting a glimpse at the gameplay. Grappling hooks, lush forest environments; insane particle effects. This looks like it's at even a faster clip than the first game. Lots more of that wonderful parkour action we all loved fro the first game. The video ends with the player grappling another player and kicking him in the face.
1:16pm — Six new titans, progression, brand new pilot moves, and more of the smooth gameplay we love. Players can take part in a multiplayer beta test. He's now detailing the single player campaign leaked earlier today. Now, a debut of the single player trailer we saw earlier today.
He reiterates: Xbox One, PC, PS4
The trailer begins: An AI talks about his new pilot. He lists off the protocols. Lots of stuff happening; seems to be an actual linear campaign with a more straightforward progression than its predecessor. Coming October 28 this year.
1:19pm – Showing off Madden NFL 17 now. We're back in London. Madden "personifies everything we love about sports: passion, intensity, competition." I think we're talking about esports! EA is embracing a new approach to esports that makes stars of their entire player base (seems unlikely). Three new ways to compete:
Challenger — players can host their own tournaments
Premiere – large scale public matches
EA Major – marquee events, more conventional eSports competitions
1:23pm – Now a video profiling two of the biggest professional Madden players. The two biggest players will be competing at the Madden Challenge at E3 Live this year.
Serious Mo has a broken collar bone because he fell down while racing a friend. You can check out the competition on Twitch, YouTube, ESPN3, and– for the final match – ESPN 2.
No reaction to that $1 million prize money announcement. Perhaps too small compared to other esports?
1:26pm – These events aren't just for Madden; they will share more about additionally supported titles too.
1:27pm – Aaryn Flyn from Bioware is talking about Mass Effect: Andromeda. This is a bigger adventure with a brand new cast and, supposedly, more freedom. It's all powered by Frostbite.
Now, a behind the scenes look. A total teaser with a lot of crazy cosmic imagery and alien technology. It ends with someone in a wrecked spacecraft muttering "We made it."
1:31pm – Play to Give: in-game challenges that translate to charitable donations. There are five challenges designed to celebrate player community.
1:33pm – Now we're back to London. It's fitting that we're talking about FIFA 17. They're showing off EA's progression through the years in a new trailer. Alex Hunter is talking about becoming a football star as your new custom character in Madden. He abruptly runs away and tells us we're all coming with him.
1:36pm – Seems like FIFA is adding an actual story mode. Taking hints, it seems, from NBA2K16. It's called The Journey. This is a brand new experience and it's all made possibly by Frostbite. Premier League managers are in FIFA, now. Not a huge response from the L.A. crowd. José Mourinho from Manchester United is on the stage in London. This is a little awkward – Mourinho obviously doesn't want to be here.
1:41pm  Aaron McHardy, FIFA producer, is on the stage talking more about the gameplay. Four big transformations: complete control over dead balls, active intelligence system, new physical play, new ways to finish in front of the goal.
So far, FIFA has already gotten what feels like three times more screen and stage time than Madden and Mass Effect combined.
1:45pm – EA is announcing a program called EA Originals. Three philosophies: taking first time experiences and bringing them to the world, supporting smaller developers, and funding and offering a level of security. EA Originals will give all the profits back to the developers.
The first EA Originals game is called Fe. Developed by Zoink in Gothamber. Fe is about nature and its delicate balance. You start out as a cub and develop and growing. Every creature has its own unique song. Each song you learn will send you deeper into the forest.
1:51pm – Star Wars! Jade Raymond tells us about all of their awesome projects. Galaxy of Heroes, The Old Republic, and Battlefront are all getting new content. A new installment in the Battlefront series coming in 2017 will feature content from the new set of Star Wars films.
In 2018, we're getting a new action-adventure game from Visceral Games. New characters with an original story. Respawn will also be working on a third-person action adventure.
They're now showing a featurette showcasing all of the studios they have working on Star Wars  games. We get a five-second peak at Visceral's action-adventure game.
1:56pm – Now we're talking about Battlefield 1. A new trailer shows off DICE's take on World War I. We will see the full version of the trailer shortly. Again, there will be a livestream of the first 64 player match in Battlefield 1.
2:01pm – Jamie Foxx and Zach Efron are "jazz, juiced, and stoked" to take part in the 64 player match. Now, they're talking about the weather effects and vehicles in Battlefield. Blimps, biplanes, and more.
The game is coming out worldwide on Oct. 21. Battlefield Insiders will be getting access to an open beta later this summer.
Now, the full trailer. An incredible smattering of fast-paced WWI warfare. Can't wait to get our hands on this one. It ends with some brutal horse battles in what looks like Northern Africa.
"We're going to change the world indeed" – Peter Moore.
"Now it's time to play." That's all folks! Stay tuned for more E3 2016 coverage, here on Fandom.