Valve's Dota 2 International tournament broke an esports record today with the largest prize pool ever collected for a major tournament. As of this writing, the current prize pool for the massive Dota 2 tournament sits at $18,672,110. It broke the previous esports prize pool record set by the International last year when it brought in 18.4 million dollars. At this rate, it's very possible Valve hits the $20 million mark for the tournament.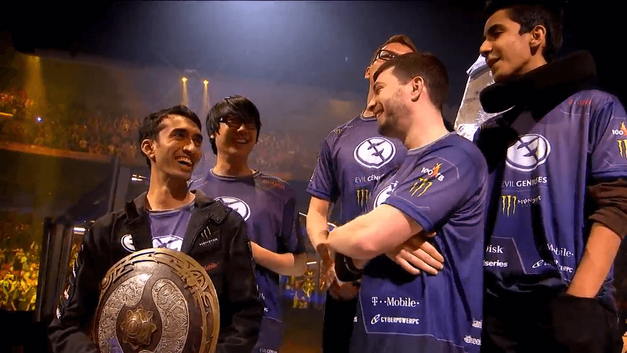 All of this money is raised by Dota 2 fans themselves. Each year, Valve sells what they call a Battle Pass, a digital bundle of in-game goodies, from new weather effects to a special evolving courier. It's a good amount of content for Dota 2 fans and includes The Compendium, which profiles the International teams and players, incorporating other activities around the premier competitive event. Valve is also rewarding Battle Pass owners now that the previous year's record has been broken by giving out congratulatory treasure rewards.
What's astonishing about this record-breaking number is how it reflects on the massive revenue associated with esports. Only 25% of all Battle Pass sales go towards the International prize pool, with the lion's share going to Valve. That means from this one sale and event alone, Valve has thus far pulled in roughly $56 million. Considering the company puts little effort towards formalizing and organizing their competitive events compared to Riot Games, their main MOBA competitor, Valve's overall profit is impressive.
This year the Dota 2 International will include the likes of OG, Team Liquid, Evil Geniuses, Natus Vincere, and more. Evil Geniuses took home the grand prize last year, worth a total of $6.6 million. It was the first time an American team has won the International and netted each player $1.32 million before taxes and any shared distribution they made with team owners and organizers. Sumail, a 16-year-old boy from Pakistan was the star of the show. He once sold his bicycle to afford more Dota 2 playtime, and it's this type of rags-to-riches fairy tale that makes huge esports events like these so exciting.
We'll be watching and covering the International right here on Fandom when it kicks off in Seattle on Aug. 8.