If you're a fan of Hanna-Barbera, DC Comics is about to make you very happy. A slew of new comic titles were announced today that reimagine some of Hanna-Barbera's most popular cartoons in comic book form, including Scooby-Doo and The Flintstones.  There's also an epic team-up called Future Quest which brings together Jonny Quest, Space Ghost, The Herculoids, Birdman, Mightor, Frankenstein Jr., and more! All the new books are coming this spring.
Here's what we know:
Scooby Apocalypse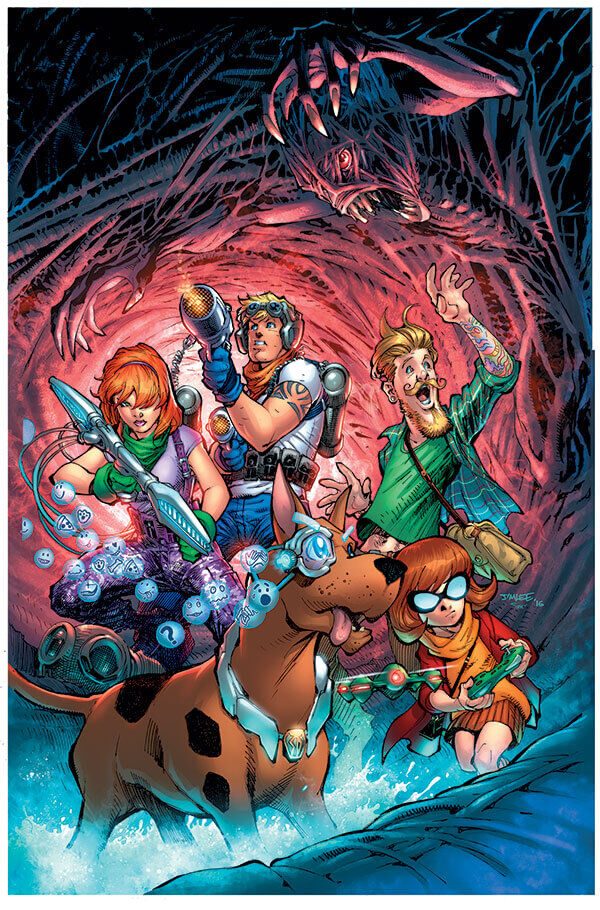 From DC: Featuring character designs by veteran artist Jim Lee and an origin story by Jim Lee and Keith Giffen (Justice League 3001), artist Howard Porter (Superman) will provide his own unique take on Freddie, Velma, Daphne, Shaggy and Scooby-Doo. "Those meddling kids" and their Mystery Machine are at the center of a well-meaning experiment gone wrong and they'll need to bring all of their mystery solving skills to bear (along with plenty of Scooby Snacks), to find a cure for a world full of mutated creatures infected by a nanite virus that enhances their fears, terrors and baser instincts. This time, the horrors are real in this apocalyptic near-future badland!
The Flintstones
From DC: Based on character designs by Amanda Conner (Harley Quinn, Starfire), writer Mark Russell (Prez, God Is Disappointed In You) provides his own unique perspective on everyone's "modern stone age family." Russell will use Bedrock's most popular family to shine a light on humanity's ancient customs and institutions in a funny origin story of human civilization. Fred is still the simple man, striving to be the king of his castle, Wilma is still the tolerant but not-indulging wife and Barney (with his wife Betty and infant son Bamm-Bamm) is still the original wingman, whose loyalty to Fred often outweighs his common sense.
Future Quest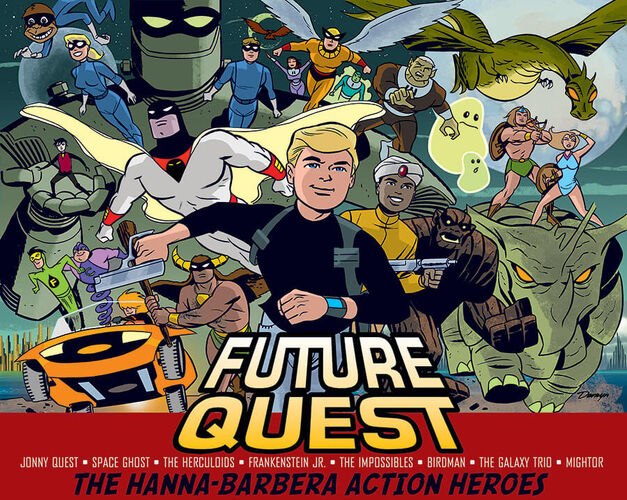 From DC: Writer Jeff Parker (Aquaman, Justice League United, Batman '66) and artist Evan "Doc" Shaner (Justice League Darkseid War: Green Lantern) join forces to bring fans new tales of adventure's most iconic teenager, Jonny Quest, along with his sidekick Hadji. This series combines Team QUEST (Hadji, Race Bannon, Dr. Benton Quest and Jezebel Jade) with some of the most well-known action and adventure heroes ever created by Hanna-Barbera, including Space Ghost, The Herculoids, Birdman, Mightor, and Frankenstein Jr., among others.
Lastly, there's another new title called Wacky Race Land that brings together The Ant Hill Mob, Penelope Pitstop and Dick Dastardly, in a Mad Max-style scenario.
The first of the new books will be hitting in May.
---
Would you like to be part of the Fandom team? Join our Fan Contributor Program and share your voice on Fandom.com!