What is David Brent: Life on the Road?
The next chapter in the life of David Brent. Life after Wernham Hogg has moved on. Brent has a new sales job in a new industry – but it's not where he wants to be. Following his dreams of rock stardom, he takes unpaid leave and hits the road with his band Foregone Conclusion – made up of hired musicians. A documentary crew catching up with the former reality show star tags along to capture it all on film. Has David Brent learned nothing?
Is David Brent: Life on the Road Good?
David Brent is a bona fide TV icon. Ricky Gervais's comedy creation – arguably one of the greatest of all time – was such a hit that The Office, the television series that made Brent a household name, was even given an American makeover. Steve Carell took on the Brent-inspired role in the US version of the office-based mockumentary.
The adaptation was proof that Gervais's very British creation was a versatile concept that could work for a global audience and one that everybody wanted a piece of. David Brent even appeared in the show. Fast forward to the modern day, and we're now presented with an overdue (or should that be underdue, or perhaps neverdue?) movie version of the groundbreaking TV series.
The original British series ran from 2001 to 2003 and culminated in a hilarious and poignant finale that left viewers feeling satisfied. Fans looked back on a show that not only brought us something new but was also pitch-perfect in its tone and storytelling. We cared deeply about the characters Gervais had created – as well as making us laugh, he made us cry too. The show made a star of Gervais, as well as Martin Freeman who played Tim.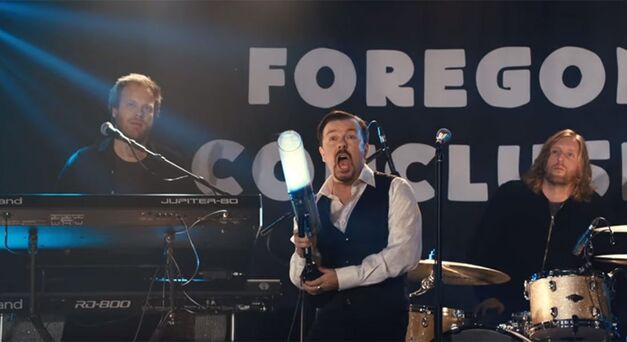 In David Brent: Life on the Road, the former paper company manager is back. Now working as a sales rep for a cleaning products and toiletries company called Lavichem, Brent has a whole new team of colleagues. He's no longer the boss, but in other ways, he hasn't changed. Colleagues, though, are more divided – the majority are nastier but there are three that seem to like him. One – played by Jo Hartley – even has a crush on him.
This time around, he's taking one last shot at stardom as a musician. We're back in mockumentary territory, as a video team catches up with him to see what he's up to, 15 years after the fictitious BBC2 documentary about Wernham Hogg, the company Brent worked at, finished.
We meet him ahead of the UK tour he's self-funded. He's cashed in some pension schemes, and hires session musicians and the like to fulfil his dream. His aim? To land a record contract. He's even prepared to spend £1.5k on some fake snow if that's what it takes to help him hit the big time.
The idea of the film is an enticing concept on paper. To take David Brent away from The Office to see what happens is an intriguing prospect. However, perhaps a film was not the best way to explore that – particularly when it's almost 15 years later and there's little attempt to move character and gags on.
While the series benefitted from a sense of pathos, and nuanced comedy that made it obvious we weren't laughing at Brent's offensive jokes but instead laughing at those attitudes and Brent's inability to grasp why they're offensive, this film does away with subtleties and depth. We end up praying that he's not going to say the thing we desperately don't want him to say. We're no longer laughing at him, we're pitying him and wanting the whole thing to just go away. It's a one-note comedy that's excruciating to watch.
Most of the people around him have no patience for him, and are full of disdain without trying to disguise it. Yes, he's a challenging individual – but it's obvious to anyone watching that he's insecure and desperate to be liked. He's acutely aware of that: at the end he says to his sound engineer Dan, "The problem is, not a lot of people like me do they?"
It's difficult to laugh along to a comedy about a man who has depression and suffered a nervous breakdown; a man who is still undergoing counselling.
In trying to explore new ground, what Gervais has instead done is narrow the scope. Where The Office touched a chord with its audience, and gave people characters and situations they could identify with, David Brent: Life on the Road offers up an outdated caricature we can't feel for, or get into.
None of this film rings true, and neither does it share a smidgeon of the wittiness of the rockumentaries it aspires to be like – the Comic Strip's Bad News and to a lesser degree This Is Spinal Tap.
It's not without it's funny moments, and Gervais's delivery is on point. But at the end of the day, nobody wanted or asked for a resurrection of this character. And yet here it is. Can we give it back?
Review essentials:
The Office gave us all we needed to see of David Brent.
Taking him out of that world is unsuccessful.
You'll find watching his offensive jokes excruciating…
And watching people so contemptuous of him is uncomfortable.
The comedy isn't as nuanced as the original series – the film only works on one very laboured level.
Gervais doesn't miss a beat with his delivery but the balance is all wrong.
Brent is a sadder character this time round, and laughing feels cruel.
David Brent: Life on the Road is available on Netflix from February 10.
---
Would you like to be part of the Fandom team? Join our Fan Contributor Program and share your voice on Fandom.com!