Call of Duty: Infinite Warfare is looking to take the series to space, the final frontier of armed combat. So far we'd seen how the futuristic setting changes the campaign, but until today Activision had kept it pretty secret how the move would change Call of Duty: Infinite Warfare multiplayer. That all changed at Call of Duty XP, the Los Angeles convention for all things COD. Not only did they reveal how Call of Duty: Infinite Warfare multiplayer will take the series in new directions, they even let folks (like Fandom) play it for the first time.
Welcome to the future of warfare. #InfiniteWarfare delivers the most customizable Call of Duty MP yet on Nov. 4. pic.twitter.com/TsDt3Civ5V

— Call of Duty (@CallofDuty) September 2, 2016
The first footage of Call of Duty: Infinite Warfare multiplayer was shown off by multiplayer designer Joe Cecot. It was full of the kind of explosive action you expect, but also drove home what he saw as the game's core vision, "Redefining the player and playscape."
Combat Rigs
How it changes for the player begins with Combat Rigs, a new layer to the typical loadouts and custom classes COD is known for. In the game, Combat Rigs are like higher level classes enhanced by the game's futuristic settings. There are six different Combat Rigs — Merc, FTL, Striker, Warfighter, Phantom, and Synaptic — each with three payloads and two traits to choose from, making them even more customizable. And you can swap out rigs every respawn, just as you would your custom loadout.
Here's a brief introduction to the different rigs. The Merc is the defensive heavy of the group, focusing on suppressive fire, though payloads like its Bullcharge — a riot shield that lets you plow through opponents — makes it more offensive than you'd expect. The FTL is the experimental rig, specializing in guerilla warfare. FTL wants to run in, cause damage, then get the hell out of there.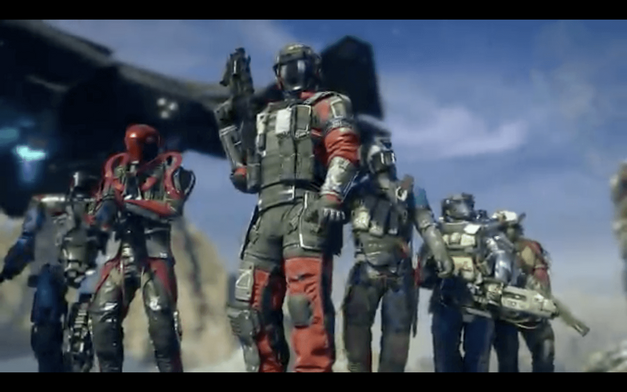 Stryker is a more in your face unit that's about squad support and aerial denial, dropping mini turrets as part of its payload, and even coming equipped with a drone that intercepts one grenade per life. Warfighter is the generalist class, the mobile midranger, that keeps moving and doing damage. Warfighters' best trait might just be the ability to carry over a score streak through a respawn, though it does raise the overall price of a streak.
The Phantom rig is the sniper of Call of Duty: Infinite Warfare multiplayer, heavily invested in concealment and long-range engagements. The Phantom is even outfitted in a futuristic gillie suit. Lastly, the Synaptic rig is made for speed and close quarters combat, even having a payload for lethal melee and traits that are all about speed.
In practice, they each feel so different, especially when they're even more specialized via loadouts of Call of Duty: Infinite Warfare multiplayer's mix of conventional and futuristic weapons.  The developers briefly touched on the weapon crafting system Call of Duty: Infinite Warfare multiplayer introduces, making each player's actions even more specialized.
Maps
Battling all of this out across maps like Frontier and Breakout show that Call of Duty: Infinite Warfare multiplayer is getting even more diverse battlefields thanks to the ability to take players into space. There're even classic maps like Terminal that look the same, but now take place on a comet.
It was a great first taste of Call of Duty: Infinite Warfare multiplayer, the kind that you don't want to end. We'll see if it's enough to please the high standards of the Call of Duty fanbase Nov. 4 this year. Though you can get an earlier taste when the beta goes live Oct. 14 on PlayStation 4.