Brooklyn Nine-Nine and New Girl serve as staples of the FOX prime-time lineup. For years they helped drive ratings and survived the carnage usually associated with half-hour comedies on the network (The Grinder and Grandfathered faced the ax last year). Perhaps as a result of their longevity, FOX television decided to combine it's two most popular comedies into a one-night crossover event.
They aired two separate programs. The first covered Jake Peralta's return to the precinct which ended with a chance encounter with New Girl's Jess as he was pursuing a suspect. New Girl ran as the gang landed in New York to attend a ceremony at Schmidt's old high school. The latter displayed the series of events that brought Jess to her meeting with Jake.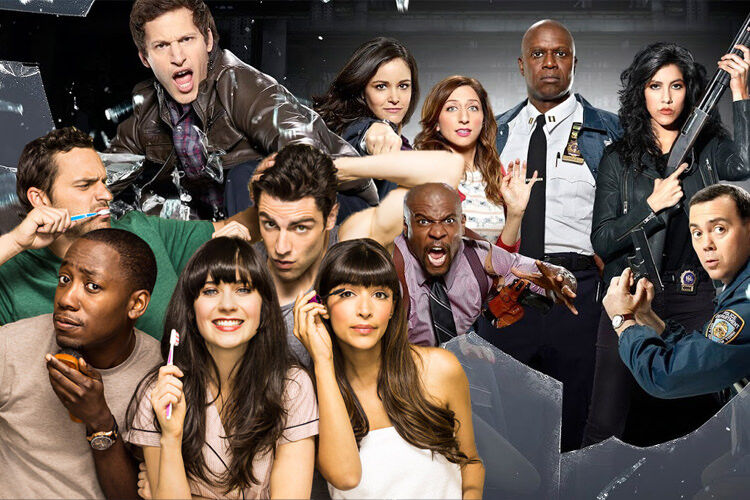 Recap
Jake returns to the 9-9 and encounters a precinct stuck in depression. Their demotion to the night shift creates a toxic work environment as the officers see their families less, stay up all night, and get very little assistance from police services. Captain Holt attempts to cheer up the group by having a post work "hang". Unfortunately, no one is up to spending more time at work, and Holt's party choices are less than awe-inspiring.
A jewelry store robbery gets Jake and Boyle back on the streets together. They recreated the crime and found a cigarette butt used by one of the perpetrators. They attempt to take the object to various crime labs across the city. The labs are closed, run by a temp who spends his entire shift looking at porn or is helmed by an elderly lady who takes several minutes just to get started. Though they are attempting to solve the crime by daylight, they barely get started.
After finally getting DNA results from the cigarette, Jake tracks down the suspect at his home. When confronted, the suspect takes off on his motorcycle. Jake immediately commandeers a car for pursuit. The car belongs to Schmidt's mom and is being driven by Jess.
After a spirited discussion, Jess agrees to allow Jake to drive the car but warns him not to scratch it. They pursue the vehicle to unsuccessful ends. Eventually, they swerve to avoid a garbage truck and crash the car.
Back at the 9-9, Holt informs his officers that he is angry about the night shift as well. So, he announces his intentions of getting things changed back. The group realizes that they are all working for the same goal and decide to organize their own after party "hang".
Meanwhile, Schmidt, Cece, Winston, and Nick prepare for Schmidt's high school ceremony that they think is only for Schmidt. Upon further examination, they realize it is a fundraising scam perpetrated by the same student council people who tortured Schmidt in high school. A depressed Schmidt locks himself in his room, leaving Cece on her own to deal with her husband's overprotective mother.
Winston and Nick venture out into the city. When they head to the subway to return, they both realize neither brought any money. Trapped far away from where they need to be, they hatch a plan to perform on the street to garner enough change to use the subway. Not having any recognizable talent, they realize that as long as you promote something great and wait for the train to come, people will give you money and enter the train without actually seeing a show.
Boyle from the 9-9 arrives with his son. He is excited about the potential performance, and the trains are postponed. Winston and Nick now must perform. Having built up a stack of trash in front of them, they decide that their show consists of them jumping over the pile. Winston falls on the approach and Nick lands right on top of the stack.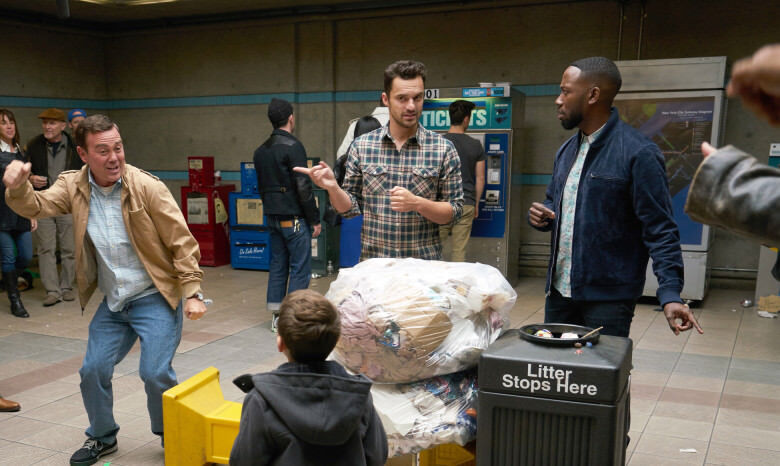 Jess calls Schmidt and encourages him to roast the people who treated him poorly in high school as a way of getting back at them. The crew travels to the high school to support their friend. Jess backs off, informing Schmidt that taking the high road is the better thing to do. Schmidt takes the mic and roasts his former classmates anyway. Schmidt out.
Reaction
By all indications, this crossover is a one off. It was cool to see both casts intermingling. There were other short scenes where members of both casts interacted, but they really didn't drive the story. They served primarily as additional comic relief. Both of theses shows hold a high level of fun and rarely fail to provide laughs and entertainment. This episode faces no danger of recognition as the best episode in either series. However, the fun of mixing the casts makes it one not to miss.
Highlights
Holt asking the squad to hold fake smiles for several hours in an effort to lift morale
Cece and Schmidt's mom (Nora Dunn) fighting for Schmidt's affection
Nick and Winston teasing their non-existent show
Brooklyn Nine-Nine airs Tuesdays on FOX at 8pm EST/PST and New Girl airs at 8:30 pm. Here's an interview with Andy Samberg and Zooey Deschanel about this special event: