After last week's holiday break, The Big Bang Theory has returned with some much-needed humor to kick off December. In "The Property Division Collision," we get a fond reminder of seasons past as well as the kickoff of major changes to come.
You Should Keep It
In this episode, Amy suggests that she and Sheldon redecorate their new apartment, which leads to him and Leonard dividing up their mutual belongings in their old apartment. However, the exchange turns into an all-out battle of childish revenge when Sheldon becomes selfish in claiming things. The final straw comes when Sheldon rents out his old room to a homeless man, Theodore (played by Christopher Lloyd). Leonard confronts Sheldon about it and they end up admitting that not living together anymore has been hard.
Seeing Sheldon and Leonard's bond get its own spotlight like this was really touching. Normally the focus is on their relationships with their girlfriends, but this episode tested their brotherly love and acknowledged the 13 years they lived together. This brought up a lot of nostalgic moments. For his first act of revenge, Leonard wore the giant apartment flag that we've seen over the years. Later, Sheldon changes the wifi password like he used to do to Penny. Even the girls get their own callback, as Amy gives Penny back the giant painting of them together that she got her in season 5.
The Quest To Be Third Wheel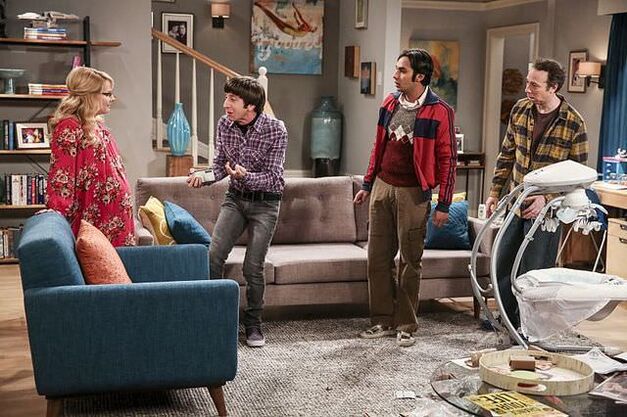 The second storyline of this episode involves Stuart, Raj, and the Wolowitz couple. Stuart asks Howard and Bernadette if he can move in with them since he got evicted, insisting that he can help out with the baby once it arrives. When Raj hears of this arrangement, things turn into a competition of who is the more helpful third wheel to the married couple. Only one thing finally gets them to cooperate as "Team Baby" in the end – Bernadette going into labor.
This plot line was really funny, though awkward at times. While it was generous of the Wolowitz family to allow Stuart to stay with them, the idea of both him and Raj being their clingy third wheel is starting to get a little old. Instead, it would've been nice to see Stuart live with Raj so Howard and Bernadette could have their own space. Despite this, however, they do prove to be very useful to the couple.
The best part of the episode came at the very end, when Bernadette announced she was going into labor. As Stuart and Raj get things ready to go, Howard and Bernadette have a moment alone together. The pure love for each other on their faces prove that these two are the ultimate example of marriage goals.
"The Property Division Collision" certainly does not lack in excitement or humor. It perfectly blends together the past and future of the show. It also sets up a nice transition for the next episode, which should include the birth of the Wolowitz baby. Things are about to change for our favorite nerds.