As we hit July and start rolling down the hill towards the end of 2017, it's a good time to reflect on all the gaming goodness we've had so far. With games like the Legend of Zelda: Breath of the Wild and Horizon Zero Dawn already proving to be firm favourites, it's been quite easy to pull together our list of the best games of 2017 so far.
So without further ado, here are FANDOM's best games of 2017 (in alphabetical order), chosen by those who actually play them:
Hollow Knight
Release date: February 24, 2017
Platforms: PC, Mac and Linux, with Nintendo Switch coming soon
Hollow Knight is a gloomy take on the 2015 game Ori and the Blind Forest and is set in a depressing universe full of bug monsters and bug people. They all live underground in the ruins of an ancient society. You're a tiny cartoon figure wandering the Metroidvania labyrinths and defeating bosses. Like many games in the Dark Souls style, your identity and goals are unclear. And like Dark Souls, Hollow Knight is brutally hard and punishes you dearly for deaths.
The best part about Hollow Knight isn't the classic challenge or trendy tone. It's the art style. Cuphead got beaten to the draw in 2017 because Hollow Knight is already here with fluid cartoon characters. It's a very dark game using sparse light and a limited palette to great effect.
Horizon Zero Dawn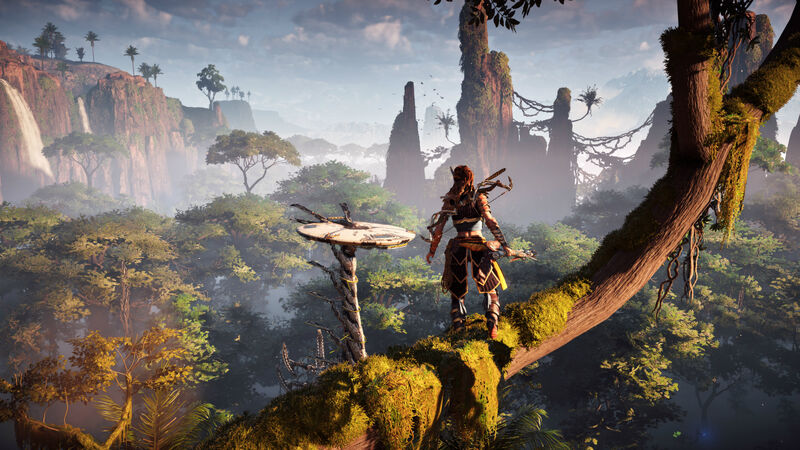 Release date: February 28, 2017
Platforms: PS4 exclusive
Arriving around the same time as Legend of Zelda: Breath of the Wild came another open-world game, Horizon Zero Dawn. Although it was the first game of its kind ever created by Guerrilla Games, famed for its Killzone series. However, it was the one game that could give Breath of the Wild a run for its money.
It's the most beautiful post-apocalyptic adventure we've been on and its approach to monster hunting and open-world exploration is unique and ultimately incredibly enjoyable. The flame-haired Aloy is a powerful heroine, full of passion and drive, and she guides you on a story full of mysteries and very human drivers – despite the robot dinosaurs.
If you've got a PS4 – or even better, a PS4 Pro – this is a journey you shouldn't deny yourself.
Kingdom Hearts HD 2.8 Final Chapter Prologue
Release date: January 12, 2017
Platforms: PS4 exclusive
It's probably not high up on everyone else's list, but I want to give a quiet nod to Kingdom Hearts HD 2.8 Final Chapter Prologue. Despite being mainly a port of Dream Drop Distance, the game easily stands alongside the other A-List entries.
With the original game on 3DS, it was rebuilt almost from the ground up to work with the PS4 and adapt to different technology. And that's not all – "0.2 – A Fragmentary Passage" gives us a small glimpse into the play style and graphics of Kingdom Hearts III, which is something that fans desperately needed. Throwing in a cinematic movie to boot, Kingdom Hearts 2.8 is a strong contestant in this year's lineup.
Legend of Zelda: Breath of the Wild
Release date: March 3, 2017
Platforms: Nintendo Switch and Wii U
With Legend of Zelda: Breath of the Wild, Nintendo took everything that was successful about the series and turned it up to 11. Some people may have problems with the degrading weapons, new stamina system and the fact you have to cook your own dinner, but that's just part of the charm of what Breath of the Wild so magnificent.
The open world is absolutely beautiful, with a hand-painted, water colour charm, but more importantly it's vastness allows for the best kind of procrastination. The map is a treasure trove full of hidden quests and areas that you'll never visit unless you go exploring, which you'll absolutely want to do.
And of course, the story is a stunning, heart-wrenching one – including seeing Zelda cry – but it's a minor part of what this mammoth game has to offer over the hundreds of hours you can spend with it.
You'd be hard pushed to find a better game in 2017.
Little Nightmares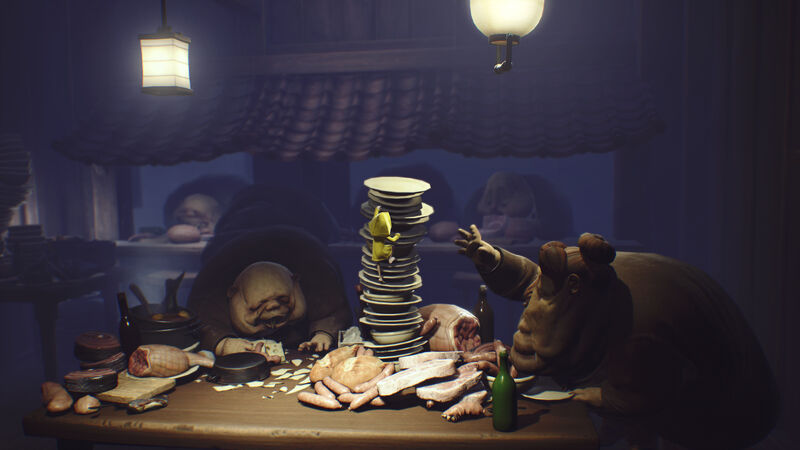 Release date: April 28, 2017
Platforms: PS4, Xbox One and PC
this might be from the co-creators of LittleBigPlanet, Tarsier Studios, but Little Nightmares certainly isn't cute, cuddly or stuffed with fluff. This side-scrolling platform is full of beastly, obese monsters with faces that will haunt your nightmares – hence the title – and play on your biggest childhood fears. You play as a tiny, fragile and regularly terrified child called Six wearing a bright yellow raincoat, who serves as the only light in this horrid darkness.
And it's that darkness that makes this quite the masterpiece, with the game regularly throwing you into the depths of fear and despair with intensely tense gameplay filled with unnerving and cannibalistic foes. The soundtrack works to build an incredibly tight atmosphere too, coming together for a game that will leave you chilled and amazed.
Monument Valley 2
Release date: June 5, 2017
Platforms: iOS timed exclusive
We had to squeeze a mobile game in here for our best games of 2017 so far, and what better title to include than the utterly beautiful Monument Valley 2? The sequel dropped unexpectedly and we played through it that evening in one glorious sitting.
Like the original, it offers M. C. Esher inspired puzzles where the levels twist and turn under your control as you guide little faceless characters from point A to point B. But this time around the narrative is much more pronounced and emotional, telling a tale of motherly love, the struggles of parenthood that might even bring a tear to your eye in its quietest moments.
It's also absolutely beautiful, wonderfully interactive and rewards you in ways that very few games can, especially on mobile devices.
Nier: Automata
Release date: March 7, 2017
Platforms: PS4 and PC
NieR: Automata is like the perfect coming together of a Platinum Games action title and the RPG elements of a Square Enix game rolled up into one. It's a glorious mash-up of brilliant fighting that you can either get deep into the tactics of or simply button mash your way to victory. But more importantly, the story is there to keep you moving through those fights.
There are actually 26 endings to discover – one for each letter of the alphabet – with the game constantly suprising you with revelations and Easter Eggs that give a nod to the original title.
It's a unique blend of genius that continues to surpass expectation.
Persona 5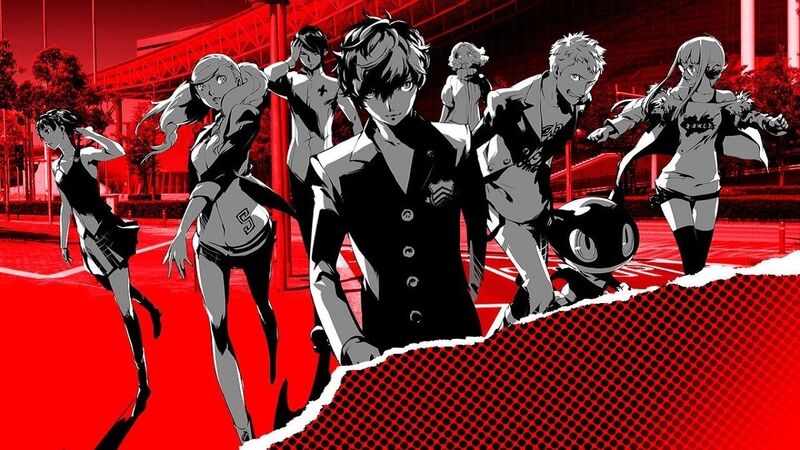 Release date: April 4, 2017
Platforms: PS4 and PS3
Ever since Persona 3, developer Atlus' hybrid of dungeon crawler and high school simulator has been one of the hottest franchises on the JRPG map. But Persona 5 is the game that takes it to a whole new level. You're still collecting waifus and summoning mythological figures out of your subconscious, but now with a level of extra stylish polish. These games and JRPGs, in general, have never looked cooler.
Persona 5 has your band of gentlemen thieves fighting against Japanese culture itself. It's impressively deep and relevant social commentary for 2017. As culture wars flare up across the globe, Persona 5 only seems to get more and more important. Persona 5 is a game for the whistleblower generation. It celebrates truth, rebellion, and moral absolution at a time when those things could not be more necessary.
Resident Evil 7: Biohazard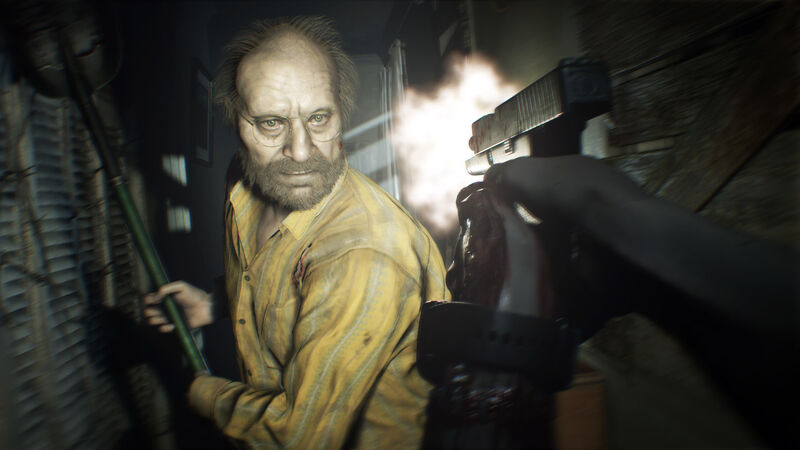 Release date: January 24, 2017
Platforms: PS4 with PlayStation VR support, Xbox One and PC
Resident Evil 7: Biohazard has done what we hoped the series would do for a while now – go back to its roots. This is a survival horror at its finest, with the Resident Evil trademark puzzles thrown in for brilliant extra measure. But interestingly it stuck with the original idea of it being better to avoid enemies than confront them.
It's a relentless emotional rollercoaster that will regularly make you feel genuinely terrified but also desperate to keep playing so you can find out what happened in the Baker's House.
Not do you get all that from this game, but the entire game was playable with PlayStation VR on PS4, which resulted in an excellent tense and terrifying virtual reality experience.
Rime
Release date: May 26, 2017
Platforms: PS4, Xbox One, Nintendo Switch and PC
Although it was a long time in the making, Rime was absolutely worth the wait. The first game from indie developer Tequila Works in five years, Rime is a single-player exploration game that combines puzzle solving with an emotionally-charged storyline that actually had me crying real tears by the time the credits rolled – something that very rarely happens to me with games.
And it's not just about how cute your little fox guide is either. This is one powerful, emotional tale told through a beautiful, almost hand-painted game. It's sometimes eerie too, but there's no denying that it's an indie game that everyone should treat themselves to at some point.
What Remains of Edith Finch
Release date: April 25, 2017
Platforms: PS4, PC and Mac
What Remains of Edith Finch is a special one; the game is unlike any other. You begin by playing a first-person walking simulator, but that doesn't last long. Edith Finch takes you through the personal stories of each member of a vast and eccentric family. The craziest thing about it is, each chapter ends with the death of the character you're playing as.
Developer Giant Sparrow came out of the gate swinging with its first game, Unfinished Swan, but has surpassed itself here. What Remains of Edith Finch is an incredible experience, full of great gameplay, exciting visuals, and wonderfully moving storylines. You won't play another game like it this year and it'll definitely be an experience you'll never forget.