In possibly the most Aussie audience plant moment ever, Travis Fimmel crashed the Vikings San Diego Comic-Con panel dressed as a kangaroo. Not a particularly convincing kangaroo, either. In the middle of the panel, he strode confidently down the center aisle, bearing a prop replica Viking shield, and sat right next to the Q&A mic.
The rest of the cast, Katheryn Winnick (Lagertha), Gustaf Skarsgård (Floki), Alexander Ludwig (Bjorn), and Alex Høgh Andersen (Ivar) along with Michael Hirst (writer/creator) were not in on the joke. They had some excellent tidbits to share about the pasts and futures of their respective characters and proceeded through the panel without incident.
Without incident, that is, until the Q&A portion started.
Gustaf Skarsgård, for one, was not fooled by the costume from the start. "I don't trust that fox," he said, "someone take that mask off." But Fimmel sat there quietly until the Q&A began. He then pantomimed his way through asking the cast to sign his shield, hopped on stage, hugged Katheryn Winnick, and ripped off his kangaroo mask. Skarsgård, who spent so much of the panel pointedly not looking at the conspicuous man in the animal costume, seemed totally unsurprised. The crowd, however, went nuts, shouting, "Hail King Ragnar!"
Travis Fimmel amped up the crowd as soon as he appeared. Alexander Ludwig doused him with water, and in retaliation, Fimmel gave out Ludwig's phone number. His real phone number! (Someone in the audience called him, and Katheryn Winnick insisted the bold fan deserved a kiss.) Suffice it to say, it took a while to get things back on track.
The Ragnar Effect
In many ways, Fimmel's appearance at the panel mirrors Ragnar's trajectory on Vikings. He disappears, and in his absence, things go along hunky dory. But when he comes back, it's nothing but chaos. His character is so forceful and charismatic that it changes the course of events. It all piggy-backs on the question on everyone's mind: can Vikings survive without King Ragnar?
Creator Michael Hirst thinks so. "I'd always known when I started writing that it was about Ragnar Lothbrok and his sons… I was always confident that the show was big enough to carry the death of Ragnar and go forward." But famous characters inspire a desire for more stories, even when they're gone. "If they die, people want to know what happens next, that's natural!"
Seeing the enthusiasm in the room, I think he's right. The love for Katheryn Winnick as Lagertha alone is enough to fill the sails of this television dynasty. And as the Q&A continued, aside from giving Travis Fimmel the odd shout-out, the questions all concerned the future of the series for Bjorn, Ivar, and Floki.
Driving Ships to New Lands in Season 5
But the greatest love of all is for Lagertha. The warrior queen still rules in Kattegat as season five opens. When asked about how she felt concerning the death of Aslaug, Katheryn Winnick said, "Y'know? She had to go. There's only one queen in Kattegat."
But she still has the threat of prophecy hanging over her. She knows she will die at the hands of one of Ragnar's sons. "Her fate is her fate," Winnick says. Until then, she doesn't need any handouts or help. "She's gonna rely on herself."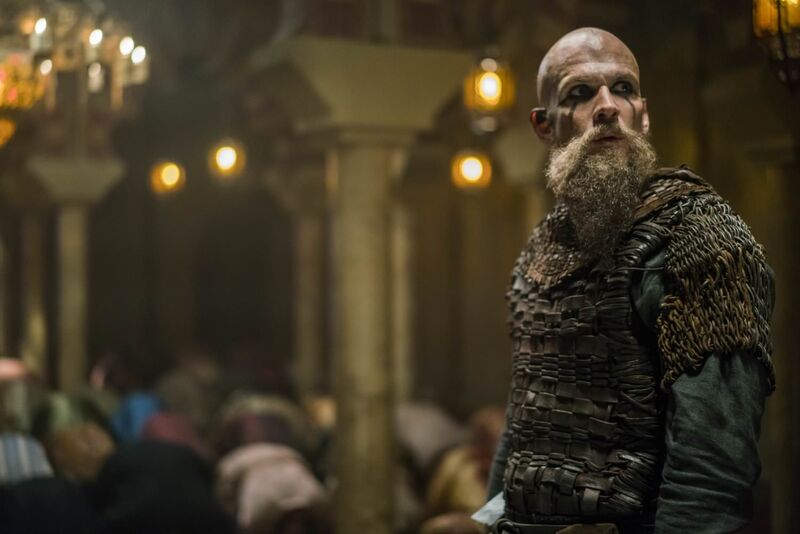 Gustaf Skarsgård talked at length about Floki's spiritual journey in season four. The puckish shipwright lost a lot of steam over the last few seasons. He described one of the most memorable scenes from season four, when Floki stopped his fellow Vikings from slaughtering men praying in a mosque, as a moment of spiritual kinship.
"He feels a deeper spiritual connection to their conviction. Not their religion, because he doesn't know anything about it, but their conviction," Skarsgård observed. "He's questioning everything, and we will definitely see more of that questioning in the following season." Footage from the season five trailer shows Floki in Iceland, watching a smoking volcano. Clearly, his wandering will carry him far.
Bjorn and Ivar are locked in a power struggle to determine who will be Ragnar's preeminent successor, as well. Bjorn will spend much of the season traveling abroad, and we will see him in Northern Africa.
"It's unbelievable that the Vikings made it to Africa!" Ludwig exclaimed. With Vikings in Africa and Iceland both, Game of Thrones won't be the only song of ice and fire on TV next season.
Ivar, however, is staying in the neighborhood, and has a new neighbor to contend with. Jonathan Rhys Meyers, who worked with Michael Hirst on The Tudors, plays Bishop Heahmund. "He's a huge, huge addition to the show," Hirst said, "and he does come head to head with Ivar, and that's a hell of a collision."
Preparing For Battle
Alex Høgh Andersen had an opportunity to speak at length about his audition and preparation process for playing Ivar. While he got a laugh for stating that he started out "crawling around [the] hotel room for the first three weeks [of shooting], yelling Old Norse," he also spoke of the intense research he did on Ivar's condition, and the care he took to approach playing a person with a debilitating disease. Andersen shows real charisma in person that I am sure contributed to the decision to cast him.
When weighing Bjorn and Ivar against one another, it may be best to look at them as two aspects of Ragnar's personality. Bjorn is tough and has Ragnar's indomitable pioneer spirit. Ivar is the warrior-king, ruthless and terrible in battle. Whatever comes, Michael Hirst insist that Ragnar's sons have to prove that they "have the right equipment" to lead.
And he's not planning to stop telling Viking stories anytime soon. Speaking of a sixth season, he said "I have no definitive news, but I certainly hope so because I'm writing the episodes."
Vikings returns on November 29th with a two-hour special.