Ubisoft already confirmed that we're getting a new Assassin's Creed game this year, but now we know that the next title is Assassin's Creed Origins and it'll take us back to Ancient Egypt to explore the first brotherhood of assassins.
It seems that the next Assassin's Creed title was merely codenamed Assassin's Creed Empire, but the finished title will actually be called Assassin's Creed Origins. Apparently, it's going to take a look at the original Assassin's Guild – hence the title.
For the first time in years, there wasn't an annual Assassin's Creed release in 2016. Ubisoft decided to give the series a bit of a rest and refresh before launching a brand new adventure in 2017.
"This year, we are also stepping back and re-examining the Assassin's Creed franchise," explained Ubisoft in a blog post in February last year. "Since the release of Assassin's Creed Unity, we've learned a lot based on your feedback. We've also updated our development processes and recommitted to making Assassin's Creed a premier open-world franchise."
"We've taking this year to evolve the game mechanics and to make sure we're delivering on the promise of Assassin's Creed offering unique and memorable gameplay experiences that make history everyone's playground."
With the last two entries in the main Assassin's Creed series falling flat, there's plenty of pressure on the next game to be seriously good. After all, with Assassin's Creed Unity launching with more bugs than a touring flea circus and Assassin's Creed Syndicate failing to sell as well as it needed to, Origins could be the game to revitalise the series.
Now that Ubisoft has officially announced the next Assassin's Creed, we'll be collecting all the news here from Assassin's Creed Origins release date, trailers, gameplay details and more.
It really is called Assassin's Creed Origins
Microsoft was the one to officially reveal the next Assassin's Creed during its Xbox E3 press conference and after all those leaks and rumours, the official title for the next game is Assassin's Creed Origins. For a long while there we thought it was going to be Assassin's Creed Empire, but now we know better.
It's being brought to you by the team that made Assassin's Creed 4: Black Flag and has been in the works for four years, with Ubisoft calling it "a new beginning for the franchise".
We've already got high expectations for this one. Take a look at the first Assassin's Creed Origins trailer.
Time for a trip to Ancient Egypt for Assassin's Creed Origins
As the leaks suggested, Assassin's Creed Origins is going to take us to Ancient Egypt to discover the secrets behind the Great Pyramids, the forgotten myths, the last pharaohs and the origin story of the Assassin's Brotherhood. In Assassin's Creed Origins you'll be able to explore the full country of Ancient Egypt in a story that will have a huge impact on the civilisation at the time.
For those of you worried it's going to be a heck of a lot of sand and not a lot else in Origins, Ancient Egypt was actually much more lush and green than it is today.
This landscape is incredibly varied, ranging from deserts to lush oases with the country reaching from the Mediterranean Sea to the tombs of Giza. You'll be fighting dangerous factions and wild beasts as you explore though, including hippos, lions and more. You'll be able to ride horses and camels in the game too, which can be summoned at any time.
"We have the capacity, from a technological standpoint, to create a massive countryside," said Game Director Ashraf Ismail. "It's not a city, it's a whole country with many cities, many villages, many exotic landscapes."
"We know that people, when they think Egypt, they think desert," says Jean Guesdon, the game's Creative Director. "But Egypt is way more than that. You have the Nile Delta, you have the Nile River, you have tons of oases. So when you mix all that, from the green, lush fauna of the Nile Delta to the oasis of Faiyum, it's the perfect playground."
For the first time, you can explore underwater in Assassin's Creed Origins too, and you'll be able to freely dive wrecks and underwater ruins in search of loot.
But who's taking us there?
The hero of Assassin's Creed Origins is Bayek of Siwa, protector of Egypt, whose personal story will lead to the creation of the Assassin's Brotherhood. We don't know much about him yet, but he is incredibly important in the grand history of the Assassins.
There's already been an unidentified Egyptian assassin featured in the Assassin's Creed comics. Set in 1250, the Egyptian assassin was tasked with bringing the Scepter of Aset to the Mamluks as a gift to help them revolt against the Ayyubid tyrants. According to the comics, this eventually results in the foundation of the Bahri dynasty after the Mamluks use a piece of Eden to depose the Ayyubid government. It's not clear whether Bayek and this assassin are connected as yet though.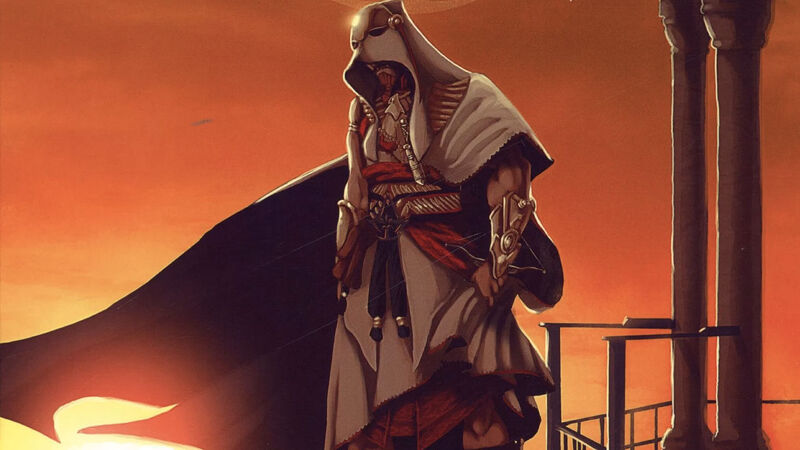 And what will they be doing?
Assassin's Creed Origins is marking a new beginning for the series and because of that, there are a few changes being made to the classic gameplay tropes. For one, viewpoints are changing. They'll now work in tandem with your new eagle buddy Senu, who you can use to scope out the landscape from the sky. Viewpoints are still dotted across the map and you'll want to sync with them because they now act purely for fast-travel spots, highlight potential quests and other points of interest.
The mini-map has also been removed in order to make sure you're getting the fullest experience of Ancient Egypt.
"We didn't want to hold players' hands," says Jean Guesdon, Creative Director for Assassin's Creed Origins. "This is why we decided to remove the minimap. We want you to enjoy and to actually experience the beautiful world we're bringing to you. You will have to play the game to put icons [on the map]."
As for the quests themselves, discovering them is best done using Senu, as she'll pinpoint nearby objectives. The game will let you play the quests and missions in any order that you want with side missions totally optional.
"Rather than being locked into a clear chain of A-to-B story beats, you'll take a free-form approach to discovering your objectives, and you can pursue them more or less at your leisure," explained a Ubi blog on the topic.
The combat has had a major overhaul too. Unlike previous Assassin's Creed games, Bayek's fighting style is much more direct with a focus on melee attacks like strikes, dodges and deflections. He'll still be able to take out enemies from a distance using ranged weapons and of course, also have stealth at your disposal. Enemies will be much more coordinated, so you'll be required to dodge more often than in previous games.
"The philosophy around the combat is different, but so are the controls," says Ashraf Ismail, Game Director. "The default controls propose a very different experience compared to previous Assassin's Creed games, but fit very well with the new combat system. For people who really miss the legacy controls, we will have options to change the default. Otherwise, in terms of gameplay, it is really about learning each weapon and how they behave – because there is a lot of depth there – and also paying attention to the weapons wielded by enemies, as this will dictate behaviour."
Bayek can also lock on and quickly switch focus between enemies and also has an adrenaline meter that builds as you fight for unleashing an Overpower attack or forcing Bayek into a frenzy that makes him faster, stronger and more resilient.
"We've worked very hard to make sure that players can quickly switch between bows and melee efficiently, without big camera movements," says Ismail. "Players will learn that bows have a strong value in melee. For example, a fully charged hunter bow shot will break a shield defense and knock an enemy to the ground. Being quick with the light bow will allow players to do some damage to an enemy who has a shield up and charging you. And a full shot from the warrior bow will knock anybody to the ground!"
The game will also include some naval combat it seems, although not to the extent of upcoming Ubisoft IP Skull and Bones of course. According to Game Director, Ashraf Ismail on a recent GI podcast, there are bigger ships you can't commandeer, but you can jump on them and use them as ferries.
"There are other naval combat opportunities, something closer to what we had on Black Flag but for now we're not going into too much detail," he said. "I don't want to give people the wrong impression, it's not the same level as Black Flag."
As for the cities that you'll encounter, Ismail said that they're pretty huge.
"Memphis is super-organic. The monuments are incredible, they're huge, they're super-unique. It's as Egyptian as you get. It's a fairly large city. I think Alexandria is slightly bigger, but slightly," he explained.
"If I compared it to previous cities in the past, I don't know the exact numbers for sure, I could say it's at least twice the size of Havana from Black Flag."
Thankfully you'll have your eagle, Senu, to help you explore them and apparently there's no limits or restrictions on how you use him, with Senu technically capable of flying as far away from Bayek as you want him to.
But more importantly, the cities will also include tombs to explore, a la Tomb Raider.
"We have a ton of tombs," added Ismail. "They're super cool. We run the gamut of puzzles, navigation puzzles, navigation challenges, some combat challenges. There's a lot of different tombs with a lot of different flavours. Yes, there are traps in some, there are hidden secrets."
It seems traversal has changed a bit too for this game, at least in a subtle way to make sure everything parkour-wise feels fluid.
"One thing that's changed is there's no longer a high profile button," explains Ismail. "It used to be on the trigger, where you sprint. We changed it so that all the input is on the stick. So you you can walk, to trot, to jog, to a full out sprint on the stick. This actually allows the player to have much more control over what they hit.
"So A and B are still there, A to go up, B to go down; they still work but there's been a lot of tweaking and tuning done based on the way we've seen people play, again to make it super responsive. The goal is to make the assassin do what the player wants, looking as awesome as we can make it look."
To help that goal, the game introduces upgradable gear and combat customisation options too.
"There are multiple ways to manage the gear and to upgrade it," says Ismail. "You can actually take a weapon you already have, take it to blacksmith and buy – paying with a bit of money, some materials you find in the world – you can upgrade the weapon's level. So, if there's a weapon you've found that you absolute love and you want to keep, there's a way to level it up to your level."
"The crafting system is away to increase a lot of your defence and damage stats, including stealth damage, range damage… all of this," Ismail added. "Here, it's a physical piece of equipment on Bayek that when you craft it, it physically changes so you see the improvement but it also changes your stats."
When will we be able to play Assassin's Creed Origins?
Well, not only do we know what the next Assassin's Creed is called, we also know when you're going to be playing it. Ubisoft has set the Assassin's Creed Origins release date for October 27 on PS4, Xbox One and PC.