The STARZ cult series Ash vs. Evil Dead will return to television this October, and the creators and stars had a bloody good time at San Diego Comic-Con telling fans all about what to expect in season two. Bruce Campbell returns as Ash Williams, the chainsaw-handed lothario who unwittingly released the damned from Hell during an attempt to get laid. The rest of the cast is back too, including Lucy Lawless, Dana Lorenzo, and Ray Santiago. Joining the cast this year are director Sam Raimi's brother Ted Raimi as an old accomplice of Ash's, and Lee Majors as Ash's father Brock.
Season two will see Ash leaving the idyllic Jacksonville, Fl. when Lawless' Ruby summons him to help fight the deadites he unleashed upon the world. The first stop? Ash's hometown of Elk Grove, Michigan, where the residents know him as "Ashy Slashy" and his curmudgeonly father is holed up in the old family home. The creators promise to up the ante from last season, with as more gore, more traditional effects ("less CGI blood", Raimi pledged), and a lot more of the insanity that made season one so much fun. It was the fun of season one that drew Majors to the role of Ash's father, and he was even surprised with how much he enjoyed watching the gory comedy.
"I'm not used to blood. When they asked me to do the show I watched the first season, I ended up watching all ten in one time and I said 'this is a helluva fun show!'," Majors said. "You chainsaw somebody in two and throw out these funny lines and make it okay. Blood and gore is fine as long as you make it funny."
Majors' role is an important one for the Evil Dead franchise, as very little of Ash's history has ever been revealed.
"Lee is great and he's gonna bring a whole new dimension," Raimi said. "We get to learn a bit about Bruce's character through Lee. It's interesting after 30 years with this character to get deeper into him."
Turning it to 11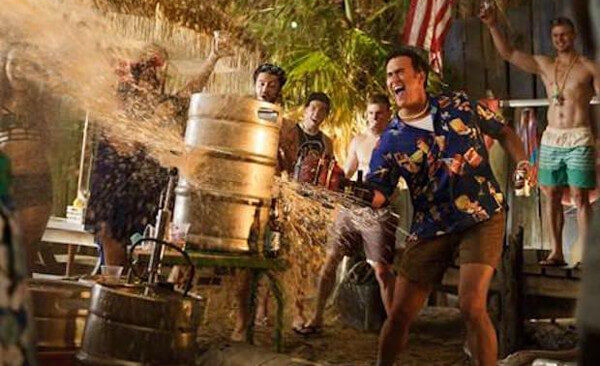 Season one of Ash vs. Evil Dead was no Disney Channel original movie, but Raimi and co. promised fans at the SDCC panel that season two would contain even more of the gratuitous blood and gore the franchise is known for. Thankfully for them (and the fans), they got the green light from Starz to do whatever they wanted content-wise, as the show is completely unrated.
"I don't have to say this but I should; Starz is the right place for this. If this was a feature film, it would be unrated. They don't make hundred million dollar unrated movies," Campbell said.
Raimi was excited to be able to make unrestricted content, including nasty new monsters, curses only Deadites could come up with, and buckets and buckets of blood.
"I think season two has a lot more intensity. If (fans) experienced the first two Evil Dead movies they know what to look for. I talked with Starz and they want to provide something that can't be found anywhere else," Raimi said. "They want it to be a unique experience where no one is producing anything like it. It's got great comedy in it, great Bruceisms, great moments with his friends and their interactions, that goes deeper than before."
Role Models
One thing the cast agreed on at the panel was that the characters are not role models. Campbell even told several of the kids in the audience that their parents were making a mistake by letting them watch the show. (He even went as far as to hand one little girl dressed as Harley Quinn a twenty dollar bill and told her to get a job at a library.) Even if Ash has a chainsaw hand, a sweet boomstick, and great one-liners, he's not exactly a great guy.
"Ash is an antihero. He smokes angel dust this season. He drinks and drives, smokes reefer, drinks shitty whiskey, tries to get in the pants of most of the characters on the show and I love that. I can't even tell you how much I love that," Campbell explained. "I find the conventional hero to be snoresville. (Ash) can go places, there's room for improvement. If you start at the top where you gonna go? Down. I want to go up, incrementally."
Lawless' character Ruby, who is the slightly-evil counterpart to Ash, isn't exactly the kind of character children should look up to either. It's quite a departure for Lawless, best known for her role as Xena on Xena the Warrior Princess.
"Ruby's not much of a role model. Ruby's a mad dog. She's a lot of trouble, but she's her own worst enemy and I want you to remember that I said that by the end of the season," Lawless said. "(This season) she teams up with Kelly actually, they've got a little girl power thing going on, and it's very high octane, a lot of firepower."
Army of Darkness
The events of the third Evil Dead film, Army of Darkness, previously had to be omitted from the television series for legal reasons. (The film was owned by MGM and there were some various legal issues.) In a particularly groovy reveal, however, executive producer Rob Tapert confirmed that Army of Darkness is now a part of the show's continuity and will be referenced in season two.
"In the second season there are references to things that Ash encountered in Army of Darkness. We've always been able to say he traveled into the past, they just didn't have a place in the first season," Tapert said.
Army of Darkness was a touchstone for the show's two youngest cast members, who both saw it as teens and found an affinity for the ridiculous horror-comedy. Dana DeLorenzo and Ray Santiago star as Kelly and Pablo, the next generation of warriors against the evil dead invasion.
"In high school I saw Army of Darkness because I've learned it's a rite of passage for every guy to see that movie and all of the Evil Dead movies," DeLorenzo said. "I will say that I started out loving horror when I was very young. Horror buff for ten-year-olds: Goosebumps, Are you Afraid of the Dark? I watched Evil Dead to prepare for this and thought it wouldn't be that scary. I honestly am embarrassed of saying I do zero acting of being scared on this show."
"I was a huge horror fan as a kid and I always wanted to be the guy being chased by the monster and the guy saving people from the monster," Santiago said. "I had the opportunity to be the sidekick for a really cool guy."