There's a brand new Arms update available now and it's a big one. Arms update 2.0 brings with it a suite of big changes and additions that are going to have quite an affect on the game overall.
Firstly, you'll notice that there's a brand new character in the line-up – Max Brass. You might recognise him as one of the bosses in the game's single-player Grand Prix mode, but he's now a playable character for all modes.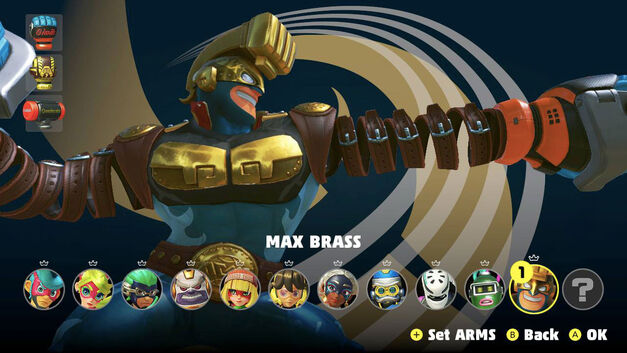 With Max Brass you also get three brand new arms for Arms – the Nade, Roaster and Kablammer.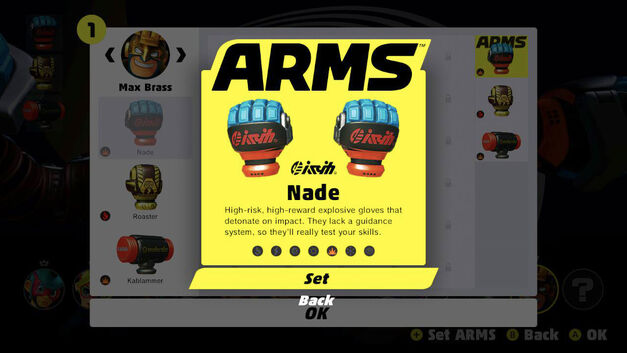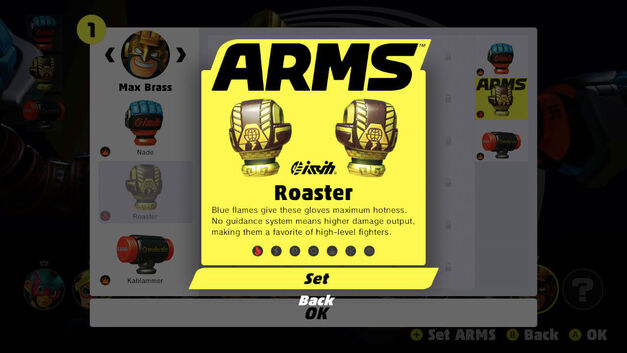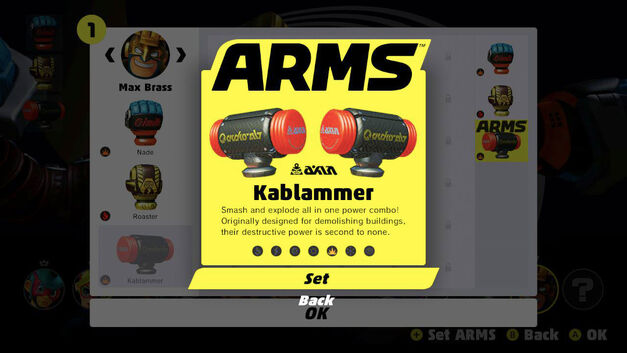 This new character is definitely the headline of this big Arms update, but there's also a brand new mode to enjoy too called Hedlok Scramble.  The new mode is based around Hedlok, the other boss featured in the Grand Prix, and will see players fighting the take possession of Hedlok before their opponents can. You can then use Hedlok, and all his power, against them.
There's also a brand new stage called Sky Arena and a Play Record has been added to the Main Menu so you can find out which fighters you most frequently use.
Interestingly, with all the new stuff coming with Arms update 2.0, there's something being taken away too. The controversial Snake Park map, which happens to be Kid Cobra's home stage where you can fly around on spinning discs, has now been removed from Ranked Play, which is definitely a very, very good thing.
The full changelog is as follows:
Character updates
Byte and Barq – Fixed an issue that allowed Barq to prevent an opponent from using their Rush Attack during an online match
Kid Cobra – Jumping distance has been decreased
Ninjara – Corrected an issue which prevented Ninjara from breaking certain objects on the Ribbon Ring stage
Ribbon Girl – Fixed an issue which allowed Ribbon Girl to attack in mid-air for a prolonged period of time
Stage updates
Scrap Yard – Fixed an issue causing the destructible poles in the center of the stage to sometimes not break
Ranked Mode updates
Max Rank increased to 20
Penalties towards those who disconnect during Ranked Match gameplay have been increased
Online Play updates
Improved syncing between players so that condition of items, arms and other details are the same for both players
V-Ball – Fixed an issue which prevented players from successfully finishing a match due to the ball not touching the court
General updates
The following arms have been improved by shortening the length of time required to stretch: Megaton, Megawatt, Revolver, Retorcher and Boomerang.
The following arms now have an increased delay before returning to normal, should they be shot down while attacking: Popper, Cracker, Vertival
Phalanax – Movement speed increased
Popper – Charge visibility increased
Cracker – Charge visibility increased
Vertival – Damage during Rush Attacks decreased
Triblast – Fixed an issue that allowed Triblast to recover more quickly when the arm is repelled
Gelgel – Fixed an issue where Gelgel would sometimes become stuck in the ground and unable to attack
Megaton – Fixed an issue where Megaton would sometimes become stuck in the ground and unable to attack
Slapamander – Corrected an issue that prevented some Slapamander attacks from successfully landing against Helix
Fixed an issue where explosive arms would sometimes not detonate during attacks
Sam is the UK Gaming Editor at Fandom. She's been addicted to games since she first got her paws on a GameBoy and hasn't looked back.