If you want to get involved with the upcoming Nintendo Switch brawler, Arms, then you need to try it out during the Arms Global Testpunch demo.
You'll need to down the Arms demo right now either from the Nintendo eShop on you Switch or from the Nintendo website.
It's quite a limited trial becasue you can only play it on certain days and times, with each play session lasting around an hour. Don't miss out so make sure to mark these dates and times in your calendar.
Saturday, May 27
1AM BST/1PM BST/7PM BST
5AM PT/11AM PT/5PM PT
Sunday, May 28
1AM BST/1PM BST/7PM BST
5AM PT/11AM PT
Friday, June 2
Saturday, June 3
1AM BST/1PM BST/7PM BST
5AM PT/11AM PT/5PM PT
Sunday, June 4
1AM BST/1PM BST/7PM BST
5AM PT/11AM PT
Arms First Impressions
If you kept up with the past few days' worth of news about the Nintendo Switch, you might have been experiencing some Wii flashbacks. While Nintendo's newest hardware definitely cuts a different profile than their smash-hit 2006 console, the company's Switch reveal put motion controls and their 1-2 Switch party game on the center stage.
Arms, Nintendo's fighter based around swinging the Switch's Joy-Con's in your clenched fists, feels like an attempt to recapture the magic of Wii Sports. With just how many Wiis flew off the shelves a decade ago, Wii Sports might be one of the most-played games of all time, and Arms feels like Nintendo took its boxing mini-game and brought it to its logical conclusion. But instead of encouraging players to simply flail their controllers wildly, Arms brings some strategy into the mix in a way that evokes their Punch-Out!! line of cartoony boxing games.
Rock 'Em Sock 'Em Robots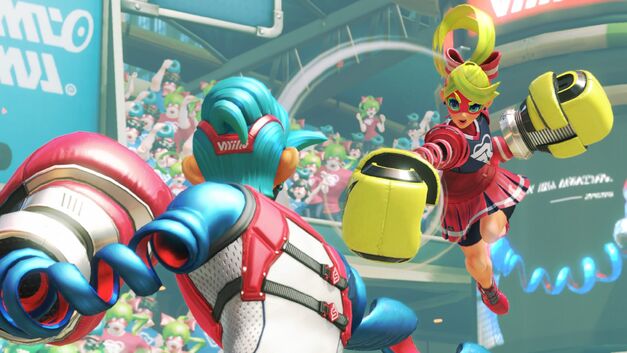 At the recent Manhattan Switch reveal event, I had the chance to duke it out with Nintendo's Arms and its springy-limbed roster of fighters. Fundamentally, how you play Arms is pretty straightforward: punch outward with either Joy-Con when you want your character to punch, and turn both inwards if you want to block. But Nintendo adds a bit of complexity to this setup that contributes more depth to Arms' fights without making them overwhelming.
As with many of the games I demoed at the event, it takes a few minutes to adapt to the Switch's small, button-loaded controllers. After learning how to play, though, Arms' controls feel pretty natural. You tilt the controllers in tandem to move to the left and right, use one of the shoulder buttons to jump, and another to activate a powerful flurry of punches after filling a meter that grows when you land attacks successfully. Thankfully, the right buttons were always easy to find in the heat of the moment.
The Nintendo Touch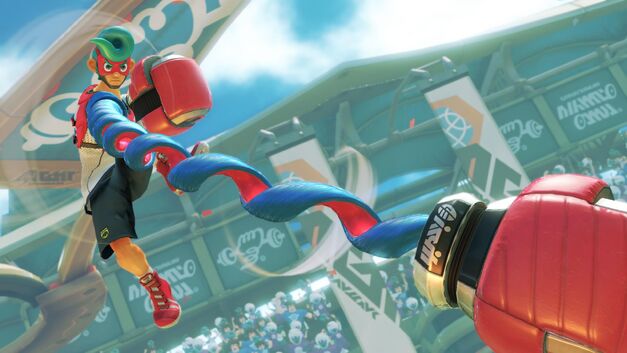 In the typical Nintendo fashion, Arms' beams with their trademark whimsy. Arms' might not be as creatively bold as, say, Splatoon, but each member of the cast on display at the demo session takes the "springy arms" concept in a different and distinct direction. Plus, every fighter comes with their own selection of three fists to attach to their arms at the beginning of every session in the best-of-three match. Some strike slow and hard, others swiftly and light, and some offer special abilities, like splitting into multiple punches when your arm fully extends.
Motion controls aren't mandatory for Arms, but Nintendo offered this sole means of input for their hands-on demo session. It'll be interesting to see how well Arms will work with a traditional controller, since not all players have the stamina to shadowbox for extended periods of time. (I know my weak arms are a little sore right now after only 10 minutes with the game.) Also up in the air is how Arms will flesh out its basic concept, or if it will include some sort of single-player campaign—what Nintendo showed amounted to a one-on-one competitive experience for two players.
In any case, Arms feels like the right move for Nintendo to make with the Switch. Plus, it's always nice to see the company break from their conservative nature and launch a completely new brand. Be sure to check back with Fandom for more on Arms as we draw closer to its spring release.
Want More Nintendo Switch?