2017 is looking like it will have plenty of interesting films to offer fans. There are a number of sequels, reboots, and original movies coming out that have piqued our interest. We've compiled together films from a variety of genres that you can look forward to in the coming year. We've listed the release dates next to each title but those are subject to change. We're also only covering films that have release dates at this point.
Let's dig in!
The LEGO Batman Movie (2/10)
Fans have been clamoring for a less grim and gritty version of the Caped Crusader, and The LEGO Batman Movie is here to answer their prayers. The first LEGO film was one of the best kid films in years, and this superhero spin on the series looks to be just as fun. With a talented cast and a superbly silly sense of humor, The LEGO Batman Movie has a chance to be the best theatrical Batman film in quite a while.
John Wick: Chapter 2 (2/10)
John Wick is awesome. It's the truth. That first film came out of nowhere and created an instant fandom. The sequel is looking to up the ante in every regard. Bigger gunfights, flashier locales, and a cast that will reunite Neo and Morpheus. This movie doesn't have to be the greatest piece of cinematic art ever made. It just needs to be badass. I'm pretty sure it's going to fulfill that need.
Logan (3/3)
Is this really the end of Hugh Jackman's tenure as Marvel's most beloved mutant? Everything seems to be pointing towards a doomed finale but man does it looks excellent. The stripped down Western aesthetic is perfect for this story, and the promise of a Wolverine that showcases his true propensity for violence is going to make fans very happy. If Logan can provide a proper sendoff for the Ol' Canucklehead, it's going to go down in superhero film history.
Kong: Skull Island (3/10)
It's astonishing how beautiful Kong: Skull Island looks. On a purely visual level, this looks like it could be one of 2017's most enjoyable film experiences. The tone looks well-balanced and the action is pure delight. And this is our first step towards the inevitable confrontation with the Big G himself. That alone should give this one some hype.
Beauty and the Beast (3/17)
Disney has surprised many by doing justice to their recent live-action remakes. Cinderella, The Jungle Book, and Pete's Dragon have been warmly received. Will the same reception befall Beauty and the Beast? The cast is excellent and what we've seen of the film is dazzling. If they can nail the songs – especially Luke Evans' rendition of "Gaston" – this could be yet another feather in Disney's remake cap.
Power Rangers (3/24)
The iconic franchise is getting a brand new look and feature film. Will it be a success? The direction is a risky one and the tone is darker than one might expect. But, if the film can deliver on the simple thrills of giant robots fighting a giant monster, we can all go home satisfied. Plus, Elizabeth Banks looks like she's cutting loose as Rita Repulsa. That's worth the price of admission.
Ghost in the Shell (3/31)
If you'd have told me that this adaptation of the pivotal anime/manga would be one of my most anticipated films of the year, I would not have believed you for a second. But that first trailer was the right blend of awesome, bizarre, and simply refreshing. The cyberpunk aesthetic and the cold demeanor make Ghost in the Shell stand out among the usual sci-fi fare. Count this as one of the films that could take 2017 by surprise.
The Fate of the Furious (4/14)
You know 'em, you love 'em, it's the Fast & Furious gang out for their eighth ride. Adding Charlize Theron to the mix as a seductive villain was a great bit of casting. And everyone is freaking out about Dom's apparent betrayal of his family. Even if this doesn't hit on a dramatic level, you can bet that the car action will be as silly and as scrumptious as ever. Cars on ice!
Guardians of the Galaxy Vol. 2 (5/5)
The gang is back and badder than ever. Guardians of the Galaxy Vol. 2 promises plenty of the same hilarious hijinks as the original but is upping its game on the cosmic weirdness. We're going to find out who Star-Lord's dad is and probably meet more cosmic Marvel characters along the way. As far as sequels go, this is definitely at the top of our list.
Alien: Covenant (5/19)
Ridley Scott is going back to the B-movie roots that made the original Alien a classic. Fans are eager for this follow-up to Prometheus and to see how things will eventually link up with the xenomorph we've known for so many years. Michael Fassbender was transcendent as the android David, and it will be intriguing to see how his character has evolved since the last film. His story alone is reason enough to see this flick.
Pirates of the Caribbean: Dead Men Tell No Tales (5/26)
After dovetailing into much harder fantasy stories, this fifth entry in the storied Pirates series is going back to the franchise's spookier origins. The ghostly Captain Salazar looks like the kind of villain these movies should be cranking out. If the tone and look of the film can hearken back to that original blockbuster smash hit, Dead Men Tell No Tales could reinvigorate this franchise.
Wonder Woman (6/2)
DC needs a critical hit. Will Wonder Woman be it? It has the benefit of director Patty Jenkins and a striking leading lady in Gal Gadot. The action and look of the film look polished but it will all come down to the characters and story. Even though Dc has been missing the mark for general audiences, Wonder Woman might be the turnaround they've been looking for.
The Mummy (6/9)
Universal is trying to start their own shared universe based on their monster characters. After a few false starts, The Mummy is their definitive dive into that realm. With a star like Tom Cruise headlining, you can bet that audiences will be intrigued by this new direction for the classic Universal horror icons. If The Mummy can skillfully handle both action and horror, it could be the start of something really fun.
Cars 3 (6/16)
Pixar is usually dependable when it comes to quality, but Cars 2 is universally viewed as their weakest output. It looks like they've taken that to heart and are bringing something very different to Cars 3. The humor and heart will surely be there but it looks like this entry could have some more serious ideas on its mind. Regardless, a Pixar movie is always something to look forward to.
Transformers: The Last Knight (6/23)
The fifth film in the Transformers series is promising some pretty crazy conceptual fun. We're going to get some wacky time travel as well as what appears to be an evil Optimus Prime. These films might be critical stinkers but they continue to bring in audiences and fans in large numbers. Maybe this one will turn the tide for the series? Even if it doesn't, it will probably be a good dose of dumb fun.
Spider-Man: Homecoming (7/7)
The web-slinger has finally returned to the House of Ideas and he's getting one heck of a welcoming committee. The John Hughes high school fun of Spider-Man: Homecoming looks like it's going to offer something we haven't seen in a Spidey movie before. But, we all are there for the humor and the action and the first trailer is looking to provide plenty of that. Could this be the best Spider-Man movie made yet?
War for the Planet of the Apes (7/14)
The fact that the rebooted Planet of the Apes films are some of the best in the series is astonishing. If everything goes right, War for the Planet of the Apes could be the one to top them all. The promised confrontation with humanity has finally come to pass, and this film doesn't look to be holding anything back. The story of Caesar and his tribe has been a harrowing one, and this is the film that promises to plunge us into the future we already know is coming.
Dunkirk (7/21)
Christopher Nolan returns to the megaplex with a war film of epic proportions. Dunkirk looks somber, immense, and very much like a Christopher Nolan movie. Nolan is forever going to be a director that film fans latch onto, and nl matter what the subject of his films are, we're going to be there to see what he does. Is Dunkirk going to try and stand beside such films as Saving Private Ryan and Platoon? Could it even surpass those?
The Dark Tower (7/28)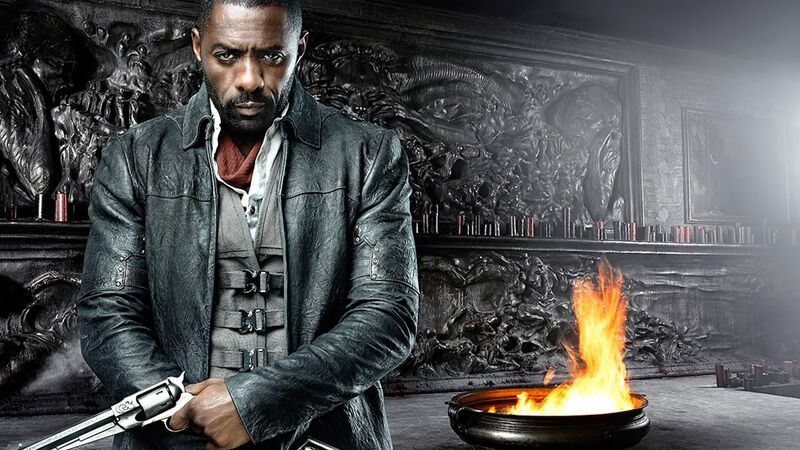 This isn't the only Stephen King adaptation making its way to the cinema in 2017, but it's definitely the one with the most anxiousness behind it. The Dark Tower is going to be a very interesting experiment; taking a beloved book series and making the film a sequel to that is risky in a whole bunch of ways. If it can hook newcomers as well as pleasing fans of the source material, it could signal a new way in which we approach adaptations.
Baby Driver (8/11)
A new Edgar Wright film is always a reason to be happy. Baby Driver will be an interesting turning point for the director as it's not an adaptation or part of his loosely connected trilogy. In fact, it's not even listed as a comedy. Is this Edgar Wright's first foray into less silly filmmaking and doing something more grounded? No matter what, film fans are going to find out as soon as they can.
It (9/8)
Stephen King's magnum opus of horror is finally making its way to the silver screen. Though the miniseries is still influential for many fans – mostly due to Tim Curry's performance as Pennywise the Clown – it's going to be a challenge to entice new viewers to this classic story. If a bigger budget and scale can bring out the more phantasmagoric elements of the story, this has a chance of being a big turning point for the horror genre.
Blade Runner 2049 (10/6)
We're actually getting a sequel to Blade Runner. Not only that, but it's being directed by Denis Villeneuve, one of the greatest directors working today. The first trailer nailed the aesthetic and tone perfectly. With Ryan Gosling, Robin Wright, and Jared Leto joining Harrison Ford, this is shaping up to be one of 2017's most fascinating blockbusters. Will it do justice to the groundbreaking original? We'll all find out.
Kingsman: The Golden Circle (10/6)
Kingsman: The Secret Service was a delightfully wicked appropriation of classic James Bond stories. It went on to become something of a violent darling in the action genre, and the sequel is going to have to really up the ante if it hopes to reach the heights of the original. If it can, we could be looking at a new action franchise that actually surpasses the source material it's riffing on. Plus, Elton John is in it. Sold.
Untitled Cloverfield Movie (10/27)
So, we don't really know what this film even is at this point, but it's definitely got a lot of goodwill thanks to the excellent 10 Cloverfield Lane from last year. If Cloverfield films are going to be a sort of anthology film series, that's great news for fans of such storytelling. It'd be great for this to be a way to showcase lower budget sci-fi/horror films that may not get seen by most people. Here's hoping it's even half as good as 10 Cloverfield Lane.
Thor: Ragnarok (11/3)
Thor has never quite been able to make his mark in his solo films. Thor: Ragnarok is looking to change that. With the incredibly talented Taika Waititi behind the camera and placing the Hulk as Thor's companion, this is gearing up to be the best Thor film by a wide margin. The God of Thunder could end up having the best Marvel movie of the year.
Justice League (11/17)
Justice League is going to be a big moment for the DC films. Their cinematic universe still hasn't found its footing and this is the movie that hopes to rectify that in a big way. The team-up plot and the seemingly lighter tone are reasons to be hopeful, but it's undeniable that fans are putting a lot of pressure on this one. It could very well be the film that makes or breaks DC on the big screen.
Coco (11/22)
Disney's animated features have been knocking it out of the park. Coco could very well follow that trend. The film is based around the Mexican holiday of Dia de los Muertos and will follow a young boy named Miguel. We don't know much else about the film at this point, but the vibrant aesthetic and usual Disney quality makes this a film that you probably won't want to miss.
Star Wars: Episode VIII (12/15)
Duh! The next entry in the new trilogy hits around Christmas. I don't think we need to spend a whole bunch of time telling you why you should be excited for this one. This is always a cultural milestone and will be the most anticipated film of the year for many fans. Personally, I can't wait to see how Luke finally fits into the story and if we'll learn some big pieces of information like the identity of Rey's parents or Supreme Leader Snoke. Is it December 15th yet?
Jumanji (12/22)
Another remake of a film that many people feel very nostalgic about. The gist of this new version sounds interesting – teenagers get transported into the game and have to assume the roles of game characters – and the cast forms a pretty great ensemble. It will be hard to divorce ourselves from the memory of the original, but if we can we might be in for a treat.
Pitch Perfect 3 (12/22)
It's kind of magical how these acapella comedies have actually fostered a strong fandom. They are full of such infectious charm and pep. Will the third entry be able to live up to the fun of the last two films? Even if this one falls a little short, you can bet it will have a good number of people leaving the theater with their toes tapping.
What films are looking forward to? Let us know @getfandom!