Considering its humungous box office haul, there's a good chance you saw Jurassic World. And there's a decent chance you liked it, too. The long-awaited sequel did well with fans and fairly well with critics, too. Nevertheless, co-writer and director Colin Trevorrow addressed some criticism of the film when he spoke to Jurassic Outpost about the next upcoming film in the franchise.
A Scarier Film
Because Trevorrow is preparing to direct Star Wars: Episode IX, Spanish director J.A. Bayona (A Monster Calls) will be sitting in the director's chair for Jurassic World 2. When asked about Bayona's involvement, Trevorrow talked about Bayona's work in horror, and how it will apply to the next sequel.
"It will be more suspenseful and scary. It's just the way it's designed; it's the way the story plays out. I knew I wanted Bayona to direct it long before anyone ever heard that was a possibility, so the whole thing was just built around his skillset."
A Return to Practical Dinosaurs
One of the most noticeable differences between Jurassic World and its predecessors is the near total absence of animatronic dinosaurs. They're a crucial ingredient in the Jurassic Park formula, and their exclusion was a big misstep. But Jurassic World's focus on big, chaotic action scenes didn't really lend itself to animatronic effects. For the next film, Trevorrow tells fans to expect a change.
"I think the lack of animatronics in Jurassic World had more to do with the physicality of the Indominus, the way the animal moved. It was very fast and fluid, it ran a lot, and needed to move its arms and legs and neck and tail all at once. It wasn't a lumbering creature. We've written some opportunities for animatronics into [Jurassic World 2] . . . Bayona has the same priorities. He is all about going practical whenever possible."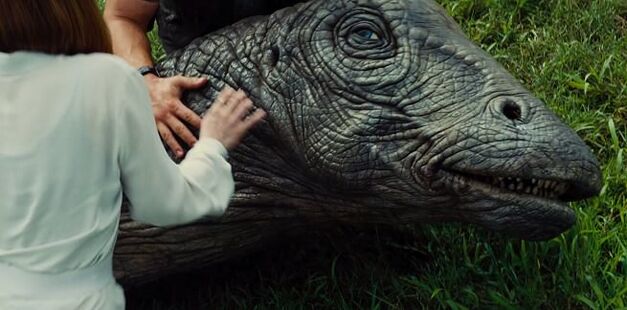 Trevorrow certainly makes it sound like this next film is on the right track. But he told Jurassic Outpost something even more encouraging. He and co-writer Derek Connolly aren't necessarily trying to make this new film bigger than the last one. If you listen to the interview on the Jurassic Outpost podcast, it's evident that they know it's "not about bigger, better dinosaurs" or "better action sequences." It's about crafting powerful drama through action. It's about having meaningful personal stakes. They bring up the kitchen sequence from the 1993 original and discuss how effective it is. If Trevorrow, Connolly, and Bayona agree on that, perhaps Jurassic World 2 won't have to be so huge to score big with fans.