Unless you're an ostrich with its head in the sand (who also doesn't play video games), you've noticed the recent resurgence in digital card battle games. So theoretical ostrich, where did this resurgence come from? A cynic might point to the fact Blizzard's Hearthstone is now earning $20 million a month, but it also goes hand in hand with the recent board game resurgence and the undeniable fact that a lot of Magic: The Gathering's digital efforts never really quite nailed it.
Given the genre's recent explosion, there's a lot of different digital CCGs to sift through, which is why we've compiled a list of some of our favorite current and upcoming digital card battle games. Check it out below!
Hearthstone: Heroes of Warcraft
Platforms: iOS, Android, PC, Mac
The current king of the hill, Blizzard's Hearthstone is pretty much single-handedly responsible for the current popularity of digital card battle games. The game's six Warcraft heroes, each with unique abilities and cards, have set a Magic: The Gathering inspired template that most other digital card games have tried to follow. The game is a textbook example of "easy to pick up, hard to master," and Blizzard's level of polish and quality control put it head and shoulders above many of its competitors. Hearthstone is a great place to start if you want to give card battle games a try.
Gwent
Platforms: Xbox One, PC
Gwent is a fully fleshed out version of the popular minigame from The Witcher 3: Wild Hunt. It eschews a lot of the conventional digital card game traits for a very unique setup. Cards are classified into Gold, Silver, and Bronze categories, and gameplay is confined to three rows, melee, ranged, and siege. Instead of the traditional mana setup, the game revolves around playing cards over a series of turns to maximize points without overextending. This is a strong option with a lot of buzz.
The Elder Scrolls: Legends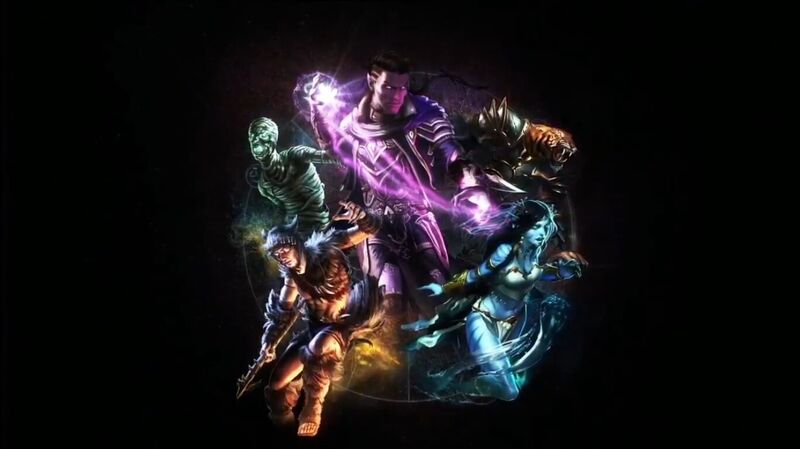 Platforms: iOS, Android, PC, Mac
Being attached to one of the biggest properties in gaming never hurts. The Elder Scrolls: Legends uses lanes to modify the gameplay, giving advantages to players who position their cards correctly. It also has an interesting mechanic that rewards players with an extra card draw for every 5 damage they take. You can also train and permanently evolve your cards into more powerful versions. There's a full fledged story campaign for people looking for some solo action as well.
Faeria
Platforms: PlayStation 4, Xbox One, PC, Linux, Mac
Faeria builds off basic deckbuilding strategy with a hex based map element that adds a huge level of strategy. Each turn players drop a land that gets them one step closer to their opponent while providing a closer spawn point for their minions. Traversing enemy lands is slower, and prevents enemies from spawning right on top of you. It's a supremely fun little game with a lot of room for strategy. The adorable art style doesn't hurt either. Highly recommended.
Duelyst
Platforms: PlayStation 4, Xbox One, PC, Linux, Mac
Like Faeria, Duelyst puts a pretty major spin on its approach, incorporating movement and positioning into the mix. Both you and your minions spawn on a board and take moves each turn, limiting who they can attack. Like Chess, or Final Fantasy Tactics, if your leader is killed you lose, so balancing your attack and defense is essential. Also like Faeria, mana orbs litter the battlefield, complicating your positioning vs. your need for additional resources.
Titanfall: Frontline
Platforms: iOS, Android
Courtesy of mobile game titans Nexon, Titanfall's tie-in card game is currently available on Android, with the iOS version arriving shortly. The titular Frontline area is a special space on the board that limits which of your enemies can attack the rival player. As in the console game, titans can enter auto mode or get more powerful with the addition of a pilot. Pilots can use parkour to attack early. It appears loyal to its source material, so we're interested in seeing more.
Plants Vs Zombies Heroes
Platforms: iOS, Android
Plants vs. Zombies Heroes is a surprisingly solid entry with all the charm of its namesake. This mobile game is a hybrid between Hearthstone and Gwent. Players drop minions into one of five individual lanes. Some of these lanes offer specific advantages and disadvantages. This adds a layer of strategy to your deckbuilding. A bevy of unlockable heroes allows for different deck types and play styles. The interface and tutorial are slick, and do a great job of explaining the game. There also a solid chunk of single player content to dig through. It can be a little grindy, but PvZ Heroes is well polished and worth a look.
Shadowverse
Platforms: iOS, Android, PC
If you consider yourself a fan of Atlus, NIS, or JRPGs at large, Shadowverse might be the card game for you. It features seven different anime-as-heck characters, each with unique mechanics you'll have to learn to succeed. The game also has a surprisingly hefty amount of single player content, including a fully voiced story mode for each hero. Shadowverse just launched on Steam, and new players will receive a slew of free packs to accelerate their deck building.