Santa Clarita Diet is bringing the wholesome fun of eating other people to the small screen. The Netflix comedy looks to be a joy and it got us thinking: what other cannibals put a smile on our face? Excluding the obvious choice of Hannibal Lecter, we pulled together some quirky cannibal films that you can digest after snacking on Santa Clarita Diet. Dig in and don't be afraid to get a tad messy.
Motel Hell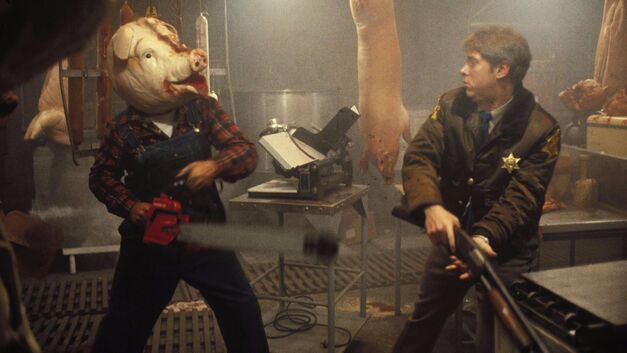 "It takes all kinds of critters to make Farmer Vincent's fritters." Oh, if only the poor saps who ate up Farmer Vincent's tasty vittles knew what they were chompin' into.  Vincent and his sister Ida run the lovely little Motel Hello, but the guest they take in never seem to check out. That's because they get ground up into sausages that local folks just can't get enough of.
Motel Hell is a knowingly goofy but well-made little horror-comedy that plays up its Southern silliness every chance it gets. If the above image doesn't give you an idea of the wackiness the film has in store, then maybe Farmer Vincent's dying words will. Oh, I can't spoil that. It's the biggest laugh in the movie. You'll have to find out for yourself. [Drew Dietsch]
Eating Raoul
All Mary and Paul want to do is open a nice family restaurant. Good intentions only go so far, and in 1980s Los Angeles the food business is a cutthroat industry. When the happy couple is at the end of their rope, Mary accidentally kills a burglar. This is when the two hatch a plan to lure the scum of LA into their home to rob and murder their way towards achieving their dreams. It's almost inspirational.
Where Eating Raoul goes off the rails is anybody's guess. The Mary Woronov starring dark comedy from Roger Corman alumni Paul Bartel is meant to be an extreme satire. Here the good guys are antiheroes, but in the end, they wind up becoming ghouls. Mary and Paul are likable people until they taste human flesh and decide to fill their kitchen with people parts. At least they achieved what they believed in. [Andrew Hawkins]
Delicatessen
Unemployed circus clown? Check. Post-apocalyptic France? Oui. An honest love story under threat of cannibalism? Bingo. The 1992 black comedy Delicatessen offers more to viewers than ham-handed butchery and gore — there's a delicate charm that sets it apart.
Co-directed by Jean-Pierre Jeunet (Amélie, Alien: Resurrection) and Mark Caro (City of Lost Children, also with Jeunet), Delicatessen hides its cannibalistic tendencies in plain sight amid the usual French fare: kids smoking cigarettes, close quarters and a romance between main character/former clown Louison and butcher's daughter Julie . It's easy to forget about the whole "people eating people" part until the film's antagonist, Clapet the butcher, sharpens his knives and starts talking about "the rules." That's when all of these colorful characters start getting hungry…and they're fresh out of duck à l'orange.
Much like fine dining, Delicatessen doesn't cater to those hungry for a quick bite. It delivers its main course, a solid story with fleshed-out characters, with a side of soylent green. Mmmmm…sacrilicious. [Nick Murray]
Parents
Being a kid and moving to a new town is tough. Being a kid, moving to a new town, and finding out that your parents are cannibals is probably a heck of a lot tougher.
Parents is a wonderfully dark send-up of 1950s culture from actor/director Bob Balaban. It uses the imagery and pristine idea we have of '50s America and subverts it with terrifically twisted performances from Randy Quaid and Mary Beth Hurt as the titular parents. And the film does a great job of showing what it's like to have a kid's perspective. When you're a kid, everything adults do seems weird and unknown. Parents takes that to a ridiculous degree.
Parents has the right balance of genuine horror and maniacal humor. You'll never look at leftovers the dame way again. [Drew Dietsch]
Ed and His Dead Mother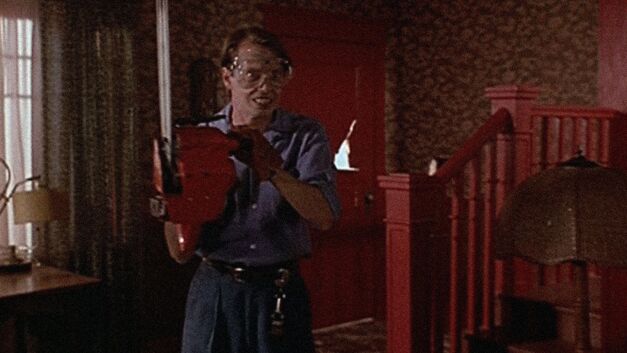 Ed can't catch a break to save his life. The one thing Ed loves the most in life is his mother, and she's dead now. Ed is about as depressed as it gets. Uncle Benny doesn't know what to do with him, and the new girl next door barely takes his mind off his woes. Thankfully, a salesman comes to the door and tells Ed his mom can come back from the dead. Problem is, there's a heavy price attached to that deal.
Ed and His Dead Mother is an indie-horror cult classic. This criminally underseen film stars Steve Buscemi and features character actor favorites Ned Beatty and John Glover in supporting roles. Even Uncle Rico and Professor Sprout show up in this insane dark comedy. Miriam Margolyes is unreal as the manic mom who must eat the flesh of the living to stay reanimated. Add it to the watchlist and enjoy. [Andrew Hawkins]
Cannibal! The Musical
In 1993, two film students made a musical about the real-life Colorado cannibal Alferd Packer. Shot on weekends and over spring break, Alferd Packer: The Musical was the first full-length film by future South Park creators Trey Parker and Matt Stone. Three years later, the film was picked up by the gross-out geniuses at Troma Entertainment. Renamed Cannibal! The Musical, the film quickly gained cult status.
Cannibal! The Musical has all of Parker and Stone's trademarks: vulgar language, cartoonish violence, and really silly songs. It tells the tale of Alferd Packer, a prospector who came to Colorado looking for gold. He and his fellow prospectors end up stranded in a terrible winter storm, and eventually Packer resorts to cannibalism in order to survive. It would be grisly, grim stuff, if it weren't for songs like "Shpadoinkle Day" and a pre-Frozen "Let's Build a Snowman".
Cannibal! The Musical is low-budget, disgusting, and absolutely ridiculous, but it's a great look at Parker and Stone's comedic resourcefulness. It's a great movie to put on with the right group of friends, and there's even a drinking game. Take that, Ravenous. [Danielle Ryan]
Ravenous
Oh yeah? Well, while Cannibal! The Musical might have jaunty tunes at its disposal, Ravenous has a truly terrifying concept at its core: what if eating other people actually made you stronger? It's an idea that has its roots in many cannibalistic cultures. Ravenous takes that idea and sticks it into the era of the Mexican-American War. The setting also makes the movie a commentary on American superiority and our tendency to consume other cultures in order to strengthen ourselves.
The film sounds grim but the talented cast spins it all into the darkest of humor. Robert Carlyle – a fan favorite thanks to roles in Once Upon a Time, Trainspotting, Stargate Universe and many others – is delicious (heh heh) as the crazy chef and the supporting cast all get into the sadistic swing of things.
Ravenous is one of the best cannibal films ever made. It's tightly directed, superbly acted, and has way more fun with its grisly concept than it should. If you're in the mood for a monstrous treat, this is the cinematic meal for you. [Drew Dietsch]