There can never be too many gangster films. Power struggles, betrayals, and corruption are common elements that feature in most gangster movies, however, despite the common formula, audiences still find their stories intriguing. We take a look at some of our favorite "OG" gangster films covering the famous, infamous, and a few forgotten relics.
City of God

The 2002 Brazilian film, City of God is not your usual gangster film featuring snappily dressed men in high-class suits. It doesn't follow the typical Irish gangsters or the Mafia either. The film follows Rocket, a young man who dreams of being a photographer for the press. Rocket lives in the favela of Rio de Janeiro where the well-respected criminal Lil Zé resides. A war breaks out between Lil Zé and his top rival and everyone ultimately forgets why it began in the first place. This opens the opportunity for Rocket to make a name for himself by taking photographs the press couldn't obtain themselves.
The film begins at the end, then jumps to the childhood of Rocket and Lil Zé (then Lil Dice). The story looks at various characters but keeps the focus on Rocket and Lil Zé. On paper, it may seem the story may be difficult to follow, but everything eventually comes together.
City of God showcases the reality of the less fortunate part of the world. The favela is riddled with children starting their life of crime at a very young age, believing themselves to be men. While in such a setting, it may be easy to lose yourself, for others, they realize a life of crime isn't what they want. [Marcus Yap]
Scarface
Brian dePalma's Scarface is an over-the-top, bizarre piece of cinema that could only have come out of the decadence of the 1980s. Set in 1980 and released in 1983, the film captures the era and the madness of Miami with a flourish. A young Al Pacino is brilliant as Tony Montana, a Cuban immigrant who decides to make his way to the top of the drug food chain. His rise to glory is a bloody one. In a whirlwind of bullets and cocaine, Montana finds himself without any friends in the world. Even his girlfriend (Michelle Pfeiffer) has had it with his increasingly erratic behavior.
In the film's most famous sequence, Montana faceplants into a veritable mountain of coke on his desk before going to fight his enemies and going down shooting as proof of his greatness. Scarface is a classic because there isn't anything else like it. It's stylish and bonkers, featuring great actors and memorable lines. [Danielle Ryan]
King of New York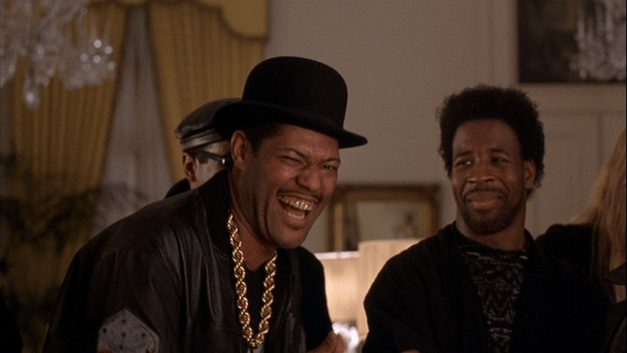 Before he got all serious and changed his name to Laurence, Larry Fishburne was priceless in movies like Deep Cover and the Abel Ferrara classic King of New York. When not demanding root beer from his hosts, Fishburne steals the movie as a crazy thug working for Christopher Walken's Frank White. Frank is the King of New York, at least when it comes to the underground.
The 1990 crime thriller is a barrage of cliche and inventiveness, all of it charming. It also features a great "before they were famous" cast including Steve Buscemi, CSI: Miami's David Caruso, and Breaking Bad star Giancarlo Esposito. King of New York is rough and violent and vulgar. It's a great companion piece for New Jack City and a reminder that the well runs deep with great gangster flicks. [Nick Nunziata]
Road to Perdition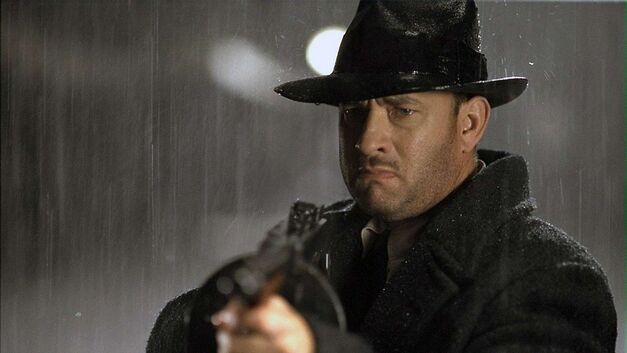 Gangster movies don't usually focus on the criminals' children. There are plenty of gangster stories about family but rarely about the children. Especially not from a kid's point of view. That's what really makes Road to Perdition so special.
It's the story of Michael Sullivan Jr. (Tyler Hoechlin) and his relationship with his hitman father (Tom Hanks). When a disgruntled mobster (Daniel Craig) murders Sullivan's family, the father and son must go on the run. Along the way, their tenuous relationship begins to dissolve and they must rediscover the love for one another.
Road to Perdition is a highly stylized gangster story. That probably has to do with it being sourced from a graphic novel. Director Sam Mendes (American Beauty, Skyfall) embraces the comic book approach and adds fantastic flair to the proceedings. You also get incredible performances from the entire cast, including the final on-screen live-action appearance of Paul Newman. Jude Law is also delectable as a twisted hitman obsessed with photographing his victims.
Road to Perdition might not be the most realistic gangster picture, but it gives the mythic idea of the gangster its due. Anchored by great performances all around, this is one that's bound to become a classic in the genre. [Drew Dietsch]
Gangs of New York
Gangs of New York is almost three hours long, but it never gets dull. Martin Scorsese's magnum opus on Irish immigrants and American loyalists features great acting, gorgeous cinematography, and a story that sucks you in. Stars Leonardo DiCaprio and Daniel Day Lewis are incredible when they're on screen together, and damn fine when they're not. Lewis is clearly having a ball as the notorious Bill the Butcher. Bill, like many of the film's characters, is based on a historical figure. (DiCaprio's character is entirely a work of fiction, but otherwise, most of the characters existed in late Victorian New York.)
What makes Gangs of New York so fun to watch is the way the characters interact with one another in the unique alt-history Scorsese's created. It's like traveling through a time machine. The attention to detail is great, even if there are some anachronisms.
For a look at the way gangsters behaved before most homes in the US had electricity, Gangs of New York is the ticket. It even features a number of gangs, from Bill's Bowery Boys to the many Irish gangs of the Five Points. Scorsese is the king of gangster movies. He's the guy who gave us Goodfellas. Here, he delivers a gangland tale starring tremendous actors at the top of their game. The opening fight sequence between the "Native" gangs and the Irish gangs is some of the most intense footage ever committed to film. This is filmmaking at its best. [Danielle Ryan]
Dick Tracy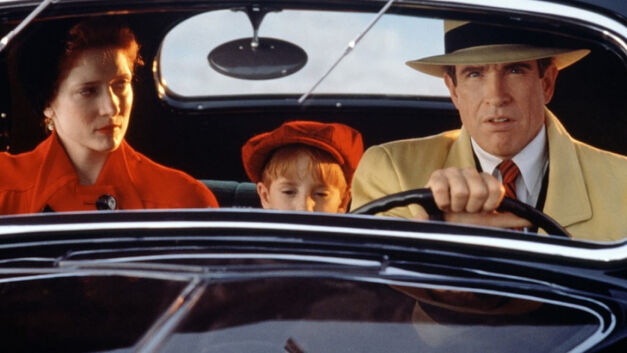 Dick Tracy is a gangster film, have no doubt about that. However, it's a gangster film unlike any other. Based on the pulpy, bright, iconic comic strip of yesteryear, Warren Beatty's 1990 film was the opposite of dark and heavy. There was death and violence and corruption aplenty, like any gangster flick, but it was coated in an eye-popping fluorescent sheen that made everything feel like fantasy.
In a world where so many crime films are gritty and steeped in reality, Beatty's movie was light and fun and, most importantly, faithful to the source material. It was as if a comic strip had come to life.
And there were also great performances, great sets, great action, and great costumes. There is so much to gawk at and admire in the film even if it often feels like a gangster movie for kids.
It's a cliché, but no one has really made a film quite like this one. This truly is a gangster film with no peers. [Brandon Marcus]
If you love a good gangster film, you must check out these mafia anime shows.