Two new trailers have landed for Spider-Man: Homecoming – a US trailer and an international one. Both are very different, and each comes loaded with bags of new footage. Watch the trailers below and then scroll down for our top five new reveals.
1. Vulture Is Plundering Avengers Technology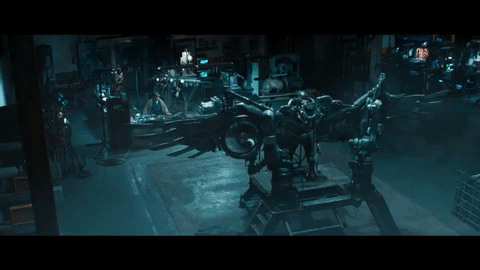 We learn more about Michael Keaton's Adrian Toomes – aka Vulture – and what he's up to. He's using the Avengers' own technology against them. The character runs a salvaging company and, basically, he's clearing up after Avengers fights.
As Spider-Man says: "Someone is collecting stuff from Avengers battles and building these crazy weapons". Very cool/uncool depending on how you look at it.
2. Another View of Spidey's Airport Scene
This cool bit of footage shows Spidey vlogging his experiences from the airport scene that we saw in Captain America: Civil War. Speaking into his camera phone, he points it at the scene he's witnessing from a distance: "There's Captain America, there's Iron Man. Look at that new guy! Who is that?"
This is just before he sweeps in and nabs Captain America's shield. The camera cuts, then Spidey's back all excited saying into the camera, "I just had a fight with Captain America and I stole his shield and I threw it at him!"
3. Spider-Man's AI Voice 'Butler' Kicking In
Just like Iron Man's JARVIS, Spider-Man gets his own digital butler built into his suit. After he's put on the suit in the scene at the start of the US trailer, the voice seems to activate, telling him: "You have 576 possible web shooter combinations". It looks like he's figured a way to override the 'training wheels protocol' Tony Stark has incorporated, possibly with the help of pal Ned.
"That is awesome," says Peter. It is.
4. A Closer Look At Donald Glover
While it still hasn't been confirmed who Donald Glover will be playing, it's rumoured he's Miles Morales. Morales is a character from the comics who also assumes the Spider-Man mantle. Could he be working with Tony Stark, taking on a mentor-type role? We see him in a car park here, telling Peter: "You've gotta get better at this part of the job".
5. Peter's 'Grand Theft Bicycle' Incident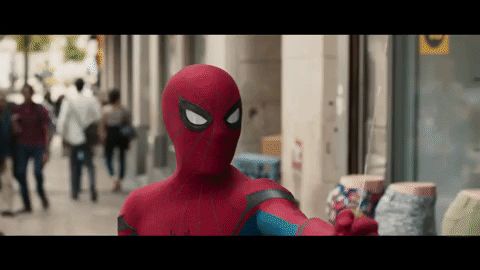 After announcing to Ned that he can't make their plans for tonight because he's "got the Stark internship", we see him filing his report for Mr. Stark via mobile phone from a rooftop.
He apparently thwarts a bike thief, and tells Stark he stopped a "Grand Theft Bicycle". He also announces he helped an old lady who then bought him a churro.
"So that was nice," he says. It looks like he was giving her directions.
And Finally, Poster Time!
Oh, and in case you missed it, two new posters have also been released. This one:
And this one:
Official Synopsis
A young Peter Parker/Spider-Man (Tom Holland), who made his sensational debut in 'Captain America: Civil War', begins to navigate his newfound identity as the web-slinging superhero in 'Spider-Man: Homecoming'. Thrilled by his experience with the Avengers, Peter returns home, where he lives with his Aunt May (Marisa Tomei), under the watchful eye of his new mentor Tony Stark (Robert Downey, Jr.). Peter tries to fall back into his normal daily routine – distracted by thoughts of proving himself to be more than just your friendly neighborhood Spider-Man – but when the Vulture (Michael Keaton) emerges as a new villain, everything that Peter holds most important will be threatened.
'Spider-Man: Homecoming' is released in the UK on July 5 and the US on July 7.