Lucasfilm announced that Game of Thrones executive producers David Benioff and D.B. Weiss will be creating a new saga of films for the Star Wars franchise. On the one hand, this is great news. Game of Thrones is an expansive, character and lore heavy franchise that has grown to incredible success under Benioff and Weiss' guidance. On the other hand, this news, paired with Rian Johnson's new Star Wars trilogy, sends a clear signal: Lucasfilm is only interested in seeing Star Wars films from one perspective – the white American man.
Perhaps this trend is a holdover from days gone by, perhaps it was just a coincidence that Johnson and the Game of Thrones guys were available and had good pitches for Lucasfilm. The question remains: why aren't women and directors of color being courted for Star Wars? Let's take a look at some men and women who would be perfect to direct something in a galaxy far, far away.
Kathryn Bigelow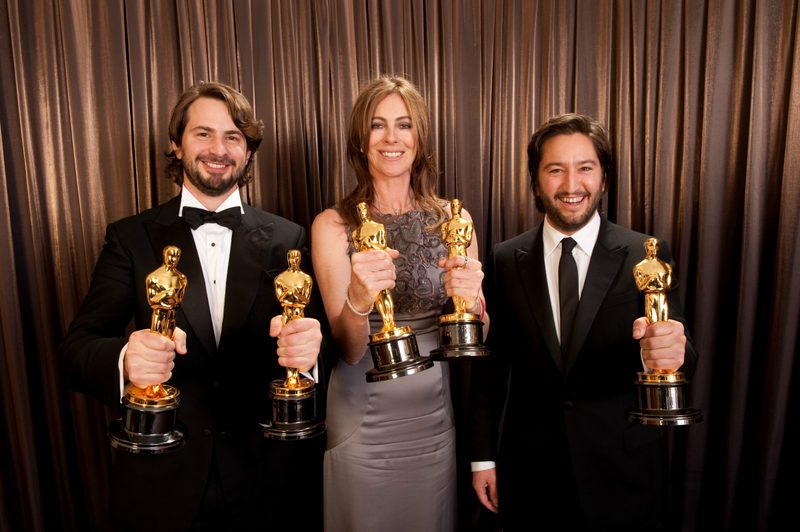 As you can see from the photo above, Kathryn Bigelow is an Academy Award winning director. She is in great company on this list and is easily the most qualified woman on the planet to direct a Star Wars film. She was the first woman in history to direct a film with a $100 million budget for K-19: Widowmaker, which starred Star Wars actor Harrison Ford.
She then directed The Hurt Locker, which earned her an Academy Award for Best Director and Best Picture. She also directed the heist flick Point Break, the techno murder mystery Strange Days, the military thriller Zero Dark Thirty and the racial police drama Detroit. Since she was the first women to ever earn an Academy Award for Best Director and the first woman to direct a film with a $100 million budget, perhaps she should also be the first woman to direct a Star Wars film.
Ava DuVerney
Ava DuVerney is a talented, successful, black female director who has a passion for promoting diversity in front of and behind the camera. On her television series Queen Sugar, she has repeatedly gone against the grain and hired women to direct her episodes. On her next film, A Wrinkle in Time, instead of casting all white actors to portray the Murry family, she cast English actress Gugu Mbatha-Raw and American actress Storm Reid, two women of African heritage.
DuVernay also has the experience needed to direct a Star Wars film. Not only was her film Selma up for Best Picture at the Academy Awards, but Disney gave DuVernay a $100 million budget to direct A Wrinkle in Time. That makes her the third women to direct a $100 million film (alongside Kathryn Bigelow and Patty Jenkins) and the first woman of color to do so. Wrinkle would also be a perfect prelude to a Star Wars film, especially since it deals with elements of space travel, time travel, and planetary exploration. If Benioff and Weiss are looking for directors, DuVernay should be at the top of their list.
Ang Lee
Picture this — a Star Wars saga about the very first Jedi Order. Temples, wars with the Sith, maybe even attempted assassinations of spiritual Jedi leaders? Imagine if Lucasfilm decided to make a Star Wars origins saga that looked and felt like Crouching Tiger, Hidden Dragon. Now add lightsabers, force powers, levitations and Taiwanese director Ang Lee.
Ang Lee directed the critically acclaimed Crouching Tiger, Hidden Dragon in the year 2000 and it scored an astounding 10 Academy Award nominations, four of which it won. Lee also directed Academy Award darlings Brokeback Mountain and Life of Pi. His works have earned him a total of 38 Academy Award nominations and 12 Academy Awards. That is more than most directors will ever see in their lifetimes. That kind of prowess combined with his experience working in martial art-inspired films should well qualify him for a seat at Lucasfilm's table.
Guillermo del Toro
Guillermo del Toro is the KING of creature features. His directing style would lend itself so perfectly to that of the Jim Henson-era of Star Wars. Ewoks, Wookies, Tauntauns, even Yoda were inspired by Jim Henson's muppets. Yoda was, after all, a puppet. Del Toro could very easily develop or direct a creature-heavy Star Wars film. That would be the ultimate test of fandom — can we survive a Star Wars saga with less Skywalkers and more aliens? Plus, as a Latino director, he could bring a style and perspective we have yet to see behind the camera.
Del Toro also has plenty of experience. His film credits include Pan's Labyrinth, Pacific Rim, The Shape of Water, Crimson Peak and Hellboy. While not all of these films reached critical success in equal measure, The Shape of Water is currently up for 13 Academy Awards this year and Pacific Rim is about to release its second film, Pacific Rim: Uprising. Plus, del Toro previously said he wanted to work on a Jabba the Hutt film, so you know he's up for it.
Ryan Coogler
Ryan Coogler is a black director who has seen a lot of success from his tenure in Hollywood. With only three films under his belt: Fruitvale Station, Creed, and Black Panther, Coogler has hit the trifecta of writing and directing an indie sensation, an Academy Award winning spin-off and an over $100 million budget Marvel superhero film.
Coogler is best known for being both a writer and a director, having written and directed all three feature films mentioned above. While Fruitvale Station earned him numerous critical accolades, Creed scored an Academy Award nomination for Sylvester Stallone, who was reprising his role as Rocky Balboa. Black Panther, Marvel's next superhero film and the first to feature a black lead and predominately black cast, is currently on track to earn over $100 million opening weekend and certified 100% fresh on Rotten Tomatoes.
While this list covers our top choices for possible future Star Wars directors, it is by no means exhaustive. Jordan Peele, Donald Glover, Shonda Rhimes, Gale Anne Hurd, Lesli Linka Glatter, Rachel Talalay, Alfonso Cuarón, Philip G. Atwell, F. Gary Gray and over 101 more men and women are more than qualified to at least get a seat at the table, if not a job directing one the many Star Wars films that are on the horizon.