JK Rowling opened another door into her wizarding world with the release of Fantastic Beasts and Where to Find Them this November. Before the film's release, Rowling announced that Fantastic Beasts would feature Gellert Grindelwald. This was a hugely exciting development for Potter fans as it would expand on the intense friendship – and implied romance – between Grindelwald and a young Albus Dumbledore. Then, the film's producers announced that they cast Johnny Depp to play Grindelwald.
Fan reaction was lukewarm at best and vehemently opposed at worst. Although fans focused much of their criticism on recent allegations regarding Depp's personal life, many had concerns that Depp would turn a complex, darkly exciting character into a hammy caricature. Depp has a history of this, having recently specialised in flamboyant characters such as Willy Wonka, Jack Sparrow, and the Mad Hatter.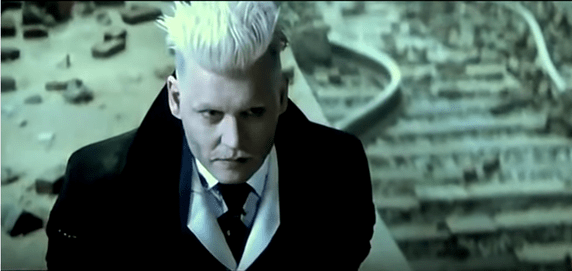 As it turned out, fans got a brief glimpse of Depp as Grindelwald at the end of the film. Although only a glimpse, it was not particularly inspiring nor impressive. He carried himself with a lofty, melodramatic arrogance, and there was something slightly cartoonish in the delivery of his few lines.
Rowling, along with the film's producers, have defended the casting decision, but he is far from the only – and certainly not the best – option for the role.
WARNING: this article contains spoilers for Fantastic Beasts and Where to Find Them
Daniel Brühl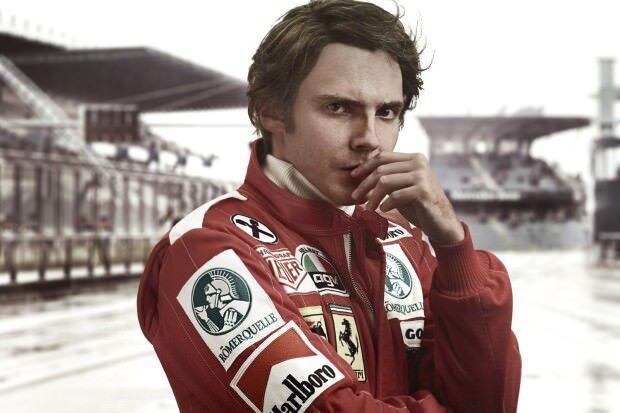 The career of German actor Daniel Brühl demonstrates versatility and depth, including roles that have prepared him well to take on Grindelwald. Critics widely praised his performance as Niki Lauda in Rush, a man who endures horrific suffering in pursuit of his goals. This performance, combined with the naiveté and arrogance of his role as Fredrick Zoller in Inglourious Basterds, sets him in good stead for the "triumphant trickery" of a younger Grindelwald. As Helmut Zemo in Captain America: Civil War, Bruhl is one of the most convincing and nuanced villains in the Marvel universe – ruthless, manipulative and determined, all while remaining relatable and painfully human in his grief. All of this makes him a compelling alternative casting choice for Grindelwald.
Mads Mikkelsen

The veteran Danish actor is no stranger to villainous roles, having most recently played the zealot Kaecilius in Doctor Strange. However, it is his turn as another famously charming psychopath, Hannibal Lecter in the Hannibal TV series, that gives Mikkelsen the most viable credentials to play Grindelwald. Mikkelsen is equal parts charming chilling, violent, and manipulative as the cannibalistic psychiatrist, and possesses the gravitas to portray the powerful and ruthless wizard in his prime.
Dan Stevens
While most people would recognize Dan Stevens from his role as Matthew Crawley in the early seasons of Downton Abbey, it is his role as David Collins in 2014 thriller-horror film The Guest that makes the most compelling case for Stevens to play Grindelwald.
Stevens is a physical and psychological force to be reckoned with in his portrayal of the charming and attractive yet deceptive and constantly vibrating with danger mysterious soldier returning from war in The Guest. This role, as well as the early trailers for Legion, hint at his ability to play unhinged as well as powerfully manipulative. With his naturally blonde hair and blue eyes, Stevens would also bring a far more realistic look to Grindelwald than Depp ever could, given the latter will need to heavily rely on makeup for the role.
Domhnall Gleeson
It is a crying shame that producers have already cast Domhnall Gleeson in a relatively minor role in the Potter films when he could have made such a compelling Grindelwald. Gleeson's turn as the spittle-flecked, power-hungry General Hux in Star Wars: the Force Awakens is a glimpse into his potential as Grindelwald. The tense relationship between Hux and Adam Driver's Kylo Ren hints at what he could bring to the fierce bond between Dumbledore and Grindelwald, if he was cast alongside an actor with whom he had similar crackling chemistry.
In Calvary, Gleeson plays a convicted murderer visited in prison by a priest (played by his father, Brendan). Like Depp in Fantastic Beasts, he has only one scene in the film, yet Gleeson emits such malice and simmering, maniacal danger in this single scene that it casts a pall over the rest of the film – a far more convincing single scene performance than Depp's.
Colin Farrell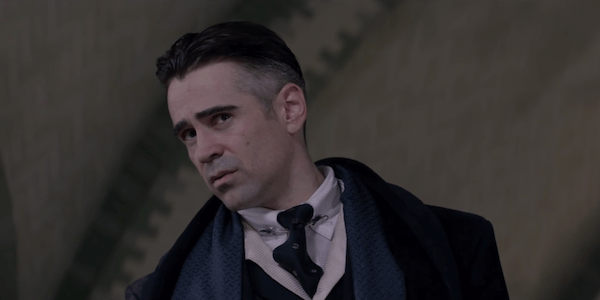 Most of what we see of Grindelwald's character in the film is Colin Farrell playing Percival Graves. At the end of the film, we discover that Grindelwald was posing as Graves, a high-ranking MACUSA investigator.
In his scenes with Ezra Miller's excellent Credence Barebone, Farrell's Graves/Grindelwald is a manipulative predator, grooming and charming Credence then heartlessly dismissing him after he has served his purpose. He could kill Newt swiftly in the climactic subway duel, but instead, he repeatedly lashes a cowering Newt with curses, his expression blank, completely absorbed in the violence he is inflicting.
Farrell's career-best performance as a guilt-ridden gangster in In Bruges proves his ability to oscillate between swagger and fragility. This could be a huge asset in portraying the intense relationship between Grindelwald and Dumbledore.
Retaining Farrell as Grindelwald would be a safe bet on multiple fronts, considering he has proven himself in the role – his subtle and steady performance captures the essence of this complex villain, allowing us to occasionally glimpse his hunger for power and merciless determination. Given the film's magical setting, and that Grindelwald is a powerful wizard able to change his appearance, it would not be implausible or impossible to plot. The producers would be keeping fans happy with a road-tested performance, and a less controversial casting choice.
Is Johnny Depp the Right Call?
While we are unlikely to know the motivations behind casting Johnny Depp as Grindelwald, doubt lingers among Potter fans as to whether it was the right call. Depp is a big name and will likely lend star power to the franchise, did Fantastic Beasts – with its devoted, ready-made fanbase – need such a big hitter to succeed? It is highly unlikely that the film would have flopped without him. Perhaps in the wake of fan reaction, producers will rethink their casting decision. All fans can do in the meantime, however, is wait and hope that their fears for the character's portrayal are all in vain.