Hundreds of movies are set for theatrical release in the next calendar year. The docket includes blockbuster action films, A-list romantic comedies, and Oscar-worthy dramas. A large portion of them appear to be entertaining, smart, endearing, and well thought-through. However, there are a handful of films green-lit by studios that boggle the mind. The questions of how, why, when, and where fly out the window, and the audience is left with one question remaining: "Seriously?"
Baywatch (Starring Dwayne Johnson)
If you listen closely, you can hear millions of conflicted Germans. On the one hand, they are excited by the return of their beloved lifeguard show Baywatch. On the other hand, they are heartbroken at the choice to forego David Hasselhoff in the lead role of Mitch Buchannon. Instead, that role sits firmly in the hands of Dwayne Johnson. The syndicated mega hit, known for taking itself way too seriously, ran for 11 seasons. It was made famous by Joey and Chandler on Friends who enjoyed simply watching the scantily clad lifeguards (including Playboy centerfolds Pamela Anderson, Carmen Electra, and Gena Lee Nolan) run along the beach.
Seriously? Making a movie about a show that was a passing fancy in the United States and then replacing the Euro-favored actor that drove it's popularity abroad seems like a shady plan. Hasselhoff's Buchannon presented as an average weight, middle-aged man. Johnson, on the other hand, appears a much younger and much more ripped beefcake. Secondly, Baywatch aired at a time with extremely limited programming compared to today's infinite choices. Many times, people watched Baywatch because there was nothing else on. How often do we say that today?
I suppose Zac Efron and Johnson do add star power. The film might actually make money. I even hear Hasselhoff and Anderson may have bit parts. It simply feels strange to make this film for this generation.
The Mummy (Starring Tom Cruise)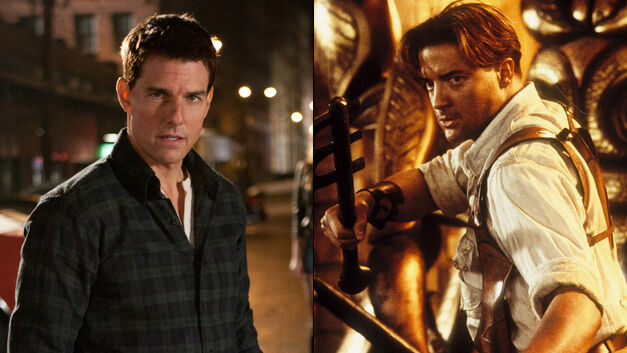 Tom Cruise presents as arguably the premier movie star of our generation. Hits like Top Gun, every Mission Impossible movie, and Jerry Maguire cemented his legacy at the top of the A-list. Cruise doesn't appear in a ton of movies which adds to the quality of his entire portfolio. However, The Mummy franchise sits dormant having two solid central films, a less successful third feature, and a spin-off (The Scorpion King). The franchise resuscitated the career of Brendan Fraser and introduced the movie world to The Rock. Now, Cruise takes the helm in the new film simply titled The Mummy.
Seriously? What is Tom Cruise doing anywhere near a retread project like this? Cruise usually takes on dynamic roles that stretch his abilities (Vanilla Sky, Collateral) and brings something new to the audience. With the exception of the MI series Cruise never made a sequel. At least the upcoming Jack Reacher: Never Go Back, and Top Gun 2 are sequels to films he made famous. The best parts of the original Mummy and Mummy Returns had little to do with Fraser as the lead. It often seemed the film succeeded in spite of him.
Once again, this film will most likely make money. The franchise is good enough and Cruise's name, along with Academy Award-winner Russell Crowe, can draw an audience. It just seems like such a departure from what one would expect considering Cruise's movie history.
XXX – Return of Xander Cage (Starring Vin Diesel)
No one denies the global box office success of the original XXX. Featuring Vin Diesel as Xander Cage, apparently, an X-Games enthusiast turned super-spy, the film grossed close to $300 million. This in-yer-face action movie with non-stop explosions was typical of the late 1990s and early 2000s. The extreme sports aspect of the film is what set it apart. All of the action had an X-Games theme. Riding through a burning village doing tricks for points on a motorcycle is indicative of the type of action this film contains. XXX procured a Razzie nomination for "Most Flatulent Teen-Targeted Movie." XXX: State of the Union followed with Ice Cube in the title role. Now, 14 years later, XXX returns, and so does Diesel.
Seriously? Does anyone watch the X-Games anymore? The novelty has worn off. One might expect movie executives to take notice when 2013's Riddick failed miserably because Vin Diesel doesn't sell tickets. The Fast and the Furious is the only sustained franchise with Diesel, and he is one of five lead characters. The utter nonsense of the extreme sports-themed action has no place in 2016. Giving a $100 million film to a director (D.J. Caruso) whose last film failed to make 20% of its budget defies logic as well.
Samuel L. Jackson reprises his role as a non-empathetic NSA agent and Golden Globe-winner, Toni Collette also joins the cast. However, unless they are giving out gold medals and passing out Mountain Dew, this film seems totally out of place.
MIB 23 – (21 Jump Street/Men in Black Crossover)
Not quite sure where to start here. The first two Jump Street films (21 Jump Street and 22 Jump Street) are surprisingly fun and extremely successful, grossing almost $600 million globally. The unlikely pairing of Channing Tatum and Jonah Hill play well off each other and exude good comedy chemistry.
Men in Black (MIB) stands as one of the most creative films of the '90s. Much like Jump Street, an unlikely pairing (Will Smith and Tommy Lee Jones) raise the level of the film. The first two MIB films raked in over $1 billion in revenue. Possibly citing the popularity of mash-up GIFs on the internet or the upcoming Brooklyn 9-9/New Girl crossover episode, producers have decided to combine MIB and the third Jump Street film 23 Jump Street.
Seriously? Is this the new way we choose our film concepts? If so, I'm waiting with baited breath for Academy Award-winner Tom Hanks reprising his most famous role, traveling to the Amazon to live with its indigenous people in The Emerald Forest Gump. That makes as much sense as MIB 23. This type of movie idea lacks creativity and stinks of laziness. There are thousands of scripts out there filled with great new ideas, fresh characters, and unique settings. Why in the world would we stoop to a film version of Jimmy Fallon's "Head Swap" bit?
I wish that these were the only upcoming films that possess questionable concepts. Unfortunately, they aren't. Studios are green-lighting more and more projects that, rather than encouraging us to stand up and cheer, make us slump down and ask, "Seriously"?