The holidays are here, and you may be wondering what to buy for the big TV fan in your life. This year, rather than getting them a DVD or Blu-ray, why not be a bit more creative and buy something inspired by their favorite TV show? Don't feel like scouring store shelves or spending hours shopping online? Don't worry, we've picked 15 perfect gifts for the TV fan below — affordable bargains, mid-range gems, and the seriously expensive/awesome. And if your fan's interests aren't limited to TV, why not check out our Gaming and Movies gift guides while you're at it!
Under $50: Gifts for Casual Fans
Westworld: Season 1 (Selections from the HBO Series) EP
Price: $4.99 / £4.04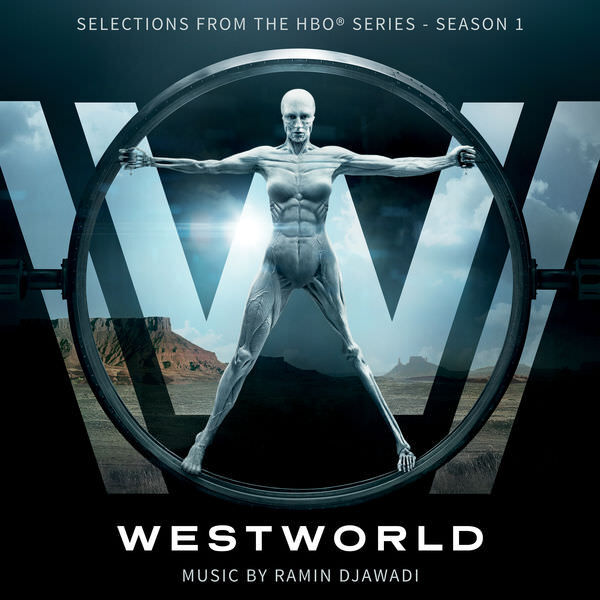 Ramin Djawadi has become one of the premiere composers in television, film, and video games. His work on Westworld has been an absolute joy, and now the first batch of tracks is available for purchase. This EP is worth it for the covers of "Black Hole Sun" and "Paint It, Black" alone. However, "Main Title Theme" is the best theme we've gotten since Djawadi's landmark piece of opening music for Game of Thrones. It's undeniably catchy but still ominous and a little creepy. This is a great get for the fan in your life that loves Westworld and appreciates some good music. Buy here.
Stranger Things Funko Pop! Vinyl Figures
Price: $9.99 / £8.09
One of the bright spots of 2016 has been seeing a show like Stranger Things blow up. The sci-fi/horror series was instantly embraced for many reasons, one being its cast of lovable characters. Combine them with the endearingly cute Funko Pop! designs and you have a recipe for delight. And hey, if you like a little creepy with your cuddly, you can even get the Demogorgon in Pop! form. Funko Pop! figures have always made adorable gifts and now they can claim Strangers Things as part of their charming empire. Buy here.
Game of Thrones Coloring Book
Price: $15.95 / £12.91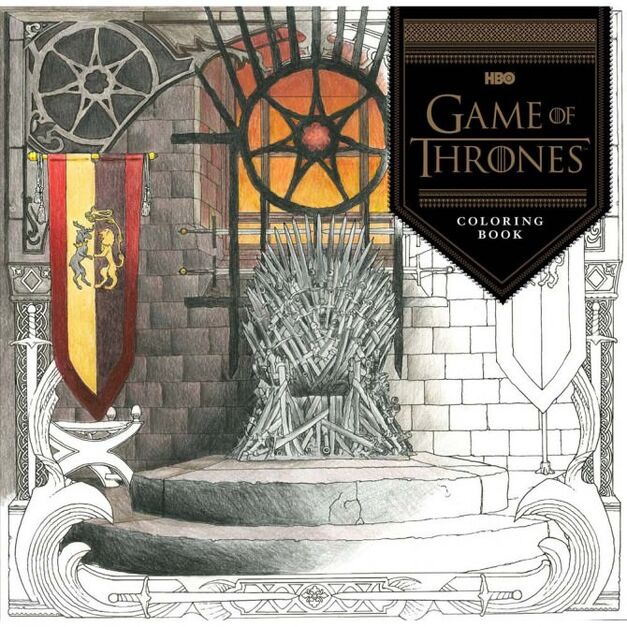 Adult coloring books have become a phenomenon. It's likely that there's someone in your circle of friends who enjoys these little nostalgic treats. Do you feel like adult coloring books have been missing something? Perhaps an illustration of the Iron Throne or the dragons of Daenerys Targaryen? Then the official Game of Thrones coloring book is for you. You'll find sixty pages of grim fantasy to brighten up with your box of crayons. We hope you brought plenty of red. Buy here.
The Walking Dead: The Best Defense Board Game
Price: $15.95 / £12.91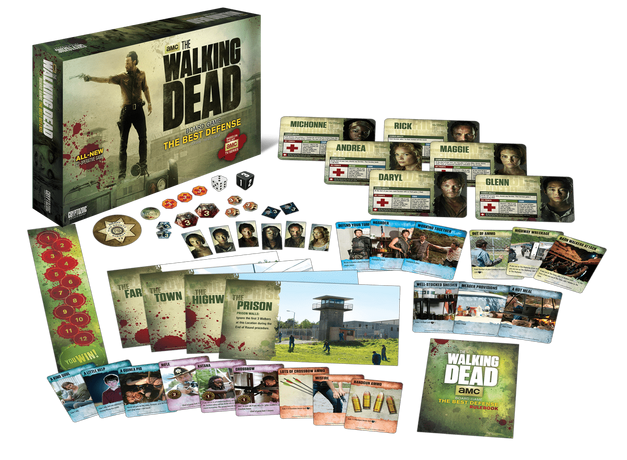 Can't get enough of that depressing zombie apocalypse? Turn all the misery of The Walking Dead into some tabletop fun with this board game! Take control of some of your favorite characters — including Rick, Glenn (RIP), Daryl, and Michonne — as they set up defenses against an onslaught of walkers. There are varied modes of play for beginners and experts, and even ways of throwing conflict into this cooperative game. If you know someone who loves The Walking Dead and is a fan of tabletop games, you can bet they'll have a ball with this one. Buy here.
The Blacklist: Elizabeth Keen's Dossier Hardcover Book
Price: $39.99 / £32.37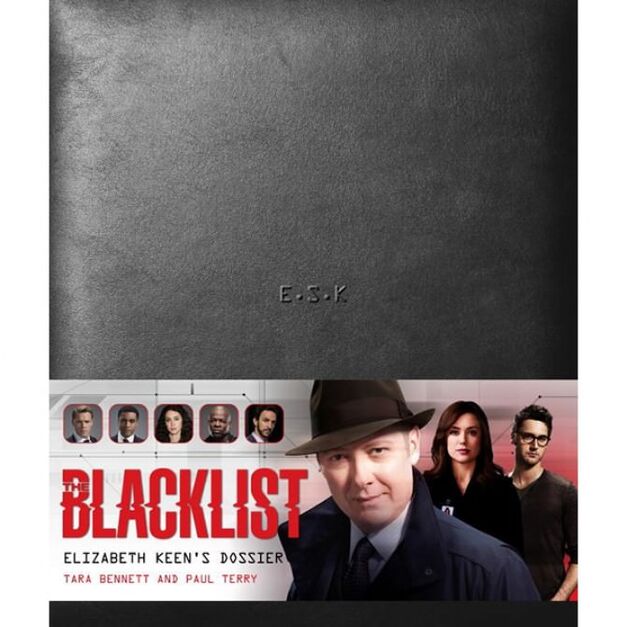 Tie-in books are always a joy for fans. From Mr. Robot releasing Elliot's notebook all the way back to Twin Peaks putting out both Laura Palmer's diary and FBI Special Agent Dale Cooper's autobiography. Now, The Blacklist joins their ranks by giving fans a peek inside the mind of Elizabeth Keen. This dossier compiles her observations on all the events so far. Once the show has eventually come to a close, it will make for a great little memento. And after some recent revelations on the show, it may showcase some clues that die-hard fans will pick up on. Perfect for the fan who can't get enough of James Spader. And secretly, that's all of us. Buy here.
$50-$100: Gifts for Superfans
Green Arrow & The Flash TV Series Action Figure 2-Pack
Price: $50.00 / £40.47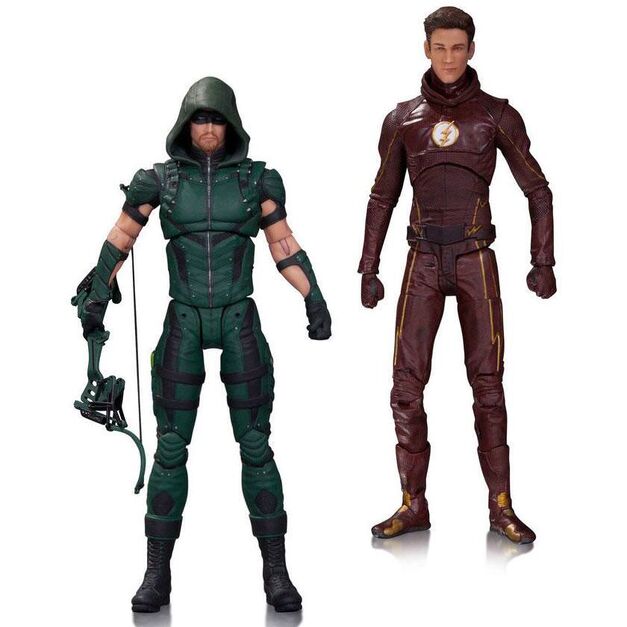 Have a fan of DC Comics and The CW's Arrowverse shows on your holiday gift buying list? Look no further than DC Entertainment's line of high-quality action figures, with this top-shelf Green Arrow and The Flash combo pack among them. Measuring approximately 7 inches, your favorite Arrow and/or The Flash fan can become the proud owner of these articulated approximations of the title characters played by Stephen Amell and Grant Gustin on their hit TV shows. Buy here.
Supernatural Season 11 Chevy Impala 1:18 Scale Toy Car
Price: $69.65 / £56.38
We all know that Dean's Impala is the real greatest character in all of Supernatural. Forget all the angels, demons, wendigos, tricksters, and even God himself. This car is the not-so-secret heart of the series. If you need to see this beauty every day without churning through old episodes, this toy replica is going to make a nice addition to your shelf. The detail is pretty spot-on all the way down to the license plate. Sadly, this doesn't come with any salt for those ghost bones or your own Misha Collins. You'll have to just enjoy staring at one of the best cars in modern television fiction. Buy here.
Doctor Who 12th Doctor's Sonic Screwdriver Programmable TV Remote
Price: $99.99 / £80.94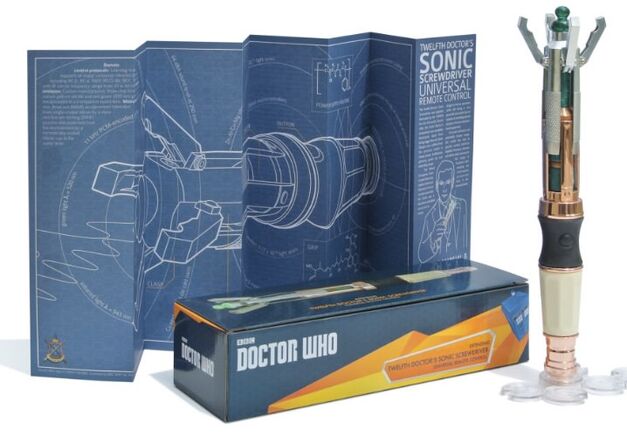 One of science fiction's most iconic pieces of paraphernalia has long been the Doctor's sonic screwdriver on Doctor Who. Haven't you always wanted to control some electronics with your own sonic screwdriver? The mad geniuses over at The Wand Company have made your dreams come true. This sonic screwdriver — modeled after the Twelfth Doctor's version — allows you to manipulate your TV with a few swishes and flicks. Yes, you can actually control your telly as if you were the Doctor surfing for a rerun of Monty Python's Flying Circus. This is a must buy for the Whovian in your life. Buy here.
Bob's Burgers Bobblehead Bundle
Price: $109.99 / £89.03
Who doesn't love the Belchers? Bob, Linda, Tina, Gene, and Louise have become one of America's favorite sitcom families. Wouldn't it be great to have all of them staring at you every day? Wouldn't it be even greater if they could all nod at every decision you make? Well, look no further than this bundle of bobbleheads. Get it? BOB-bbleheads? It's a pun worthy of one of Bob's special burgers. We all love to have some nice knickknacks for our office desk, and these make for a great set for any Bob's Burgers fan you might know. Buy here.
Game of Thrones The Night King Bust
Price: $116.99 / £94.70
One of the most chilling and mysterious enemies in modern fiction is Game of Thrones' terrifying Night King. His appearance in the episode "Hardhome" has become one of the most iconic moments in the entire series. Now, you can own a bust of this ice-hearted villain doing his infamous "raise the dead" gesture. The attention to detail on this bust is fantastic, and it would make for a heck of a centerpiece with any other Game of Thrones figures, replicas, or busts. It's likely that you know at least four fans of Game of Thrones in your life. Figure out which one of them you like the most and surprise them with this awesome statue. Buy here.
$200 and Up: Gifts for the Extreme Fan
Game of Thrones Needle Sword Prop Replica
Price: $200 / £161.89

"What do we say to death? Not today." However, it might be a little tougher to tell our wallets the same thing when faced with this wonderful replica of Arya Stark's signature blade, Needle. Jon Snow's gift to his half-sister has weathered many rough patches and tasted its fair share of blood. Now, you can mount that same sword up on your wall. It even comes with a wooden display plaque with the emblem of House Stark emblazoned on the front. Nothing tells someone, "I love you," like a weapon. If you know a huge Game of Thrones fan who could also use a little home security, Needle is going to give them a holiday they won't soon forget. Buy here.
The Flash TV Series Captain Cold Freeze Gun Replica
Price: $299 / £242.03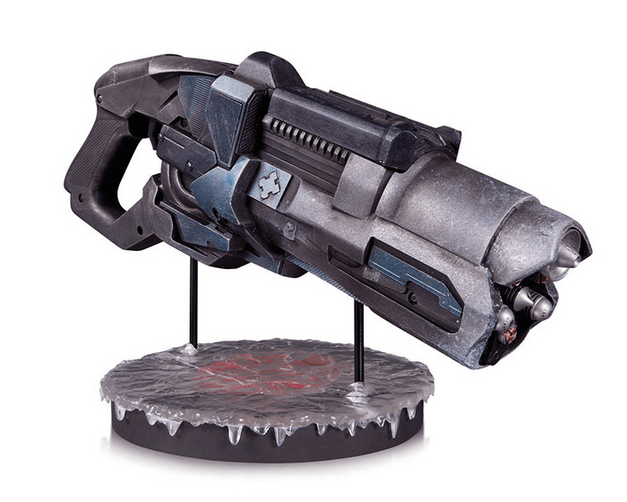 There's no denying that the best thing about last season of The CW's Arrowverse shows — and something sorely missed much of this season — is the presence of Wentworth Miller's Captain Cold. But his signature weapon has already made a return, and Captain Cold himself may not be far behind. Mark the occasion with this intricate, true-to-the-show Cold Gun Prop Replica. If you're a fan of The Flash or DC's Legends of Tomorrow or even just a fan of Captain Cold and his gang of Rogues, you're going to want to own this beauty. It measures 18″ long x 8″ tall x 3″ wide, and boasts some pretty impressive LED lighting effects. Buy here.
Westworld TV Series Cast Autographed Poster
Price: $425 / £344.02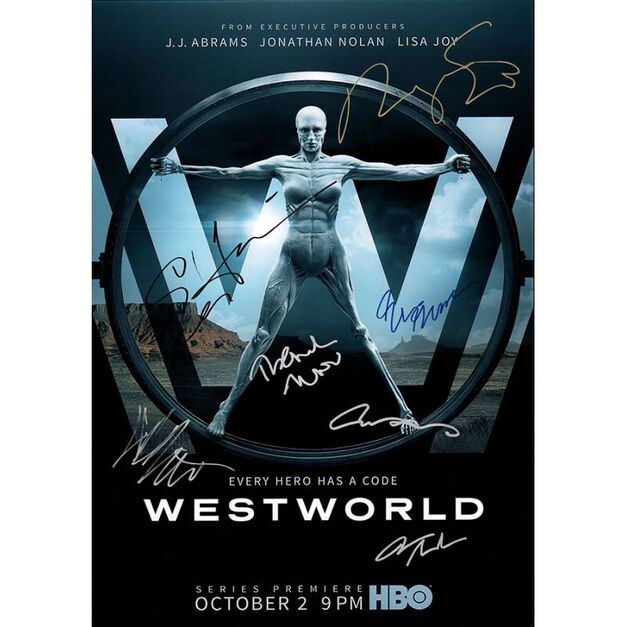 It's pretty amazing how quickly HBO's Westworld has taken off in our pop culture. Fans are already pouring over every little detail and getting sucked into this fantastical world. Part of the show's success has been its stellar casting. If you know a Westworld fan who is absolutely gaga for the amazing performers in the show, this one-of-a-kind autographed poster will probably be the highlight of their holiday season. The poster features autographs from lead actors Anthony Hopkins, Ed Harris, Evan Rachel Wood, James Marsden, Thandie Newton, Jeffrey Wright, and Rodrigo Santoro. Guaranteed to make any Westworld fan jump out of their seat with joy. Buy here.
Naruto Shippuden Jinchuuriki Killer Bee & Hachibi Statue
Price: $569 / £460.58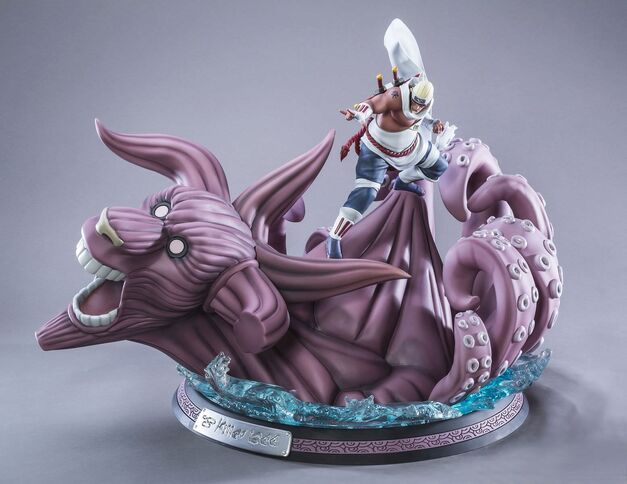 Fans of Naruto Shippuden are well acquainted with the awesome duo of rapper Killer Bee and his bull demon companion Hachibi. For those fans who really, REALLY love this dynamic duo, this statue is the Holy Grail of collectibles. The fine detail on both Killer Bee and Hachibi is stunning and the size of this statue is sure to catch even a non-fans eye. If you know an anime fan in your life who would lose their mind if this showed up inside of a present, break into your savings account and purchase this bad boy. There is no way you won't make the Naruto Shippuden fan in your life faint from amazement with this incredible gift. Buy here.
Voltron Maquette by Sideshow Collectibles Pre-Order
Price: $1,250 / £1011.82
The Defender of the Universe occupies our top spot on this gift guide and for good reason. This undeniably stunning maquette stands over two feet tall and could very well be the best Voltron statuette available on the market. The intricate design work and realistic battle damage turns this into a true testament to the power of great model work. Voltron fans are going to coveting this one, so don't waste any time if you plan on snagging one. Sideshow Collectibles is the premiere outlet for this kind of work for a reason, and this Voltron maquette is one of their best productions ever. Buy here.
Want more holiday gift picks? Be sure to check out our Movies and Games recommendations, too.