"What are some comics that're good for girls?"
It's undeniable that a lot of girls and women feel alienated by aspects of the modern comic book industry, so this question is more commonly asked than we'd like. I personally hate the idea that comics are "for girls" or "for boys" and I think anybody should feel comfortable enjoying anything.  It's a common source of frustration for many readers that even the comics about women tend to be mostly aimed at male audiences, or written by men in a way that female readers find patronizing. However, there's this unfortunate cycle where comics are aimed mostly at men because they currently make up a big percentage of the population who read comic books. But it doesn't need to stay that way!
Below, I've selected a collection of comics, new and old, mainstream and popular, that are written by women and about female characters. I'm not saying girls can't or shouldn't enjoy comics about men, and I'm not saying men can't write good stories about women. I'm also not saying female writers are always the best at writing female characters. What I am saying is that there's a weird gender gap in comics, and I believe the only way to correct that gap is to make an effort to support the kind of comics there should be more of. There should be more people reading, writing and enjoying comics without feeling limited by their gender. Comic books should be for everyone, and here's a list of 10 books that are currently making that case.
1. A-Force, by Marguerite Bennett and G. Willow Wilson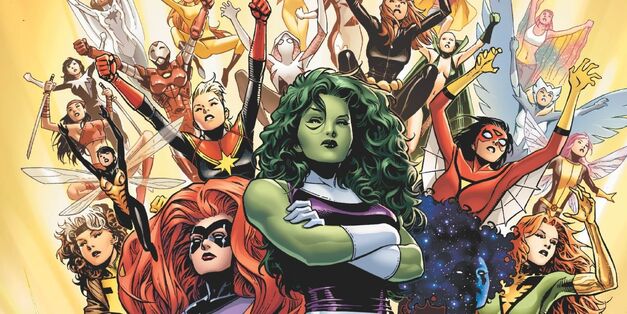 A-Force is pretty new in town, having just spun out of Marvel's 2015 event Secret Wars. The series focuses on an all-female team of Avengers lead by She-Hulk with Dazzler, Medusa of the Inhumans, Nico Minoru of the Runaways, and newcomer Singularity as other core members. The series is pretty young as of this writing, having just hit five issues in December. We're hoping it continues making weird angry dudes on the Internet upset for a long time.
You can find issues of A-Force in stores now, or available through Marvel's digital comics app!
2. Birds of Prey, by Gail Simone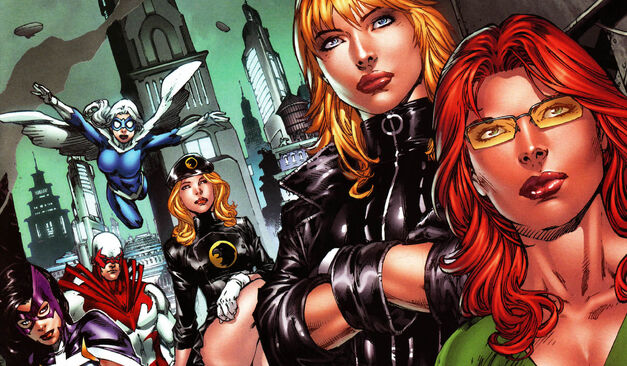 Birds of Prey is DC's most popular all-female team. Then-unknown writer Gail Simone was put on the floundering team-up series in 2003, and she transformed it into one of DC's greatest institutions. The Birds are built on a rock-solid foundation, the ever-enduring friendship of Black Canary and Oracle (who began her career as the first Batgirl). Their roster has expanded over the years, including regulars such as Huntress and Lady Blackhawk, and even a couple token men, but Barbara and Diana have always been the heart. Based out of Gotham City, Canary acts as their top agent for missions while Oracle uses her vast network of superhero contacts to pad out the team.
If you want to start reading Birds, the best place is Gail Simone's debut arc Of Like Minds. 
3. Black Widow, by Marjorie Liu
Black Widow has been the center of a lot of controversy this year, mostly revolving around her being left out of a lot of Avengers merchandise. Natasha Romanova has always been kind of a black sheep at Marvel, remaining one of their most popular female characters but never really getting her own ongoing series. That's started to change in the last several years thanks to her appearances in the MCU. Marjorie Liu's The Name of the Rose is only five issues, but it's an excellent introduction to modern Black Widow and a perfect place to start if you've never read her comics before. The Romanovaissance is continuing this year with Mark Waid writing a new Black Widow series in 2016.
The Name of the Rose is available for digital download on Kindle and through comiXology.
4. Captain Marvel, by Kelly Sue DeConnick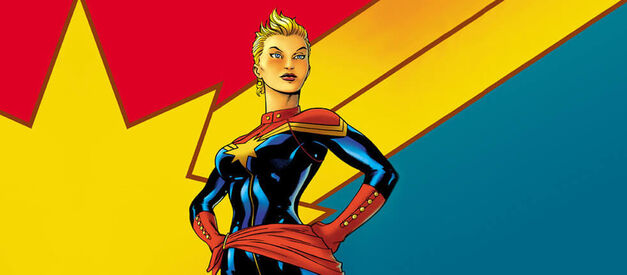 Carol Danvers is another one of Marvel's heavy-hitters who has always kind of slipped under the radar. Beginning her career as Ms. Marvel, she's had long running books before such as the 50-issue Ms. Marvel series by Brian Reed. Carol has never really received a lot of mainstream press coverage before, until recently when it was announced that she would be Marvel's first female superhero movie. A lot of us are wondering why it's taken Marvel this long, but progress is progress. The extremely talented Kelly Sue DeConnick recently gave Carol the comic she deserves with Captain Marvel having her finally take over the mantle of the hero who inspired her. Paying homage to her roots as an air force pilot, Captain Marvel is an excellent demonstration of why Carol should be considered one of Marvel's top-tier characters.
You can find this series online through digital comics or collected editions in the Amazon store.
5. Gotham Academy, by Becky Cloonan and Brenden Fletcher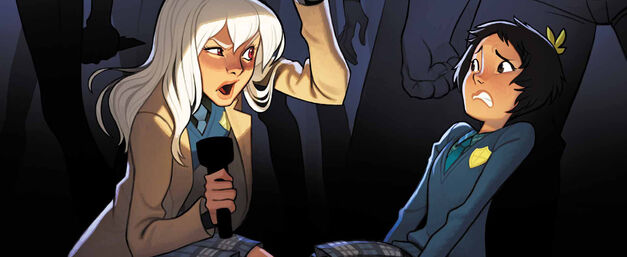 Becky Cloonan and Brenden Fletcher have pumped out a surprise hit that almost nobody thought would work. Gotham Academy (with 13 issues out at the time of this writing) takes place in a prestigious Gotham City boarding school. It follows the adventures of two students, both original characters, Olive Silverlock (the daughter of a super-villain) and Mia "Maps" Mizoguchi (nicknamed for her obsession with cartography). The series is delightfully funny and emotionally poignant, with a strong supporting cast of original characters and frequent background cameos by older characters. Many members of the Gotham Academy faculty are obscure Batman villains, such as Bookworm from the '66 TV series as their librarian. The book works so well because it's not trying to be a superhero comic and it's not dependent on Batman lore, despite all the Easter eggs for hardcore fans. It's not a Batman comic, it's just a story about two young girls that happens to take place in Batman's world.
Current issues of Gotham Academy can be found in stores, and the first trade is on sale right now. I seriously cannot recommend this book enough. Buy a copy for everyone you know and make sure DC keeps writing it for a long time.
6. Lumberjanes, by Noelle Stevenson, Grace Ellis, Shannon Watters, Faith Erin Hicks
Lumberjanes, published by Boom! Studios, was one of the biggest surprise hits of 2014. Noelle Stevenson, Grace Ellis, Shannon Watters, and Faith Erin Hicks originally created a mini-series… but said mini-series quickly expanded. Lumberjanes focuses on a group of young girls attending a bizarre summer camp together where they investigate supernatural mysteries. It's an excellent story about friendship, being awesome and loving yourself. Everyone should read it.
You can find Lumberjanes in stores now, available as digital comics, or sold through collected editions on Amazon.
7. Ms. Marvel, by G. Willow Wilson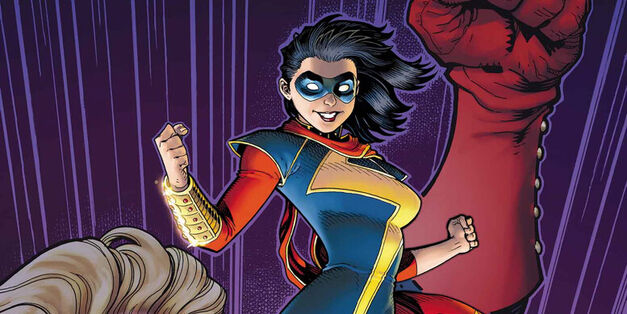 Ms. Marvel is another book that took everyone by storm in 2014. Writer G. Willow Wilson had the Ms. Marvel name taken by new hero Kamala Khan, a Pakistani-American Muslim teenager living in New Jersey. Despite the stupid amount of controversy every Muslim superhero seems to get, Ms. Marvel won a Hugo Award for its first collection. The comic has become wildly popular for its brutally honest and often hilarious portrayal of the struggles of a young girl growing up today with superpowers.
Ms. Marvel can be found currently in stores, available online through digital comics, and available through collected editions on Amazon.
8. Persepolis, by Marjane Satrapi

Persepolis is kind of an anomaly on this list because I'm mostly focusing on comic books and this is a proper graphic novel. Many consider it to be one of the greatest graphic novels of all time, and it was even adapted into an Oscar-nominated film. Persepolis is an autobiographical story about Satrapi growing up in Iran during the Islamic revolution, depicting her childhood through young adult years.
You can find copies of Persepolis in most bookstores, and it is also available through Amazon. The movie is worth watching as well, but you should really read the comic.
9. Rocket Girl, by Amy Reeder and Brandon Montclare
Rocket Girl is a non-stop fun explosive action series by Amy Reeder & Brandon Montclare, published by Image Comics. The story focuses on a New York City cop from the future traveling back in time to prevent a crime and getting stuck in the 1980s where she becomes a superhero.
Rocket Girl can be found through collected editions on Amazon.
10. Starfire, by Amanda Conner and Jimmy Palmiotti

The recent DCYou event in 2015 hasn't been entirely well-received, but one of the bright shining gems to come out of this soft relaunch has been the new Starfire series. In recent years, fans have been disappointed by the way DC has treated Starfire, with her appearances in Red Hood and the Outlaws turning the popular ray of sunshine into an emotionless alien doll. The new series written by married couple Amanda Conner & Jimmy Palmiotti has Starfire striking out on her own in a series of standalone adventures, and returning her to the characterization that made her so well-loved in Teen Titans.
Starfire is available in stores now and as digital comics through comiXology.
To read more about these comics and others, check out the Wikia Comics Hub. We have the largest online resources for DC Comics, Marvel, and many other publishers.