Love is in the air, no need to waste it! Yes, we at Fandom love love and adore adoration, particularly when it's shared between our favorite superheroes. We've already written about the 10 best kisses in the DC Universe, so why limit ourselves to those heroes? It's way past time to honor the best kisses in Marvel Comics' long history. And we specifically mean comic books, so don't expect to see anything from movies or Netflix in here. This is all about the best smooches that appeared on the comic page. Let's start this countdown of the 10 best Marvel kisses with something fun.
10. She-Hulk and Hawkeye in Avengers (Vol. 1) #222

She-Hulk is one of the most iconic Marvel characters ever created, but they've never quite known how to handle her sexuality. In recent times, She-Hulk was hyper-sexualized and put into super-skimpy outfits. Long before that her sexuality was played for laughs. It's always better to strike a balance, but we can't complain about this LOL-inducing panel from her early years as part of the Avengers. Seriously, just look at how She-Hulk totally manhandles Hawkeye and leaves him laying on the ground begging for more. [Brian Linder]
9. Jean Grey and Wolverine in Uncanny X-Men (Vol. 1) #394
It's difficult NOT to make this list all X-Men because, you know, most mutant comics are basically about sex. Even more so with the unrequited love between Wolverine and Jean Grey. Uncanny X-Men #394 has to be the best romantic moment the pair ever shared. You can feel the sizzle on this iconic cover, rendered by artist Ian Churchill. How Jean and Logan managed to make it this hot in what they believe to be their dying moments is beyond me, but this is not the time for nitpicking. [Brian Linder]
8. Iron Fist and Misty Knight in Marvel Team-Up (Vol. 1) #64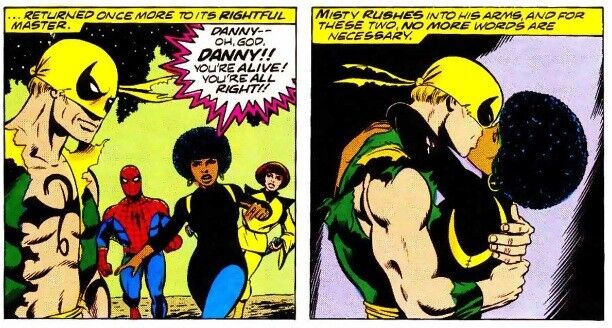 You may know that Danny Rand, AKA Iron Fist, and Misty Knight have had an on-again, off-again relationship over the years. But did you know that the pair are responsible for the first true interracial kiss between superheroes in comics? It happened during Chris Claremont/John Byrne's run on Marvel Team-Up in 1977. We love it so much we're not even going to bring up the creepy fact that Danny was canonically almost 20 years younger than Misty at the time (don't worry, it was retconned). [Brian Linder]
7. Valkyrie and Doctor Riggs in Fearless Defenders #1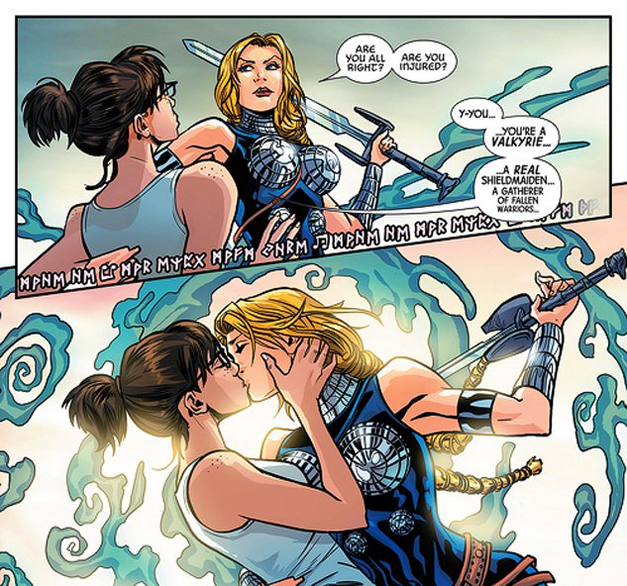 Valkyrie has been a mainstay of the Marvel Universe since the 1970s, appearing in any books that needed an ass-kicking Asgardian. She'd had relationships with folks like Venom and Thor, but people only really took notice of her love life when the Norse deity met Dr. Annabelle Riggs. In the first issue of Fearless Defenders, Valkyrie arrives to save Riggs from a powerful relic, but the two get caught up in a Sapphic scene. Things ended weird between these two women, but that can't take away from this lovely moment. [Henry Gilbert]
6. Storm and Black Panther In Black Panther (Vol. 4) #9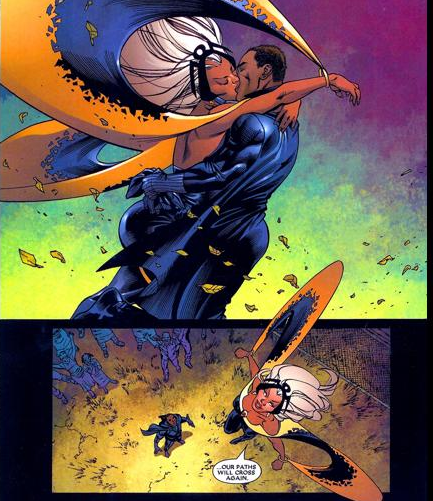 Storm and Black Panther are the two most famous African superheroes ever. Yet, they barely had any history together until the '00s. That changed during Reginald Hudlin's Black Panther series, as the two quickly became a pair. The above moment came at the close of a team-up with the X-Men which ended with Storm quitting the team and staying in Wakanda. Storm and Black Panther would soon be married, though it would later be annulled. [Henry Gilbert]
5. Daredevil and Elektra in Daredevil (Vol. 1) #168

Once he loved her… now she's his most deadly enemy! Elektra made her first appearance in 1981's Daredevil #168, and Elektra's creator Frank Miller captures the bond between them like no one else could. Tragic romances are core to Daredevil's appeal, and it really began with when Miller introduced that Elektra and Matt Murdock were sweethearts in college. Now, he's a masked vigilante and she's an assassin on the wrong side of the law. The reunion for the lovers-turned-adversaries is as passionate as it is heartbreaking. (And there'd be much more heartbreak to come.) [Brian Linder]
4. Peter Parker and Mary Jane in Ultimate Spider-Man (Vol. 1) #160

Some of Marvel's best kisses are memorable because they're so tragic. Peter Parker has many loving moments in the regular Marvel Universe, but the kiss that's on our list is his final one shared in the Ultimate Universe. Peter has seconds left to stop the Green Goblin, but he takes a precious moment to say goodbye to Mary Jane and get her to safety. It's a fun in the moment, but tinged with much more tragedy just a few pages later. [Henry Gilbert]
3. Hulkling and Wiccan Young Avengers (Vol. 2) #8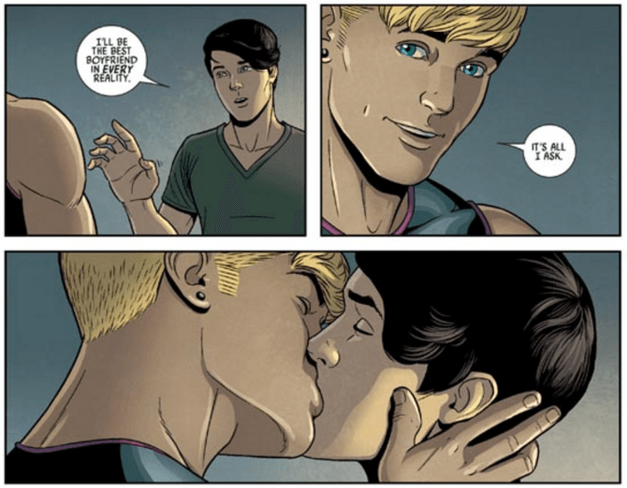 When they first appeared back in 2005, Hulkling and Wiccan were instantly Marvel's premiere gay super-couple. They're an integral part of the Young Avengers team, but it'd be years before readers ever saw the couple kiss on-panel. But when Kieron Gillen and Jamie McKelvie took over the series in 2013, they stopped dancing around any taboos and got very straightforward with the pair's relationship. When the couple have a quiet moment alone, their embrace is lacking in drama, making it an even more powerful of a moment in Marvel's history. [Henry Gilbert]
2. Kitty Pryde and Colossus in Astonishing X-Men (Vol. 3) #7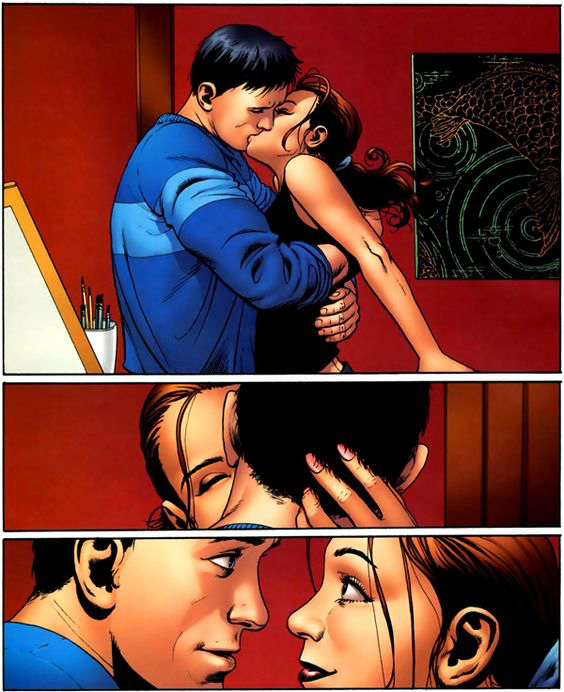 Until the early '00s, many X-Men fans were frustrated at the unrequited relationship between Kitty Pryde and Colossus. The two ran hot and cold, often broken up by alien girlfriends, amnesia, and Colossus dying back in the '90s. But no death is forever in Marvel Comics, and when Colossus returned in Joss Whedon's Astonishing X-Men run, FINALLY shared the real kiss the X-fans had patiently waited for. Of course, this was a relationship written by Joss Whedon, so you better believe it ended tragically. [Henry Gilbert]
1. Reed Richards and Susan Richards in Marvels #3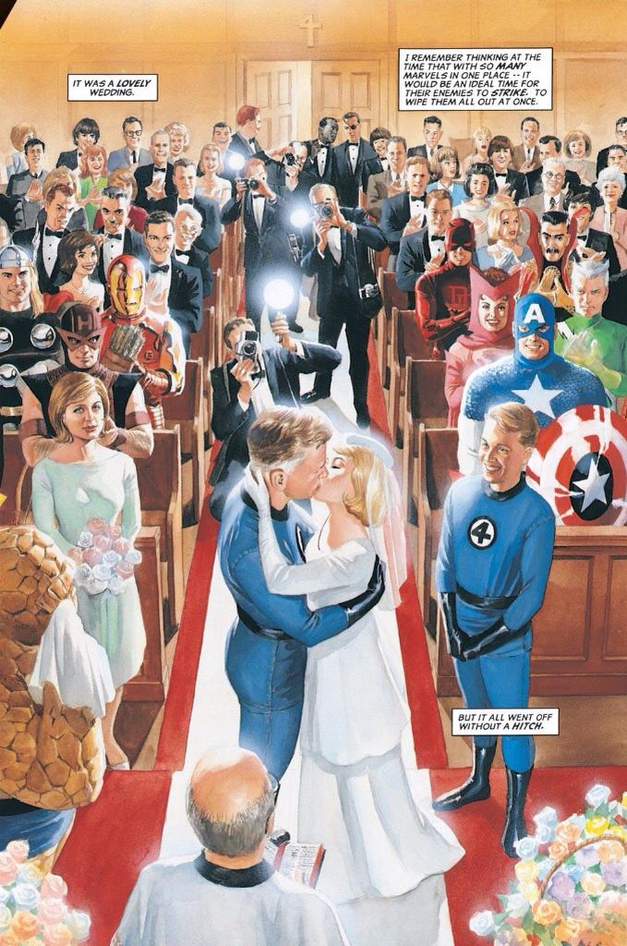 In the annals of Marvel Comics, there's one kiss that will go down in history as "the big one." The wedding of Sue Storm and Reed Richards, first depicted in 1965's Fantastic Four Annual #3, was billed as "the world's most colossal collection of costumed characters," and it delivers. When Doctor Doom uses his "high-frequency emotion charger" to manipulate numerous evil-doers into attacking the impending nuptials, the Avengers, X-Men and countless other heroes thwart the attack. In the end, Reed and Sue tie the knot in front of an impressive assembly of heroic friends. Their first kiss as man and wife never looked better than when recreated by Alex Ross as part of the Marvels miniseries. [Brian Linder]

Henry Gilbert is Senior Games Editor at Fandom. He's worked in the gaming press since 2008, writing for sites as diverse as GamesRadar, IGN, and Paste Magazine. He's also been known to record a podcast or two with Laser Time. Follow him on Twitter @henereyg.